360th E.F. Shields Crew
Edward F. Shields Jr., Pilot
Home

About Us

Contact Us

Donate

Newsletters

8th AFHS

Links

FAQ

Facebook

Search
Personnel

Aircraft

Nose Art

B-17 Thunderbird

Ground Support

Uniforms

Journals

More Info
Mission Reports

Combat Crews

Individual Photos

Photos

POW

KIA

MACR

Overseas Graves

TAPS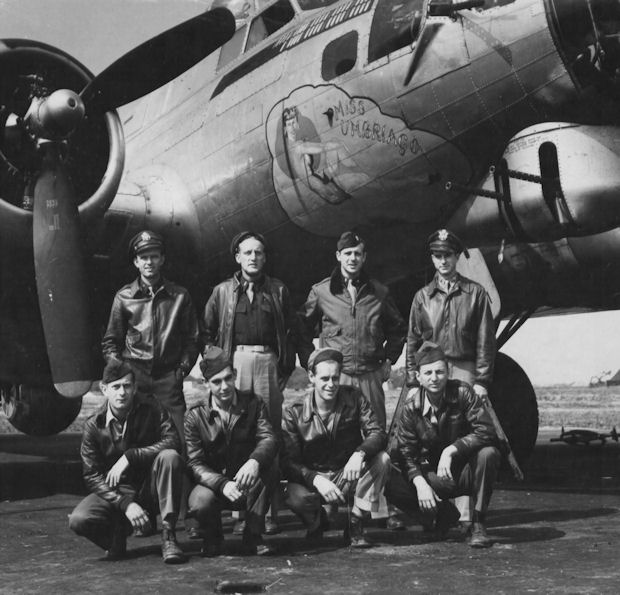 EDWARD F. SHIELDS CREW - 360th BS
B-17G #42-97187 Miss Umbriago (360BS) PU-I
(crew assigned 360BS: 16 July 1944 - photo: 26 Aug 1944)

(Back L-R) 2Lt Wilbur W. Lee (B-POW); F/O William K. Mundell (N);
1Lt Edward F. Shields, Jr. (P-KIA); 2Lt William M. Cooter (CP-KIA)

(Front - not in order) S/Sgt Charles Horwitz (BT-KIA)(far left); T/Sgt Leland J. Nagel (E-POW);
T/Sgt Robert R. Chastain (R); S/Sgt Arthur E. Sheehan, Jr. (WG-KIA);
S/Sgt Erwin E. Gibbons, Jr. (WG); S/Sgt Joseph J. Skubal (TG-KIA)

NOTE: Font row listings are the original enlisted crewmen. Only 4 of the 6 are in the photo. S/Sgt Gibbons had been removed from the crew when crew size was changed from 10 to 9 men.
(KIA-POW) - On 28 September 1944 mission #248 to Magdeburg, Germany in B-17G #44-8330 (no name) (360BS) PU-D. The B-17 went into a spin after being attacked by German fighters and exploded almost immediately thereafter. It crashed one km SW of the Helmstedt Air Base at Suppingen, 8 km west of Helmstedt. Over 90% of the B-17 was lost due to the conflagration. All but three of the crewmen died in the crash. 1Lt Shields (P) was still belted in his seat. Lt Lee (B) stated that the nose interphone went out while on the bomb run. He heard and felt explosions that rocked the B-17, put his head up in the astrodome to signal the Pilot that he and the Navigator were OK. He went back to his nose position in an attempt to pick up some bomb-run check points. He glanced to his right and spotted a FW-190 that had slid into the formation with flaps down and was pumping shells into one of the other formation B-17s. Lt Lee then grabbed his chin turret controls getting away a few bursts without making any hits. His B-17 started to rock violently and he snapped his chest parachute into its harness. He was then knocked cold. When he came to he was pinned to the ceiling from centrifugal force with the fortress going down in a tight spin. Lt Stangohr (N) was at the nose hatch trying to get it open. Lt Lee then managed to reach the blown away nose cone and bailed out. He landed in a plowed field hitting about 50 yards from the wreckage of his B-17 and was immediately captured by two armed members of the village "Volkstrum" (Home Guard). He was later reunited with T/Sgt Nagel (E) who suffered from injuries to his head, back and leg. Radio Operator T/Sgt Almo W. Dennerle was badly injured, but survived bailing out. He was then murdered by two civilians. All other crewmen died in the crash of their B-17.
Seventeen credited combat missions flown by 2Lt Edward F. Shields, Jr.:
214 (7/29/44), 215, 217, 223, 224, 225, 227, 228, 231, 234(AS), 236, 237, 240, 244, 245, 247, 248 (9/28/44)
(AS) Credited abortive Sortie - no bombs dropped. For Mission dates, targets and Mission Reports, see Combat Missions.
Crew Notes:
Aircraft utilized on the 1Lt Shields Crew mission:
Crew had no assigned B-17. Flew on eleven different B-17Gs on their seventeen missions
Crewman burials in the Netherlands American Cemetery, Margraten, Netherlands:
1Lt Edward F. Shields, Jr. (P), 2Lt William M. Cooter (CP), 2Lt Bruce B. Stangohr (N), S/Sgt Arthur E. Sheehan, Jr. (WG)


[photo courtesy of Bill Shields]
[Researched by 303rdBGA Historian Harry D. Gobrecht]