Joseph Vieira
Biography
Home

About Us

Contact Us

Donate

Newsletter

8th AFHS

Links

FAQ

Facebook

Search
Personnel

Aircraft

Nose Art

B-17 Thunderbird

Ground Support

Uniforms

Journals

More Info
Mission Reports

Combat Crews

Individual Photos

Photos

POW

KIA

MACR

Overseas Graves

TAPS
Joseph Vieira Biography
359th Thomas J. Quinn Crew
359th William E. Eisenhart Crew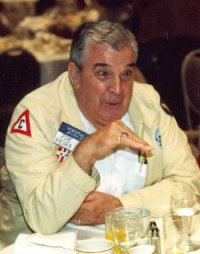 Joseph "Jo Jo" Vieira
Born 10 March 1917 in Bristol, RI. Prior to WWII worked with the Merchant Marine on inland waters for three years, on an Oyster Boat for three years, and with American Screw Company as a machine operator.
Entered U.S. Army on 16 November 1942 at Providence, RI. Attended Basic Training at Keesler Air Fore Base, Gunnery School in April 1943 at Las Vegas, NV followed by Radio Operator School at Scott Field, IL.
Became the Radio Operator with the 359th BS Lt Thomas J. Quinn Crew and was assigned to 359th BS at Molesworth, England on 7 September 1943. First mission on 16 September 1943 (his Mother's birthday). Flew 26 missions with the Lt Quinn Crew followed by 8 missions with Lt William E. Eisenhart as Pilot. Completed his first combat tour (25 missions) on 23 March 1944 but received credit for five additional sorties per teletype from the 1st Bomb Division. Volunteered for a second combat tour and flew on 28 additional credited missions - Total of 58 credited sorties. Last mission #362) on 17 April 1945. Thirty-four missions were flown as a lead crew Radio Operator. See Lead crew photos for missions 109, 126, 133, 234, 247, 263, 283, 287, 358, 362 and 365.
Remained in the USAF following WWII (16 November 1945 to 31 December 1962). Served in the Air Training Command (1946-1951), Okinawa (1951-1953) as NCOIC Directors of Communications Office and with the Field Training Det (1957-1962) at Roswell, NM. Was promoted to Chief Master Sergeant on 1 December 1959 with the first class of Chief Master Sergeants. Retired from the USAF on 31 December 1962 with 20 years 2 months service.
Was employed by the Post Office as a letter carrier following his USAF retirement. After 52 years of marriage his wife Thelma died on 11 April 1993. Joseph Vieira became Treasurer of the 303rd BGA when it was first organized on 30 August 1975, was Secretary/Treasurer in August 1977, First Vice President and Treasurer August 1981, President plus Secretary/Treasurer in September 1983. Both Joseph Vieira and his wife Thelma were guiding lights for the initial 303rd BGA organizations and reunions.
Elected to the following 303rd BGA positions: 30 August 1975 Treasurer; 27 August 1977 to 27 July 1985 - Secretary/Treasurer; 25 September 1983 to 27 July 1985 - President.