Harold A. Susskind
Biography
Home

About Us

Contact Us

Donate

Newsletter

8th AFHS

Links

FAQ

Facebook

Search
Personnel

Aircraft

Nose Art

B-17 Thunderbird

Ground Support

Uniforms

Journals

More Info
Mission Reports

Combat Crews

Individual Photos

Photos

POW

KIA

MACR

Overseas Graves

TAPS
Harold A. Susskind Biography
359th Donald W. Stoulil Crew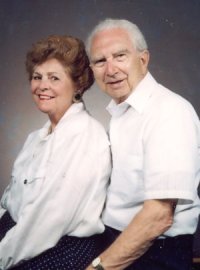 Rae and Hal Susskind
Harold A. Susskind
, Lt. Col. USAF (Ret), was inducted into the military service on April 4, 1942 via the Aviation Cadet Program. He received his Bombardier Wings upon graduation from Bombardier School at Deming, New Mexico in March 1943 and was commissioned a 2nd Lt. in the U.S. Army Air Forces. In July 1943 he received his Navigator's Wings when he graduated from Navigation School at San Marcos, Texas. Boarding a train in New York's Grand Central Station, in August of '43, enroute to joining a B-1 7 crew at Ephrata, Washington, fate stepped in and played a hand in guiding his future. Strolling through the train he found a copy of Esquire Magazine on his assigned seat. One of the feature stories was entitled "Exploit of a Bombardier" which was the story by Paul Gallico of a heroic bombardier from the 359th squadron, 303rd Bomb Group named Jack Mathis who though mortally wounded while on the bomb run in his B17 named " The Duchess" got back on his Norden Bombsight and dropped his bombs and wiped out the target at Vegesack, Germany. He died on the bombsight while uttering the words "Bombs Away." For this heroic action he was awarded the Medal of Honor.
Lt. Susskind wondered about his future assignments. After phase training, he was sent overseas to England in October of 1943 and was assigned to the Eighth Air Force. Subsequently he was assigned to the 359th Squadron, 303rd Bomb Group, Jack Mathis' old squadron, and flew his first mission with that organization on December 24, 1943.
On January 11 , 1944, his crew was briefed to bomb an aircraft plant at Oschersleben, Germany. Going out to the aircraft in the wee hours of the morning, in the semi-darkness, he looked at his assigned aircraft for the mission. It was "The Duchess," the aircraft that Jack Mathis rode to immortality. It was the old gal's 50th mission. Promising the ground crew they would bring their aircraft back, the Stoulil crew took to the air and participated in one of the fiercest battles of the war. That night 11 aircraft of the 303rd Bomb Group failed to return. But one of the returning aircraft was "The Duchess" which brought her crew back in spite of an unexploded 20 mm shell being found in her gas tank.
He completed his first tour of duty on the morning mission on D-Day, June 6, 1944. He flew a second mission that afternoon which later turned out to be his first mission on his second tour. He volunteered for a second tour of combat. He started on his second combat tour in September of 1944 . When the war ended in May of 1945, he had completed 41 combat missions and was the 359th Squadron Navigator. He was then assigned to the Air Transport Command and was stationed in Dakar, Africa. He became a navigator in C-54s flying troops home from Italy via the South Atlantic route.
One day he was asked to act as navigator for a three plane formation of B26s which was going to fly non-stop from Dakar, Africa to Natal, Brazil for the first time. Soon after takeoff they experienced mechanical difficulties and the pilot decided to return to base. Unfortunately the heavily loaded plane crashed through a fence on landing, ending all flying for that day. Soon after Susskind was transferred from Dakar, Africa to Hamilton Field in California.
Susskind, then a Captain, separated from the service in February 1946. He was recalled to active duty at Mather Field, California in August of 1949. In 1950 after completing the Navigation Instructors' Course at Mather Field, he was assigned to the Navigation School at Ellington AFB, Texas as an instructor.
In April 1951 he was assigned to the 29th Air Rescue Squadron, Kindley Field, Bermuda, whose area of responsibility covered one million square miles of ocean. His duty was to navigate in the so called "Bermuda Triangle." On the 21st of July 1952, an Air Rescue Duty Controller received the following message: "Ocean vessel Parramatta at 27 degrees 10 North, 50 degrees W, enroute Capetown, requesting blood plasma." As navigator for the alert crew for the day, Susskind as part of Crew Cocoa had been airborne for five hours on a practice mission. They were ordered to land and prepare their B-29 for at least a 2,000 mile mission.
The base hospital was notified to prepare two parachute kits containing six pints of blood plasma each. No data was available as to the time of the position or speed and course of the vessel. so the alert crew navigator Captain Susskind figured out a possible interception course. It was hoped that they could intercept the vessel during the daylight hours. Because of the loss of one hour, due to the 15 degrees difference in longitude, the race against darkness was lost and the sun was already below the horizon when the vessel Parramatta was contacted by the rescue aircraft's radio operator. Unfortunately no voice contact could be made with the vessel and all messages had to be sent in code.
Susskind directed the radio operator to tell the ship's captain to turn on all their lights and head into the wind. Also that their aircraft would make two runs over the ship, the first run for Susskind, the bombardier-navigator, to study the target. On the second run, they would drop the blood plasma. After the "bombs Away" on the second run, the message was received that "the plasma was received in sufficient quantity and thank you very much." It was later discovered that the injured seaman had fully recovered. The blood plasma kit is presently displayed in the Marine Museum in Goteberg, Sweden along with the story of the rescue.
In 1954 he was assigned to the 366th Fighter Bomber Wing at Alexandria AFB, Louisiana where he became the Director of Information for the base. In 1955 he was also made the Wing Adjutant. As Director of Information his base newspaper won many awards including best in Air Force, twice, Best in Tactical Air Command, five times and best in Department of Defense. For his work in community relations, the City of Alexandria made him an "Honorary Citizen."
In 1958 he went to Lebanon as part of the Ninth Air Forces' task force sent to that area during a period of unrest.
In 1960, Major Susskind was assigned to the Air Force Special Weapons Center, Kirtland AFB, New Mexico as Director of Information.
In 1961 he was cited by the Secretary of the Air Force for his handling of the Public Affairs aspects of the only B-52 ever shot down up to that time. It was shot down by an Air National Guard F-100, a short distance from Albuquerque, New Mexico. Susskind's office handled 3,000 telephone calls many from places as far away as London and Paris, over a three day period. For his expertise in handling the many press inquiries he received the Air Force Commendation Medal.
In 1962 he was the Air Force Information Officer during Operation Dominic, the nuclear test series off Christmas Island. He also visited places like Fiji Islands and Samoa to explain to government officials how they would be affected by the test series, especially the High Altitude Nuclear detonation.
In July 1963 he was assigned to South Vietnam as Director of Information for Second Air Division. In May 1964 he was awarded the Orville Wright Award by the Aviation Space Writers Association for his work in Vietnam. He also received the Bronze Star for his performance of duty.
He rotated back to the U.S. in July of 1964 and was assigned to the Office of the Assistant Secretary of Defense for Public Affairs' (Mr. Arthur Sylvester) as a Special Assistant on Vietnam matters. Mr. Sylvester was the spokesman for the Secretary of Defense, Mr. Robert McNamara. His work required daily coordination with representatives from the White House, State Department, USIA, ISD and several foreign embassies. He was awarded the Joint Services Commendation Medal In 1969 he was assigned to AIRSOUTH in Naples, Italy as Director of Public Affairs for that NATO organization composed of Italian, Greek, Turkish, British and American military personnel.
In 1972 he was assigned to Hill AFB in Utah as Director of Information. He retired from the U.S. Air Force in May of 1973. He holds the Aeronautical rating of Master Navigator Decorations include the Distinguished Flying Cross, Bronze Star, Air Medal with 5 Oak Leaf Clusters, Meritorious Service Medal, Joint Service Commendation Medal, Air Force Commendation Medal with one Oak Leaf Cluster, Presidential Unit Citation and various theatre ribbons.
In May 1973 the Susskind family moved to Austin, Texas when he joined the Chamber of Commerce . Susskind retired from the Greater Austin Chamber of Commerce in 1985 where he was Director of Communications as well as editor of Austin Magazine and other award winning Chamber publications. As editor of the Austin Magazine he initiated the "Austinite of the Year" award still carried on yearly by the Greater Austin Chamber of Commerce.
In 1984 he joined the 303rd Bomb Group Association composed of former members of the 303rd Bomb Group a World War II Heavy Bombardment organization attached to the 8th Air Force. In 1985 he was appointed editor of the Hell's Angels Newsletter, the Association's quarterly publication. In 1997, he was elected President of the 2,000 member Association and also continued on as the editor of its publication the "Hell's Angels Newsletter." He also served in the following positions: 25 August 1998 - Chairman Past President's Committee followed by three years as a member of the Past President's Committee; 8 August 2003 - Appointed as 303rd BGA Historian.
Harold Aloysius Susskind was born in New York City on August 31, 1915, the son of Arthur and Mary Susskind. His older brother Arthur, Jr. was also born in NYC. He graduated from public schools and attended New York University. He was employed by a brokerage firm before entering the military service.
He was married to the former Rachel Romano of Brooklyn, N.Y., on July 17, 1948. Their four children are: Michael Susskind of Phoenix, AZ.; Susan , (wife of Dr. Joe Wilkinson) of San Angelo, TX; Christine, (wife of Mike Cicero) of Marietta, GA and John Susskind of New York City, NY. They have three grandchildren: Tracy and Matthew Wilkinson and Claire Cicero.
Hal passed away on November 16, 2010 in Austin, Texas.