359th Stoulil Crew
Donald W. Stoulil, Pilot
Home

About Us

Contact Us

Donate

Newsletters

8th AFHS

Links

FAQ

Facebook

Search
Personnel

Aircraft

Nose Art

B-17 Thunderbird

Ground Support

Uniforms

Journals

More Info
Mission Reports

Combat Crews

Individual Photos

Photos

POW

KIA

MACR

Overseas Graves

TAPS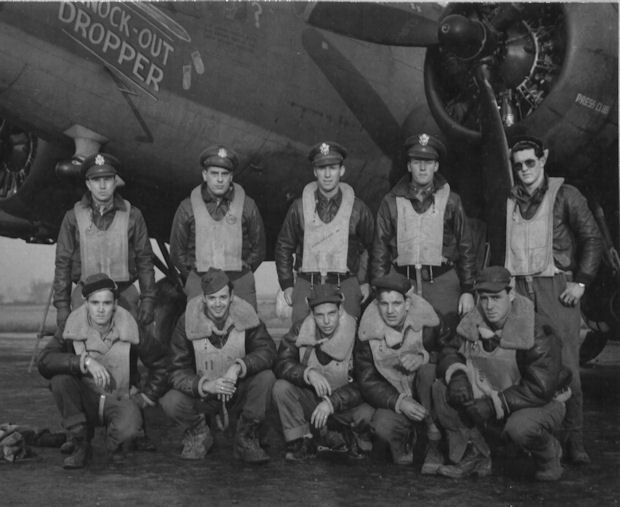 DONALD W. STOULIL CREW - 359th BS
B-17F Knockout Dropper #41-24605 (BN-R)
(crew assigned 359BS: 17 Nov 1943 - photo: 28 Nov 1943)

(Back L-R) 2Lt Harold A. Susskind (N), 2Lt George J. Trawicki (B),
2Lt Donald W. Stoulil (P), 2Lt Edward F. Callahan (CP), Sgt William F. Brown, Jr. (WG)

(Front L-R) S/Sgt Kenneth L. Holder (BT), S/Sgt George P. Greene, Jr, (WG),
T/Sgt James C. Owen (R), T/Sgt Eugene A. Romer (E), S/Sgt Calvin G. Turkington (TG)

(ranks and grades at time crew photo was taken)
Thirty-three dispatched (30 credited) Combat missions flown by Captain Donald W. Stoulil:
Two as CoPilot with combat orientation Crew: 90 (20 Dec 43) & 91(AS) - With 1Lt LeRoy E. Daub Crew (Other Stoulil crew members stood down)

Fourteen First Pilot regular crew missions: 92 (AS) (24 Dec 43), 93, 95, 98, 99, 100, 101, 103(A), 104, 107(A), 109, 110, 111, 112, 115, 121(A) & 122 (18 Mar 44)

Fourteen as Lead Crew CoPilot or Pilot while assigned as a PFF (Pathfinder) Lead crew with the 305th BG(H) at Chelveston: 136 (18 Apr 44) - Major Glynn F. Shumake, 303rdBG (P), 140 - Col Smith 384th BG (P), 144 - B/G Travis , 41stCBW (CP), 147 - LtCol Rohr, 379th BG (P) 153 -LtCol Rohr, 379th BG (P), 155 (unknown pilot) 379th BG (CP), 158 -LtCol Lyle, 303rd BG (P), 159 - LtCol Rohr, 379th BG (P), 161 - LtCol Lyle, 303rd BG (P),167- Capt Daub, 359th BS (CP), 170 - Capt Heller, 359th BS (CP),172 - Maj Shumake, 303rd BG (CP),174 B/G Travis, 41st CBW (P), 183 - Col Stevens, 303rd BG (CP) 18 June 44)
(AS) Credited abortive sortie - no bombs dropped -- (A) Non-Credited abortive missions
For mission dates and targets see the missions list.
Note: The Stoulil crew members who served on TDY with the 305th BG(H) as PFF Lead crewmen were never happy with the assignment. While assigned to a Squadron they were never made to feel a part of the 305th and were also considered as outsiders by many in the 303rd. The Stoulil crewmen were made to feel like "men without a country."
Crew Notes (ranks and grades at time of last combat mission):
Capt Donald W. Stoulil (P) - Graduated from Advanced Pilot School as 2ndLt 12 April 43, Class 43-D, Roswell, NM. B-17 Transition school, Hobbs, NM, Crew Phase Training at Ephrata, WA & Gieger Field, WA. Crew assigned 359th BS 17 Nov 1943. Completed 30 mission combat tour on 24 May 1944. Recalled to active duty during Korean Was. Served as Psychological Warfare Unit for 18 months. Transferred to Minnesota Air National Guard and USAF Reserve. Retired 4 Jan 1981 as LtCol.

1Lt Edward F. Callahan (CP) - Flew on 3 missions as CoPilot with two other Pilots - 84, 85 & 91. Flew on 15 missions 92 thru 122 as the Stoulil Crew CoPilot, except for missions 103 & 115, where substitute CoPilots were used. Flew on 8 missions as PFF lead crew Tail Gunner/Observer with Capt Stoulil on TDY with the 305th BG - Upgraded from CoPilot to Pilot on orders dated 20 March 44 and flew four missions as first Pilot - 193, 194,195 & 196. Thirty mission combat tour completed on 15 July 1944.

Capt Harold A. Susskind (N) - Entered military service on 4 April 1942 as an Aviation Cadet . Attended pre-flight at Santa Ana, Bombardier School (Class 43-4) at Deming, NM and Navigator School (Class 43-10) at San Markos, TX. Commissioned 2Lt in July 1943. Original member of the Stoulil crew. Forty-one credited missions flown:

Seventeen Non-lead missions: Stoulil Crew - 14 missions 92, 93, 95, 98, 99, 100, 101, 104, 109, 110, 111, 112, 115, 122; Other Pilots - 3 missions 162 (Daub), 108 (Hybert) & 116 (Goolsby).
Lead crew missions: 305th BG PFF Stoulil Crew - 13 missions -136, 140, 144, 147, 153, 155, 158, 159, 161, 167, 170, 172 (D-Day #1), 174 (D-Day #3).

Stood down on Lt Stoulil's last mission - #183 on 18 June 1844. Completed his 30 mission combat tour on 6 June 1944 and volunteered for a second combat tour and flew 11 additional lead crew missions: With 359th BS -247, 250, 251, 252, 267, 277, 283, 329 & 333; With 427th BS -337 & 358. 41st and last mission on 11 April 1945. Became the 359th BS Squadron Navigator on 18 April 1945.

In May 1945 was assigned as Navigator with the Transport Command in Dakar, Africa flying troops from Italy to the USA in B-17s's via the southern route. Was soon after transferred to Hamilton Field, CA and was separated from the USAAF as a Captain in February 1946. Was recalled to active duty in August 1949 and became a Navigator instructor at Ellington AFB, TX. In April 1951 was assigned to the 29th Air Sea Rescue Squadron, Kindley Field, Bermuda flying modified B-17s with a life boat attached under the bomb bay. From 1954 to 1963 served Director of Information with several different units. Assigned in South Vietnam in July 1963 as 2nd Air Division Director of Information. While in Vietnam received the Aviation Space Writers Association's Orville Wright Award as being the best PIO in the USAF. Rotated back to the USA and was assigned to the Office of the Assistant Secretary of Defense for Public Affairs in Washington, DC and in 1969 to AIRSOUTH in Naples, Italy as NATO Director of Public Affairs. Final assignment in 1972 as Director of Information at Hill AFB, UT. Retired from the USAF in May 1973 as a LtCol and served with the Austin, TX Chamber of Commerce as Director of Communications from 1973 through 1985. Served as the 303rd BGA Editor Hell's Angels Newsletter from December 1985 through February 1998 (46 issues) and President of the 303rd BGA during 1997 and 1998.

1Lt George T. Trawicki (B) - Flew on the Stoulil crew's regular seventeen 303rd missions (92 thru 122). Flew on eleven missions with other pilots - 132, 134, 142, 144, 148, 150, 151, 152, 153, 162 & 164. Last Combat mission on 29 May 1944. Did not complete his 30 mission combat tour.

T/Sgt Eugene A. Romer (E), T/Sgt James C. Owen (R), S/Sgt George P. Greene (RWG). S/Sgt William F. Brown, Jr. (LWG) - Flew on all of the Stoulil crew missions. Flew on Mission 187 to Berlin on 21 June 1944 with 358th BS 1Lt Phillip O. Benham (P) - on their 30th and last mission.

S/Sgt Kenneth L. Holder (BTG) - Flew on thirteen missions with the Stoulil crew - 92, 93, 95, 98, 99, 100, 101, 103, 104, 112, 115, 121 & 122 (18 Mar 44) at which time he was removed from combat duty. Crew then used substitute Ball Turret Gunners unitl it became a PFF Lead Crew where BTGs were not utilized. A Radar dome replaced the Ball Turret in PFF equipped B-17s. S/Sgt Holder was credited with a German JU-88 probably destroyed on mission #95 and a FW-190 destroyed on mission #98.

S/Sgt Calvin G. Turkington (TG) - Flew on all of the Stoulil crew regular 303rd missions - 92 thru 122. Assigned to the 2Lt John W. Parker crew as tail gunner for five missions - 230, 233, 234, 236 & 246, flew with Lt Garland W. Whitlock (P) on mission 247 and 2Lt William F. Miller (P) on mission 248 on 28 Sept 1944 to Magdeburg, Germany in B-17G #42-97187 Miss Umbriago (359BS) BN-I. S/Sgt Turkington was badly injured on this mission and crawled from the tail compartment to the waist asking for help and died. The B-17 went into a dive and crashed near Wittmar, Germany. S/Sgt Turkington's body was found in the crashed B-17 and was later re-interred at the Netherlands American Cemetery At Margraten, Netherlands. (6 crewmen KIA & 3 POW - MACR 9410) See: The Right Stuff by LtCol Susskind
The Stoulil Crew flew with 303rd photographers on four missions - 99, 111, 112 & 121(A)
Memorable Stoulil Crew Missions - Many others were also rough:
19 December 1943 - Pre-combat Formation Training mission: In 359th BS B-17G # 42-39769 Missmanooki. This B-17 was assigned to the Lt Billy Goolsby Crew, the officers of which were roommates of the Lt Stoulil crew. The Stoulil crew borrowed the B-17 for the formation practice flight. Missmanooki had flown on two combat missions with the Goolsby crew. After "four hours of dodging flak over Bedford and Northampton" Lt Stoulil landed the B-17 at Molesworth. During the landing roll the landing gear switch was accidentally activated causing the landing gear to retract. The B-17 was heavily damaged and was sent to the boneyard for salvage. The biggest problem was telling the Goolsby crew what they did to their B-17.

11 January 1944 - Crews 4th mission, #98 to Oschersleben, Germany. In the 50th mission of B-17F #41-245612 The Duchess in which 1Lt Jack W. Mathis was killed on 18 March 1944 and was awarded the Medal of Honor. This was an 8th AF maximum effort mission. The 303rd lost 11 B-17s out of 37 dispatched. Sgt Kenneth Holder (BTG) was credited with a FW-190 destroyed. The crew credited Sgt Turkington (TG) with contributing greatly to the crews return to Molesworth by calling our enemy fighters and their positions. The crew counted 38 holes in The Duchess and an unexploded 20 mm shell was pulled from the gas tank by the ground crew. 1st Air Division Bomb Groups were awarded the Presidential Unit Citation.

24 April 1944 - To Oberpfaffenhofen, Germany airfield (near Munich). The Stoulil PFF lead crew, with the 384th Commanding Officer leading one of the two 41st CBW formations. The 41st CBW "B" group bore the brunt of attacks by over 50 ME-109s and FW-190s. Sgt Turkington (TG) was wounded on his 18th mission, and hospitalized following behind the rest of his crew on completed missions. The 1st Air Division lost 27 B-17 and the 303rd lost three. The 384th BG received the Presidential Unit Citation for actions during this mission.

29 April 1944 - To Berlin, Germany - The Stoulil crew was flying as a PFF lead crew with B/G Travis (CG 41st CBW) as Air Commander and Pilot. B/G Travis was wounded above his eye and the Stoulil crew reported blood all over the cockpit. He was awarded the Purple Heart Medal. The 303rd lost two B-17s - one to flak and one to a German fighter.

6 June 1944 (D-Day) - The Stoulil crew flew two missions on D-day - The last missions flown together by the complete original crew.
[crew photo courtesy of Hal Susskind - crash photos courtesy of Michael Trent]
[Researched by Historian Harry D. Gobrecht]