427th Ley Crew
Roman M. Ley, Pilot
Home

About Us

Contact Us

Donate

Newsletters

8th AFHS

Links

FAQ

Facebook

Search
Personnel

Aircraft

Nose Art

B-17 Thunderbird

Ground Support

Uniforms

Journals

More Info
Mission Reports

Combat Crews

Individual Photos

Photos

POW

KIA

MACR

Overseas Graves

TAPS

ROMAN M. LEY CREW - 427th BS
(Crew assigned 427th BS 27 March 1945)

Original Roman M. Ley Crew
2Lt Roman M. Ley (P)(KIA), 2Lt Eugene H. Farland (CP),
F/O George S. Thomas (N)(KIA), 2Lt Howard G. Weinberg (B)(KIA)

Cpl Roaul R. Prieto (E)(KIA), Cpl William M. Toler (R)(KIA),
Sgt Don M. Beebe (BTG)(KIA), Cpl Earl M. Dugan (WG),
Cpl Jessee M. Moore (TG)(KIA)
Crew Notes: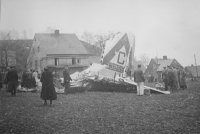 First and only Mission of the 2Lt Roman M. Ley Crew
Mission #353, 6 April 1945, to Leipzig, Germany. Crew was flying in B-17G #43-38958
Green Hill Belle
(427BS) GN- H. Was involved in a mid-air collision, shortly before reaching the target at Leipzig , with B-17G #44-8647 (no name) (360th BS) PU-M piloted by 360th BS 2Lt
Howard C. Lacker
. Dense contrails appeared to have directly contributed to the collision.
Green Hill Belle
exploded in the air after the collision and broke up into small parts - some were on fire. Both B-17s crashed at Loessnitz, Germany approximately 50 km south of Leipzig. All crewmen in both B-17s were killed in action. See the Greene Belle
crash site photos
.
[Researched by Historian Harry D. Gobrecht]