427th Donalson Crew
David S. Donalson, Pilot
Home

About Us

Contact Us

Donate

Newsletters

8th AFHS

Links

FAQ

Facebook

Search
Personnel

Aircraft

Nose Art

B-17 Thunderbird

Ground Support

Uniforms

Journals

More Info
Mission Reports

Combat Crews

Individual Photos

Photos

POW

KIA

MACR

Overseas Graves

TAPS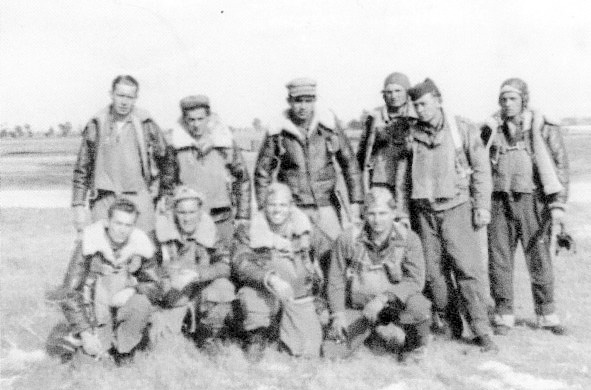 DAVID S. DONALSON CREW - 427th BS
(crew assigned 427BS: 01 Apr 1945 - photo: Apr 1945)

(Back L-R) Sgt Dale W. Naylon (WG), Sgt Ralph C. Brehl, Jr (BT),
S/Sgt Wilfred L. Kaliel (R), Sgt Robert E. Parr (TG),
S/Sgt Ernest E. Knight (E), S/Sgt Robert H. Lenhard (TOG)

(Front L-R) 2Lt William F. "Bill" Cahill (N), 2Lt Art Freeman (B),
2Lt David S. Donalson (P), 2Lt Thomas W. "Tom" Pittard (CP)
Eight Missions flown by the Donalson Crew:
357 (10 April 1945), 358, 359, 360, 361, 362, 363, 364 (25 April 1945)
Crew Notes:
2Lt David S. Donalson (P) - Flew two missions as Pilot with a crew orientation CoPilot, 2Lt James F. Kipfer (357 & 358). Other six missions as crew Pilot
2Lt Thomas W. Pittard (CP - Did not fly on two missions (357 & 358). Other six missions as crew CoPilot. Killed on 01 December 1948 by an intoxicated hit and run driver in Decatur, GA. Tom's second son was born six weeks after his death.
2Lt Art Freeman (B) - Was not a member of the original Lt Donalson crew. Did not fly on any Lt Donalson or 303rd BG(H) combat missions. Crew utilized their Togglier, Sgt Robert H. Lenhard, on all eight missions.
Sgt Dale W. Naylon (WG) - Lt Donalson crew flew without a Waist Gunner on all of their eight missions. Sgt Naylon flew as a Togglier on one mission (364) with the 2Lt Robert W. Krohn crew.
2Lt William F. Cahill (N), Sgt Robert H. Lenhard (Tog), S/Sgt Ernest E. Knight (E), S/Sgt Wilfred L. Kaliel (R), Sgt Ralph C. Brehl, Jr (BTG) & Sgt Robert E. Parr (TG) - Flew on all eight of the Lt Donalson crew missions.
Return flight to USA:
On June 19 1945 the 2Lt Donalson crew flew B-17G #43-39397 (Previous assignment unknown) from the 95th BG(H) airfield at Horham, England to Bradley Field, Windsor Locks, CT, thence to Camp Miles Standish, Boston MA.
[photo courtesy of Ralph C. Brehl, Jr.]
[Researched by Historian Harry D. Gobrecht]