427th Krohn Crew
Robert W. Krohn, Pilot
Home

About Us

Contact Us

Donate

Newsletters

8th AFHS

Links

FAQ

Facebook

Search
Personnel

Aircraft

Nose Art

B-17 Thunderbird

Ground Support

Uniforms

Journals

More Info
Mission Reports

Combat Crews

Individual Photos

Photos

POW

KIA

MACR

Overseas Graves

TAPS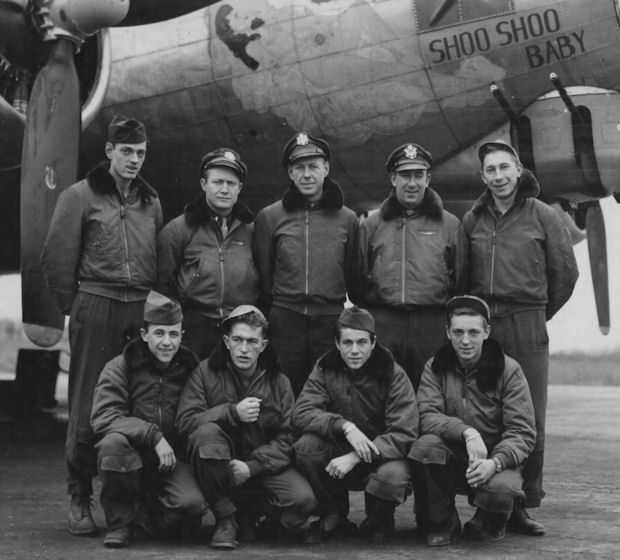 ROBERT W. KROHN CREW - 427th BS
B-17G #42-97311 Shoo Shoo Baby (427BS) GN-O
(crew assigned 427BS: 28 Feb 1945 - photo: 10 Mar 1945)

(Back L-R) Sgt Henry T. O'Sullivan (Tog), 2Lt Louis M. Christen (N),
2Lt Robert W. Krohn (P), 2Lt Paul B. Kindig (CP), Sgt Joseph R. Monyok (WG)

(Front L-R) Sgt Malcolm L. McKenzie (R), Sgt Norman O. Peterson (E),
Sgt John Minoff (BT), Sgt Arthur A. Marozas (TG)
Crew photo B-17 note: Shoo Shoo Baby was the B-17 in which Correspondent Walter L. Cronkite flew on "D-Day" 6 June 1944 on a mission to attack a bridge at Caen, France. Pilot was Captain Robert W. Sheets.
Crew Changes: Monyok (WG) Crew deletion. Crew size was changed from 9 to 8 men
Crew incident: On 18 March 1945 mission #339 to Berlin, Germany in B-17G #42-102411 Miss Lace (427BS) GN-P. Experienced intense and accurate flak. The #1 and #2 engines were disabled. Lt Krohn opted to go toward the Russian lines across the Oder River. The B-17 was left in Poland. B-17G #44-6921 (No name) (427BS) GN-F, piloted by Lt J. Cassels also landed in Poland and joined up with the Krohn Crew. Both B-17 encountered Russian YAK fighters who gave the crews some scary moments. The crews were interrogated by Russian Officers and quartered in Polish homes. Following some interesting experiences with the Russian and Polish civilians they were transported to American facilities and thence back to Molesworth via Russia, Iran, Egypt, Italy and France. The Krohn Crew flew its first mission on 12 March 1945 and 11th and last mission on 25 April 1945 - the 364th and last 303rd BG(H) mission.
[photo from the 303rd BGA Archives]
[Researched by 303rdBGA Historian Harry D. Gobrecht]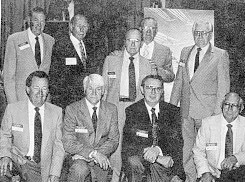 (Back L-R) Henry O'Sullivan, Robert Krohn, Malcolm McKenzie, Paul Kindig, Louis Christen
(Front) Joseph Monyok, Arthur Marozas, John Minoff, Norman Peterson
Probably for the first time since the 303rd BGA was organized in 1975, a complete crew attended a reunion. That honor was achieved in Norfolk by Lt. Krohn's crew which celebrated their forty-fifth anniversary. Lt. Krohn's crew was formed in the US in October of 1944. They arrived in England and eventually joined the 427th Sqdn. of the 303rd on Feb. 26, 1945.
[copyright © Hell's Angels Newsletter, Dec 1989]