427th Breyer Crew
Frederick L. Breyer, Pilot
Home

About Us

Contact Us

Donate

Newsletters

8th AFHS

Links

FAQ

Facebook

Search
Personnel

Aircraft

Nose Art

B-17 Thunderbird

Ground Support

Uniforms

Journals

More Info
Mission Reports

Combat Crews

Individual Photos

Photos

POW

KIA

MACR

Overseas Graves

TAPS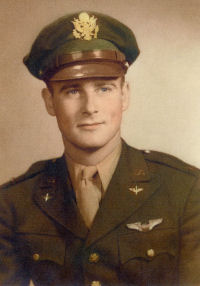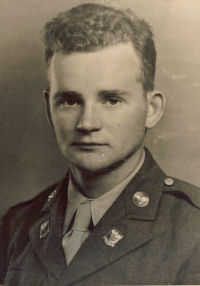 2Lt Frederick L. Breyer (P) Sgt William J. Jarmolinski (R)

FREDERICK L. BREYER CREW - 427th BS
(Assigned 427BS: 01 April 1945)

Original Frederick L. Breyer Crew:
2Lt Frederick L. Breyer (P), 2Lt Melvin Schwartz (CP), 2Lt Jack C. Baldwin (N),

Sgt Seymour B. Knauer (TOG), Sgt Lester C. Holt (E), Sgt William J. Jarmolinski (R),
Cpl John V. Bohac (BTG), Cpl George Jessop, Jr. (WG), Cpl Glenn E. Harris (TG)
Seven missions flown by the Breyer Crew:
357 (01 Apr 1945), 358, 359, 360, 361, 362, 363 (20 April 1945)
For mission dates and targets see the missions list.
Three B-17Gs flown by the 2Lt Frederick L. Breyer Crew on their seven combat missions:
44-8692 Sweet Tillie aka Little Tillie (427BS) GN-A - Missions 357, 358, 359, 361, 362
see the Nose Art here
44-6824 (No name) (427BS) GN-G - Mission 360
43-38682 (No name) (359BS) BN-K - Mission 363
Crew Notes:
2Lt Frederick L. Breyer (P) - Flew his first two missions with a combat orientation CoPilot, F/O John E. Roche. Other missions as crew Pilot.
2Lt Melvin Schwartz (CP) - Did not fly on two Lt Breyer Crew missions (357 & 358). Flew on one mission (358) as coPilot with the 2Lt William A. Denison Crew. Other four Lt Breyer crew missions flown as the crew CoPilot.
Cpl George Jessop (WG) - Flew no missions with the 427th BS or 303rd BG(H). Waist Gunners were not used on any of the Lt Breyer crew missions
Other crewmen - Flew on all seven of the Lt Breyer crew missions.
[Researched by Historian Harry D. Gobrecht]