William J. Roche
Biography
Home

About Us

Contact Us

Donate

Newsletter

8th AFHS

Links

FAQ

Facebook

Search
Personnel

Aircraft

Nose Art

B-17 Thunderbird

Ground Support

Uniforms

Journals

More Info
Mission Reports

Combat Crews

Individual Photos

Photos

POW

KIA

MACR

Overseas Graves

TAPS
William J. Roche Biography
360th Roger W. Erickson Crew
360th Oscar L. Tellinghuisen Crew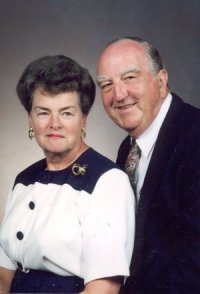 Doris and Bill Roche
Born 6 June 1924. Entered cadet training on 8 July 1942 at Chicago, IL after completing High School. Attended Navigation schools at Kelley Field, TX, San Antonio, TX and San Marcos, TX. Graduated with class 43-18.
Assigned 360th BS at Molesworth, England on 21 April 1944 as Navigator on the Lt Roger W. Erickson crew for 13 missions when Lt Erickson became a lead Crew Pilot. 1st mission on 7 May 1944 (#146). Flew with other Pilots on 4 missions. Became Navigator on the Lt Oscar L. Tellinghuisen Crew when he was upgraded from CoPilot on the Erickson crew to First Pilot on 7 July 1944 (Mission #198). Flew on 16 missions with Lt Tellinghuisen. Completed his combat Tour with 32 missions on 28 July 1944 (#213) and returned to the USA.
Married after return to the USA to Doris Roche. Served in the USAF Reserve from 1946 to 1954 and was promoted to Captain. Worked in Manufacturing Management and was President of three Corporations.
Was elected as 303rd BGA Treasurer on 21 September 1992 serving five terms until 25 August 1998. Became 303rd BGA President on 11 October 1999 until 28 September 2000. Was Chairman of the Past President Committee on 28 September 2000 and member of the Past President Committee for three additional years. Was Chairman of the Reunion Committee for the September 2000 reunion at San Diego, CA.