Edgar C. Miller
Biography
Home

About Us

Contact Us

Donate

Newsletter

8th AFHS

Links

FAQ

Facebook

Search
Personnel

Aircraft

Nose Art

B-17 Thunderbird

Ground Support

Uniforms

Journals

More Info
Mission Reports

Combat Crews

Individual Photos

Photos

POW

KIA

MACR

Overseas Graves

TAPS
Edgar C. Miller Biography
360th Edgar C. Miller Crew
360th Earl N. Thomas Crew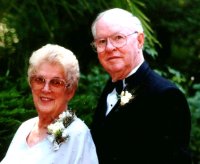 Jill and Ed Miller
Edgar C. Miller
was born on March 8, 1920, on a ranch north of New Underwood, South Dakota. His parents homesteaded this area in 1881, building a large following from Tennessee. Edgar attended grade school and high school in New Underwood.
In March, after Pearl Harbor, he applied for aviation cadet training and was accepted, but had to wait until September before entering training at San Antonio, Texas. He qualified for pilot's training, and went through Bonham, TX, Greenville, TX, and Ellington Field, Houston, TX, where he graduated in August 1943 (Class 43-H), as a 2nd Lt. He went through B-17 training at Pyote, TX, Alexandria, LA, and Grand Island, NE and arrived in England in December 1943. His crew was assigned to the 360th Bomb Squadron, 303rd Bomb Group, the
Hell's Angel's
Group operating out of Molesworth, England. He flew the first of 30 missions on February 2, 1944, nine of which were to Berlin, Germany. His last mission was on June 2, 1944. Ed then left Molesworth to return to the US, on D-Day.
The first assignment in the US was as Adjutant for the Flying Training Station at Marfa, TX. Here he pulled off the greatest "coup-de-maitre" of his career, when he married his sweetheart, Jill Wilson, who he had meet at Bonham, while taking Primary Training.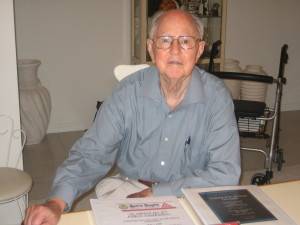 Following Ed's official service in the 303rd Bomb Group (H) Association, he took it upon himself to complete the 303rd Bomb Group personnel rosters he began 20 years earlier. In addition to the rosters, he documented the causalities suffered and Purple Hearts awarded throughout the 303rd BG's 364 combat missions. In 2008 Ed completed his massive project. Copies of the 3-volume collection now reside at the Joint Analytic Center in Molesworth, England and at the Mighty Eighth Air Force Heritage Museum in Pooler, Georgia. More details on his contribution are here.
In 1946, Ed flew with the Air Transport Command Ferry Division, stationed at Long Beach, CA. He flew B-25s, B-26s, A-26s and P-38s, before transferring to Hamilton Field, CA, to fly Transpac to Hawaii, Guam, Philippines, Okinawa, China and Japan. He was promoted to Captain in 1947, while serving as Statistical Control Officer for the MATS Base at Travis Air Force Base, in Fairfield, CA. In 1948, he was transferred to the Far East Air Forces, with assignments on Okinawa, the Philippines, and Tokyo, Japan as a Statistical Control Officer. His duties included briefing General Stratemeyer, on the state of readiness of the Far East Air Forces, the 5th Air Force and the 13th Air Force.
In 1950, he returned to the US, and was assigned to the Military Air Transport Service, in San Antonio, TX, as Chief, Management Analysis for the Continental Division of MATS. Another promotion, this time to Major, occurred in 1952. He was then transferred to the Air University, at Montgomery, AL, for Comptroller Staff Officer Training. Upon completion, he was promoted to Instructor of Comptroller Training, specializing in Management Training and Analysis, where he remained for two and a half years.
Since his days in Tokyo, and in San Antonio, Ed had been attending college classes in the evening. At the end of his tour in Montgomery, AL, he was given time to complete his residence requirements at the University of Alabama, in Tuscaloosa, and received his AB degree in Political Science and History. Back overseas he went, with his family, to Wiesbaden, Germany, to head up the Management Analysis Division of the European Material Command, where he was promoted to Lt. Colonel in 1956. This assignment lead to being given the opportunity to return to the US in 1958, and attend the School of Business Administration at the University of Pittsburgh, where he received his MBA. He specialized in Long Range Planning in Business and Industry. Then, it was off to the Pentagon in 1959, as personal briefing officer for General Le May, on the "Military Effectiveness" of the Air Material Command, the Air Training Command, the Air University, and Air Force Communication Service. After four years, with a short break to obtain jet pilot training in the T-33, jet trainer, at Randolph Field, TX. Ed retired after 21 years in the United States Air Forces.
In 1963, he accepted the position of Director, Economic Planning for the Autonetics Division of Rockwell International, at Anaheim, CA, living in Fullerton, CA. He remained with Autonetics until 1969, at which time he accepted the position of Vice President, Management Systems, for a small conglomerate, National Environment Corporation, in Orange, CA, and later, as President, Envirofoods, Inc. In 1971, Ed joined Dean Witter Reynolds as a broker, and served as Personal Investment Advisor for over 1500 families over 17 years period, a most rewarding time of his career. During which he became a Certified Financial Planner, was promoted to First Vice President, and then became the Manager of the Whittier, California branch office that served 35 brokers. Ed retired in 1987, and shortly thereafter, moved to a quieter, less hurried life in Temple, Oklahoma.
Ed was elected, or appointed, to the following 303 BGA positions: 21 September 1992 - Secretary; 4 March 1994 - Vice President - Administration; 17 September 1995 - President; 27 August 1996 - Chairman Past President's Committee; 18 September 1997 to 28 September 2000 (3 years) - Member Past President's Committee; 25 August 1998 - Vice President - Reunion (For Oklahoma City Reunion); 7 September 2001 to 8 August 2003 - 360th BS Representative
He was appointed to following positions: 1985-1986 - Membership Chairman; January 1998 - Web Page Committee member; 1987-1991 - Originator and Developer of the 303rd BG(H) 10,000+ name computerized Veteran's roster; 1994-2002 - Distinguished Service Award Certificate Project Chairman; 2000 - CD-ROM (1st Edition) Chairman; 2002, Assisted with CD-ROM (2nd Edition); September 2000 to August 2003 - Chairman of Lost Comrade Search Project; October 2002 to August 2003 - Ways & Means & Budget Chairman.
Ed passed away December 16, 2011.