Wilbur "Bud" Klint
Biography
Home

About Us

Contact Us

Donate

Newsletter

8th AFHS

Links

FAQ

Facebook

Search
Personnel

Aircraft

Nose Art

B-17 Thunderbird

Ground Support

Uniforms

Journals

More Info
Mission Reports

Combat Crews

Individual Photos

Photos

POW

KIA

MACR

Overseas Graves

TAPS
Wilbur "Bud" Klint Biography
427th Wilbur Klint Crew
427th Robert Hullar Crew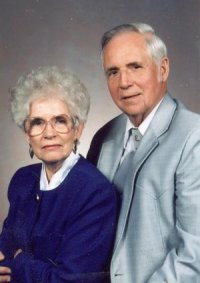 Mary and Bud Klint
Born 18 July 1919 in Chicago, IL. Was a Sales Clerk prior to WWII. Entered service on 21 April 1942 in Chicago, IL as an Aviation Cadet. Had cadet training at Nashville, TN (Classification Center) , San Antonio. TX (Aviation Cadet Pre Flight), Bruce Field, Ballinger, TX (Primary), Goodfellow Field, San Angelo, Tx (Basic) and Blackland AFB, Waco, TX (Advanced). Commissioned as a 2nd Lt with class 43-E on May 24, 1943.
Became CoPilot on the Lt Robert Hullar crew at Walla Walla, WA and was assigned to the 427th BS at Molesworth, England on 06 July 1943. 1st mission (#59) on 16 August 1943. On 6 September 1943 returning on a mission to Stuttgart, Germany, flying the "Old Squaw, a notorious "Gas Hog", ditched about 5 miles off the English coast in the Beachy Head area. Crew was picked up by the RAF Air Sea Rescue. The roughest mission was on 14 October 1943, the second Schweinfurt mission, often called the greatest air battle of WWII and known to those who flew that day as "Black Thursday." Was upgraded from CoPilot to Pilot on 29 December 1943 and flew on his last nine missions as a First Pilot. His 25th and final mission was on 20 February 1944 (#109). Went on a two week public relations tour of British aircraft factories after completion of his combat tour.
Returned to the USA on the Ille de France on 6 April 1944 and was assigned as a four-engine transition Instructor and Squadron Commander at Hobbs, NM Army Air Field and remained at Hobbs until the end of the war. Was discharged on 29 October 1945 at Chanute Field, IL.
Married Mary Ruth McWhorter on 1 January, 1946. Was blessed with two daughters and one son: Patricia Klint, Kathy Klint Burr and Robert A. Klint. Had a 38 year career in sales, advertising and marketing. Twenty-nine years in the candy business in various managerial positions - sales, advertising and marketing and nine years with Tandy Corp in the advertising department of Radio Shack. Retired on 31 July 1981.
Attended his first 303rd BGA Reunion in August 1981 after his retirement and shortly thereafter became Editor of the "Hell's Angels Newsletter" for 14 issues (January 1982 issue through the May 1985 issue). Was elected as President of the 303rd BGA on 30 September 1989 through 27 May 1991. Was on reunion committees for many years, managed the 1987 Ft Worth Reunion and Co-Manager of the 1989 Norfolk, Reunion. Was 427th BS Representative from 27 May 1991 to 21 September 1992.