J. Ford Kelley
Biography
Home

About Us

Contact Us

Donate

Newsletter

8th AFHS

Links

FAQ

Facebook

Search
Personnel

Aircraft

Nose Art

B-17 Thunderbird

Ground Support

Uniforms

Journals

More Info
Mission Reports

Combat Crews

Individual Photos

Photos

POW

KIA

MACR

Overseas Graves

TAPS
J. Ford Kelley Biography
359th Sanford T. Smith Crew
360th Andrew F. Bilek Crew
360th George V. Stallings Crew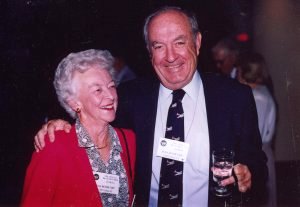 Betty and Ford Kelley
Born on 25 April 1922 in Washington, DC. Was an AT&T Telephone Installer when he entered military service on 15 March 1942 in Washington, DC as an Aviation Cadet. Navigator Cadet training at Maxwell Field, AL, Turner Field, GA, Selman Field, LA. Graduated as a Navigator in November 1942 (Class 42-15) and commissioned as a 2ndLt.
Assigned to 359th BS at Molesworth, England he flew his first mission (#15) on 14 February 1943 with the Lt Jack Roller Crew and then for six missions with the Capt Sanford T. Smith crew.
Was transferred to the 360th BS and flew five credited missions with the Lt Andrew F. Bilek Crew and 14 missions with the Lt George V. Stallings, Jr, Crew. 25th and final mission(#58) on 15 August 1943 to Paris, France. Was badly wounded on the 25 June 1943 mission to Hamburg, Germany (#44) when the crew bailed out over England.
Was awarded the Silver Star Medal. Departed Molesworth on 30 August 1943. After his 303rd BG(H) combat he was assigned to the Operations Unit 8th AF Headquarters where he provided Navigation details on mission planning.
Following WWII he became married to Betty Kelley, who for many years served the 303rd BGA in reunion registrations. Was a member of the Air National Guard (1947 to 1955) as Wing Communications Officer, 113th Fighter Wing in Washington, DC. and served in Korea from November 1951 to September 1953 where he achieved the rank of Major.
Was elected as 303rd BGA Secretary (27 May 1991), Vice President-Administration (21 September 1991) and served as President (04 March 1994 to 17 September 1995) and Chairman Past Presidents Committee (17 September 1995) and member of the Past Presidents Committee (1996). Deceased on 2 October 1996.