Walter J. Ferrari
Biography
Home

About Us

Contact Us

Donate

Newsletter

8th AFHS

Links

FAQ

Facebook

Search
Personnel

Aircraft

Nose Art

B-17 Thunderbird

Ground Support

Uniforms

Journals

More Info
Mission Reports

Combat Crews

Individual Photos

Photos

POW

KIA

MACR

Overseas Graves

TAPS
Walter J. Ferrari Biography
427th Walter J. Schlecht Crew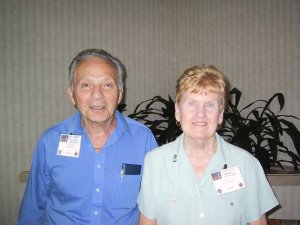 Walter and Ruth Ferrari
Walter J. Ferrari was born October 13, 1920 in Brooklyn, New York. Enlisted in aviation Cadet Program. Assigned as part of a replacement crew. Pre-flight - Montgomery, Alabama; Primary Flying - Jackson, Mississippi; Basic Flying - Greenville, Mississippi; Advanced Flying - George Field, Illinois; B-17 Transition - Lockbourne, Columbus, Ohio; B-17 Replacement Training - Drew Field, Tampa, Florida.
Thirty-five missions flown. Most missions flown in B-17G "Miss Lace." Awarded Air Medal with 5 Oak Leaf Clusters and 3 Battle Stars.
After returning from England I served in the Air Transport Command. I returned to civilian life in December 1946. Went to work for American Overseas Airlines as an Assistant Flight Dispatcher. Went to work for Robinson (later Mohawk) Airlines in 1948. Became Vice President Flight. Left Mohawk as the result of a merger in 1972 and became the Southern Region Director, Air Transport Association. Promoted to V.P. Southern Region and retired in 1992.
Elected, or appointed, to the following 303rd BGA positions: 17 August 1995 (3 years) and 28 Sept 2000 (1 year) - Vice President - Reunions; 7 September 2001 - Vice President Administration; 7 October 2002 - President; 8 August 2003 - Chairman Past President's Committee followed by three years as a member of the Past President's Committee. 8 August 2003 - Member of 2004 Savannah, GA Reunion Committee; 2004 - Vice President - Reunions.