Albert L. Dussliere
Biography
Home

About Us

Contact Us

Donate

Newsletter

8th AFHS

Links

FAQ

Facebook

Search
Personnel

Aircraft

Nose Art

B-17 Thunderbird

Ground Support

Uniforms

Journals

More Info
Mission Reports

Combat Crews

Individual Photos

Photos

POW

KIA

MACR

Overseas Graves

TAPS
Albert L. Dussliere Biography
427th Grafton N. Smith Crew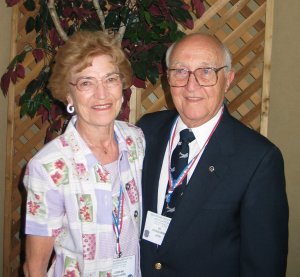 Lorene and Al Dussliere
Albert L. Dussliere was born July 21, 1924 the second of four sons of Alois and Martha Callewaert Dussliere. His primary education was at St. Mary's Catholic School with high school at United Township High School in East Moline, IL. from which he graduated in 1942. In high school he was a cheerleader four years for football and basketball. He and his brothers learned very early the art of working and spent many hours working for their parents in an independent grocery store.
In October 1942 his older brother enlisted in the Army Air Corps and in June 1943. Al followed in his footsteps. A younger brother entered the Navy in 1944. During the war two of the Dussliere boys were in combat areas in the Pacific Theatre while Al served in the European Theatre. Alois, Jr. was Killed In Action May 15, 1945 on Okinawa.
Al entered the Aviation Cadet Program and was sent to Keesler Field MS for Basic Training. The University of Tennessee in Knoxville, TN was the location of his College Training Detachment. From here he was sent to the Classification Center in Nashville, TN where he left the Cadet Program. The next stop was Buckley Field, CO for Aircraft Armorer Training. Aerial Gunnery School at Las Vegas Army Air Field followed. Al joined the Grafton N, Smith Crew in Lincoln, NB as a Waist Gunner. Soon the crew was sent to Sioux City Army Air Field for Combat Training. It was here that the crew was reduced by one Waist Gunner. Lincoln, NB was again our home for a short while. Here we boarded a train and headed east which was a hint as to where our destination was. Late in November we boarded the Queen Elizabeth, where we spent Thanksgiving 1944. We arrived in Scotland in five days and very soon had the pleasure of our first travel on a European train. Early in December 1944 we arrived at our home away from home Molesworth.
The G.N. Smith Crew was assigned to the 427th Bomb Squadron of the 303rd Bomb Group. The days and nights were busy training on the ground and in the air until our first mission December 18 to Koblenz, Germany. The first few missions were fairly uneventful with no serious problems. January 10, 1945, our 13th mission, we were involved in a mid-air collision with another B-17 over Bonn, Germany as we were turning off the target. Our plane for that mission was "Buzz Blonde" which was on its100th mission. Our nose was knocked off forcing the Bombardier, Bill Dohm and Navigator, Ed Gardner to bail out. Later we learned they were Prisoners of War. We were extremely fortunate in being able to make a belly landing in Luxembourg. The other aircraft made it to France. The 14th mission on January 22, 1945 to Sterkrade, Germany in "Cheshire Cat" was another wake-up call. Intense and accurate flak at the target knocked out number 3 and 4 engines and filled the plane with holes. The plane was damaged so severely that it was necessary to get rid of everything we could including the ball turret requiring a forced landing in Ghent, Belgium. The Tail Gunner and Togglier were wounded. Another memorable mission was #32 on March 20, 1945 to Hamburg, Germany where we were hit by approximately 30 ME 262 Jets. March 24 we completed our 35 missions. Al returned to the States in May. He was stationed first in Santa Ana, CA and was Honorably Discharged as a Staff Sgt. at Chanute Army Air Field, IL in October 1945.
Al returned to the grocery business for 13 years with his father and younger brother. He married his high school sweetheart Lorene Mae Seitz in September 1946. They are the parents of Theresa Dussliere Voltz who lives in Wooster, OH, Philip Dussliere, Rock Island, IL and Steve Dussliere, East Moline, IL and grandparents of three.
He was Commander of the East Moline-Silvis Amvets and President of the East Moline-Silvis Kiwanis Club. At the age of 29 he was elected and served four years as a Councilman in East Moline in a non-partisan election. From 1959 to 1965 he served as Mayor but this time under a political party affiliation.
In 1958 he established his own Importing and Distribution business which he continues to operate. In 1965 he was appointed Postmaster in East Moline. He served in this position until he was named Assistant Postmaster for the Rock Island, IL Post Office. Later the office was made a Management Sectional Center responsible for 105 Post Offices in western Illinois and eastern Iowa. At that time he was named Director of Customer Services for the Sectional Center and remained in that position until he retired in 1984.
In retirement his time is occupied with assisting St. Anne Parish as an Eucharistic Minister, visiting the home bound, Funeral Mass server, member of the tuition assistance committee and member of a committee studying the merger of the two Catholic schools in East Moline. Golf and travel also fit in the schedule.
Elected, or appointed, to the following 303rd BGA positions: 11 October 1999 (3 years) - Secretary; 7 October 2002 - Vice President Administration; 8 August 2003 - President; 30 August 2004 - Chairman Past Presidents Committee followed by three years as a member of the Past Presidents Committee