Carl L. DuBose
Biography
Home

About Us

Contact Us

Donate

Newsletter

8th AFHS

Links

FAQ

Facebook

Search
Personnel

Aircraft

Nose Art

B-17 Thunderbird

Ground Support

Uniforms

Journals

More Info
Mission Reports

Combat Crews

Individual Photos

Photos

POW

KIA

MACR

Overseas Graves

TAPS
Carl L. DuBose Biography
427th Carl L. DuBose Crew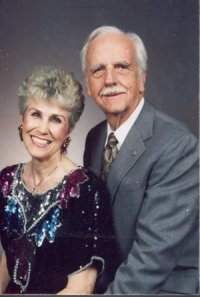 Angele and Carl DuBose
Carl L. DuBose, Jr.
was born on 7 August 1922 in Gonzales, Texas. Was a college student prior to his enlistment. Entered USAAF Aviation Cadet on 5 March 1943 at the Santa Ana Army Air Base, CA. Had primary flight training at Phoenix, AZ, Basic at Gardner, CA and Advanced at Douglas Army Air Field, AZ. Graduated with Class 43-K. B-17 transition training was at Roswell, NM and crew phase training at Pyote, TX.
Obtained a new B-17 at Kearney, NE and flew it to Nutt's Corner, Ireland via Bangor, ME and Newfoundland arriving on D-Day 6 June 1944. Was assigned to the 427th BS at Molesworth on 27 June 1944. 1st mission on 5 July 1944 (#196). Completed his last and 35 mission (#263) on 26 October 1944.
Returned to the United States and completed B-29 phase training at Tucson, AZ. The war ended before his B-29 crew could enter combat against Japan. Serve in the United States. He entered the Air Force reserves following WWII and retired as a Lt Colonel in 1966 after 20 years USAAF and USAF service. Formal retirement was on his 60th birthday 7 August 1982.
Following WWII he was married to Angele DuBose and was a teacher and administrator in Pubic Schools and college. On 6 June 1987 and 30 September 1989 was elected to serve as the 303rd BGA Secretary and was President from 27 May 1991 to 21 September 1992
Elected to the following 303rd BGA positions: 6 June 1987 to 27 May 1991 - Secretary; 27 May to 21 September 1992 - President.