William H. Cox
Biography
Home

About Us

Contact Us

Donate

Newsletter

8th AFHS

Links

FAQ

Facebook

Search
Personnel

Aircraft

Nose Art

B-17 Thunderbird

Ground Support

Uniforms

Journals

More Info
Mission Reports

Combat Crews

Individual Photos

Photos

POW

KIA

MACR

Overseas Graves

TAPS
William H. Cox Biography
358th Rufus W. Grisham Crew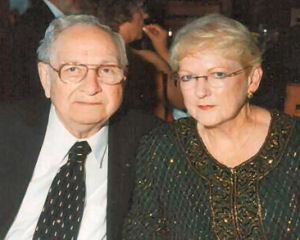 Bill and Jean Cox
William H. Cox was born May 6, 1923, on a farm in Ogle County, Oregon, Illinois. He was the fifth of seven children, three boys and four girls. The family relocated to Oregon and then Rockford, Illinois, where Bill attended grade school and high school. He was active in the Boy Scouts achieving Eagle Scout status and was one of three boys from Rockford selected to attend the Boys State Program in Springfield, Ill when he was 16. While a senior in high school, he enlisted in the Illinois National Guard. He served as a Private for one year in Company K, 129th Infantry, 33rd Division and was given an Honorable Discharge when the Guard was federalized, in late 1940, because he was under the age of 18.
Inspired by a commercial Jimmy Stewart made as a movie trailer and because he didnít want to be drafted into the Armyís Infantry, Bill decided the Army Air Corp was where he wanted to serve. He enlisted in the Aviation Cadet Training program on September 10, 1942, however he was not called to active duty till Feb. 2, 1943. After 3 weeks of Basic Training at Sheppard Field, Wichita Falls, TX, he attended 4 weeks of College Education Training at Texas Tech College, in Lubbock, TX. While there he was given 10 hours indoctrination to flying in a Piper Cub aircraft.
After Classification at Santa Ana, CA, where he was selected for Pilot training, he attended Primary Flying School at Santa Maria, CA. He completed Basic Flight Training at Chico, CA and Twin Engine Advanced Training at Douglas, AZ. It was at Douglas AZ, where he graduated as a 2nd Lt. with those coveted Pilot wings, in the Class of 44C.
While home on graduation leave, he was hospitalized for 2 weeks with a severe case of strep throat. When he reported for duty at Hammer Field, Fresno, CA he found his orders for First Pilot Training in B-24 aircraft at Tonopah, NV, had been changed because of the urgent need for B-17 crews in the ETO. He was assigned as a Co-pilot on a B-17 for Crew Training at Rapid City, SD on Lt. R. W. Grishamís aircrew. After completing training the crew was assigned to the 358th Bomb Sqdn., 303rd Bomb Group, at Molesworth, England.
After completion of his 35 combat missions (during which he had been checked-out as First Pilot in B-17s) he was given a three-week R and R leave with his wife in Miami, FL. His next orders sent him to Instructor School for B-17 Pilots at Lockbourne Air Base, Columbus, OH. With the War in Europe winding down, the school was closed when he had reached the half way point. He was given a choice from a long list of Air Bases in the U.S to which he wished to be assigned. (Hard to believe, but true). The choice was MacDill Field, FL where he trained as a Photo Pilot and at that point, he choose to continue with a career in the USAF. Retiring as a full Colonel (Regular Commission) on 1 July 1972, at Beale AFB, CA.
At the time of Col. Coxís retirement from the Air Force he had accumulated over 10,000 hours of flying time. His piloting experience was accomplished without an accident, piloting a wide variety of aircraft, i.e. B-17, RB-17, RB-29, RB-36, B-52, C-130, KC-135, C-118, U-4, T-39 and F-2ís. Many other types of aircraft were flown, but are not listed, since he had less than 100 hours pilot time in each. He flew combat missions in 3 major wars (WW II, Korea, and Vietnam), while earning a total of nine battle stars. By the end of his career, he had flown 634 total hours of combat time. His time in combat consisted of flying 35 B-17 missions over Germany, 29 unescorted RB-29 Reconnaissance Missions over North Korea (July 1950- Feb. 1951) during the Korean War. In the Vietnam War, he flew three combat Strategic Recon sorties, each in a different type aircraft. On one mission he supervised the launching & recovery of two UAVís from over N. Vietnam. Col. Cox earned numerous medals, including the Distinguished Flying Cross (earned in the Korean War), the Meritorious Service Medal, the Air Medal with one silver and two bronze oak leafs and three AF Commendation Medals. He spent a collective total of 20 years in the Strategic Air Command (SAC), starting with the day the Command was formed.
He attended the Air War College, Class of 1963. Following graduation, he returned to SAC as Deputy Director of Plans at SACís 15th AF Hdqs., March AFB, Ca. This was followed by a three-year assignment in Alaska at Elemendorf AFB, where for the first year he was Supervisor of CINCALís Command Center 1965-66. Upon his promotion to full Colonel he was given the assignment of Director Of Operations for the newly formed 21st Composite Wing. The Wing consisted of 12 different type aircraft. With F-102 Fighters, C-130ís, C-123ís, C-47ís, six helicopters and even one single engine float plane. Six of the C-130ís were equipped with skis for the mission of supplying the two ďDEW lineĒ sites at 8,000 feet up on the ice cap of Greenland.
His Alaska assignment was followed by the highpoint of his career, his assignment to The Organization of the Joint Chiefs of Staff (JCS) in July 1968 to July 1970. His duty was as a Team Chief on one of the three National Emergency Airborne Command Post aircraft, often referred to by the Press as ďThe Doomsday Aircraft.Ē During that tour of duty he briefed President Nixon on May 12, 1969, while conducting a war game that played out as the aircraft was airborne, while returning the President to Washington, DC from Florida. Col. Cox demonstrated for the President what his team of all JCS officers and airmen could do to insure the survival of the President.
He further briefed the President on how the President could safely conduct any retaliation he might desire against an aggressor nation which might have launched a no-notice missile attack against the United States. Using the Presidentís decision for any type missile retaliation, Col Coxís team demonstrated how the ďGo-No-GoĒ Code would be constructed and then sent out to all of our worldwide Nuclear Forces. The President was also shown how he had the ability to continue monitoring the developing situation throughout the world.
The last assignment in his career was Director of Operations of SACís 14th Air Division at Beale AFB, CA. At that time the 14th AD was responsible for the Operations of all of SACís Reconnaissance Wings, (July 1970 to July 1972).
Col. Cox was on active flying status everyday of his career. He was current in KC-135ís refueling SR-71s, until the day he left the Air Force. He asked for immediate retirement, following the death of his wife on Dec. 17, 1971. His eldest son had MD, his second son was in college, but his two youngest children were only 15 and 11 and his job required him to travel frequently. He had given his country 30 years of service and his choice was clear. He chose to care for his family. Bill lost his two oldest sons to MD and Cancer respectively.
When the two youngest children were ďout of the nest,Ē Bill decided to go back to school and get a degree in Business, which he did. Bill remarried in 1981 and he and Jean have traveled extensively worldwide, from their home in Vacaville, Ca. Their greatest joy, however, are their three grandchildren. Both of the Coxes are active in their community. Bill has served on the Board of the Vacaville Museum, and on the Board of Elders for Bethany Lutheran Church. Bill has been a member of the 303rd BGA since 1975. He became WWII Awards Chairman in 2002 and subsequently helped five 303rd Veterans receive the DFC they had earned more than 50 years earlier. He was elected Treasurer in 2003 and served two terms, before being elected President in 2005. He served as President for the final two years of the Association. He formally retired the gavel at the 303rd BGA's Grande Finale Reunion on September 23, 2007.