Bombing of
Essen, Germany
Home

About Us

Contact Us

Donate

Newsletters

8th AFHS

Links

FAQ

Facebook

Search
Personnel

Aircraft

Nose Art

B-17 Thunderbird

Ground Support

Uniforms

Journals

More Info
Mission Reports

Combat Crews

Individual Photos

Photos

POW

KIA

MACR

Overseas Graves

TAPS
Bombing of Benzol Plant at Essen, Germany
303rd BG(H) Mission #332 - 08 March 1945
Portions of the 303rd Lead Group Formation with 358th Pilots and Crews.
Each B-17 dropped 12 500 lb General Purpose Bombs through the heavy flak.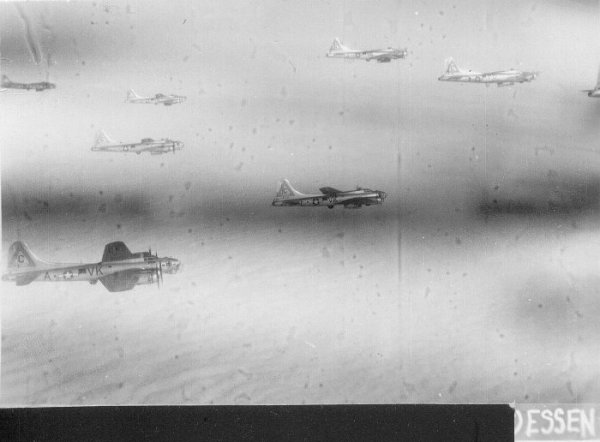 Approaching the Target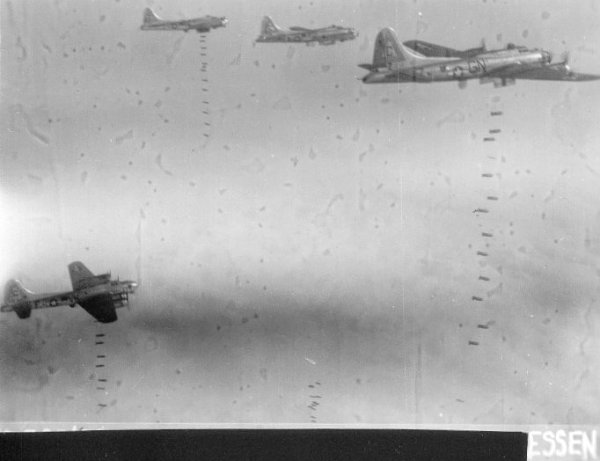 Bombs Away !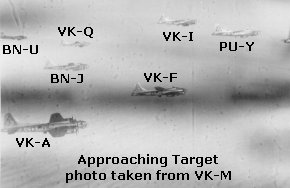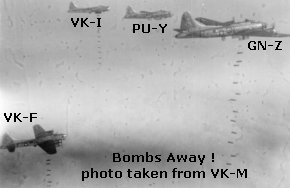 Aircraft and Crew Identification
(VK-I) 358BS B-17G #43-38462 Teddy's Rough Riders
1Lt John D. Dorsett, Jr. (P) - 2Lt Neil E. Cunningham (CP)

(PU-Y) 360BS Lead PFF B-17G #44-8125 Sparky
Col William S. Raper (P/AC) - 1Lt Werner G. Goering (CP)

(GN-Z) 427BS Deputy Lead PFF B-17G #44-8038 (No Name)
1Lt Harley D. Snider (P) - 2Lt Everett H. Thornton (CP)

(VK-F) 358BS B-17G #43-38999 Emma
1Lt Clarence J. Goodberlet (P) - 2Lt Malcolm C. Magid (CP)

(BN-U) 359BS B-17G #42-38050 Thunderbird
2Lt Francis R. Taub (P) - 2Lt John T. Cooper (CP)

(VK-Q) 358BS B-17G #43-37590 Neva-The Silver Lady
1Lt Harry D. Gobrecht (P) - 2Lt Joe M. Eby (CP)

(BN-J) 359BS B-17G #43-38289 Sweet La Rhonda
2Lt John M. Woodard (P) - 2Lt Bob Laubhan (CP)

(VK-A) 358BS B-17G #43-38191 Shasta
2Lt Loren W. Bohle (P) - 2Lt Joseph Gordon (CP)

photos were taken from:
(VK-M) 358BS B-17G #43-39096 Sky Demon
2Lt Charles E. Garrett (P) - F/O Joseph L. Castillo (CP)

Lt. Walter H. McDonald, Navigator on the Lt. Harry D. Gobrecht crew, flying in the 358th BS B-17G #43-37590, Neva-The Silver Lady, reported:
We came off our bomb run with over 90 holes in our plane, one engine feathered and most of our instruments not in working order. As the formation flew off to the north we lagged further and further behind, until finally we were all alone - a perfect target for German fighters. I could navigate by pilotage for awhile, but we soon flew over an overcast and the ground wasn't visible. After what seemed an eternity, I saw a slight break in the clouds below. On the ground I could get a glimpse of a narrow strip of land. Knowing what part of Europe we were in, I realized that this could only be the dam holding the ocean water out of the Zuider Zee. Giving Lt. Gobrecht the new heading for Molesworth, we arrived as the first B-17 to land. The rest of the formation had been on a zig-zag "Cook's Tour" of Europe to confuse German radar.
[photos courtesy of Louis J. Prudhoe - research by Harry D. Gobrecht, 303rdBGA Historian]