First Anniversary
Officers Party
Home

About Us

Contact Us

Donate

Newsletters

8th AFHS

Links

FAQ

Facebook

Search
Personnel

Aircraft

Nose Art

B-17 Thunderbird

Ground Support

Uniforms

Journals

More Info
Mission Reports

Combat Crews

Individual Photos

Photos

POW

KIA

MACR

Overseas Graves

TAPS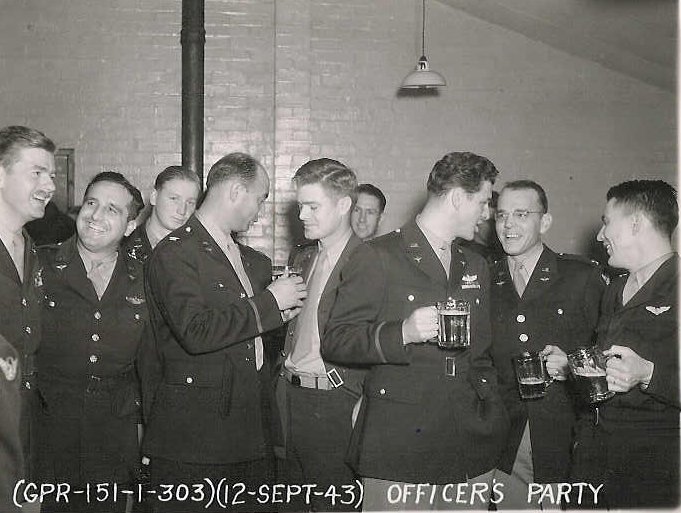 303rd BG(H) First Anniversary Officers Party - 12 Sep 1943
(L-R) Alexander Strickland, Kermit Stevens, unknown,
Charles Marion, Glynn F. Shumake, unknown,
George Robinson, Benjamin F. Ramsey, Eugene A. Romig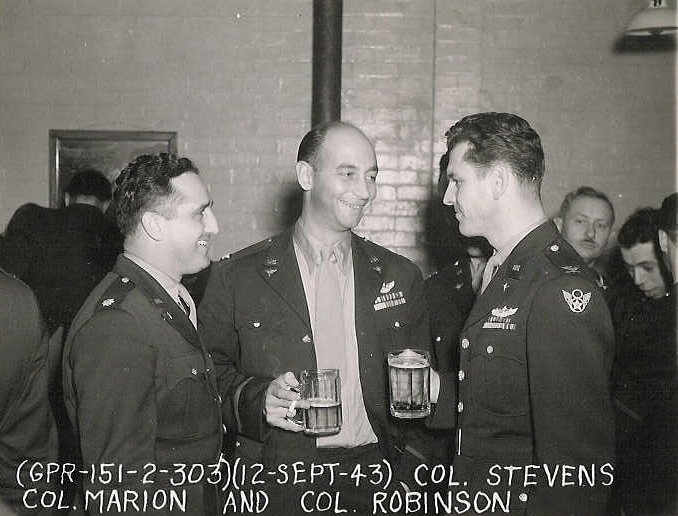 303rd BG(H) Officers Party
Kermit Stevens, Charles Marion, George Robinson
NARRATOR SCRIPT
OFFICER'S FIRST ANNIVERSARY PARTY
12 September 1943
NARRATOR:
Hello, all you old bastards. Glad to see you back again . . .
. . . Well I guess you all know why we're here today. It's the first anniversary of the capture of Molesworth by the American forces. We don't propose to bore you with statistical information concerning our record, of which we are justly proud, but we thought we might delve into the past year and beyond just a little to bring out some of the incidents which have taken place. To give a little background, it might be well to mention how we prepared since our activation in Boise, Idaho a year ago last February.
Some of the gang left Boise for a temporary vacation in the beautiful lake country in sunny California, better known as Muroc Air Base, where they settled down for a while to enjoy life by crawling out of the sack under a sandstorm or baking in a temperature upwards of 120 degrees. When they returned, the group got ready to leave Boise, and again according to Army plan, things got pretty well screwed up, because nobody could seem to make up his mind whether it was to be Pendleton Field, Oregon, or that glamorous spot in New Mexico, the Alamogordo Air Base. After things became untangled and those that started for Pendleton were turned back and sent to Alamogordo, training proceeded according to schedule. Life at Alamogordo was most pleasant. Restaurants and drinking joints were declared out of bounds and if you weren't picking scorpions out of your shoes, you were kicking rattlesnakes from under your bed. Reports were continually coming in from Second Air Crew Headquarters that the 303rd Bomb Group was about to go plum. It was rather questionable whether we were going to plum or whether we were going to seed. The group was proud possessors of approximately five shiny B-17s, although never more than three of them could fly at any given time. However, despite the various handicaps they managed to carry on. Our next move, plum, turned out to be Biggs Field, El Paso, Texas.
Of course, this ancient history is for background purposes only to shed light on the fact that maybe it was because, or I should say despite these handicaps, we have become what we are today. A few of us will remember the days and Biggs Field preparing to leave the country.
Major Ramsey was trying to organize his supply line, and because of his extreme efficiency he was damn near shipped to the port of embarkation in one of his own boxes. We remember a CQ coming into headquarters and reporting that he thought there might be sabotage taking place on the field. Old Ben had been missing for a brief period of 10 hours. The CQ reported that he had heard a knocking inside one of the large packing boxes and people went out to investigate found it was the good captain who, who while taking the contents of said packing box, had been nailed firmly in the same as these men had been working practically on assembly-line principles and in the dark of night had just hammered the lid on and let it go at that.
Things were definitely in a turmoil. Bernie Kalman almost had a Section 8 trying to bring the personnel of the group to the TO, however, the ground echelon finally got underway and pulled out of Biggs Field heading for the staging area under the command of Major Marion, our executive officer, who was to command the ground echelon on the trip overseas. Major Marion was famed as the owner of the finest head is skin in the Army Air Forces. When we arrived at Fort Dix, it was rumored that we could settle down peacefully for probably a period of several weeks before hopping the scow to go abroad. A few took off, including the boss himself who found that life in New York was more pleasant than hanging around the Jersey swamp land.
However, not many hours later, Captain Doherty, our Group Adjutant, was seen at his desk nursing a hangover when the phone rang. It seems that there was a Captain from the station area administration section on the other end of the line who was looking for a Mess Officer. He stated that this officer must at least a Major. Captain Doherty explained to the Captain that he was very sorry that he couldn't help him out, but that the only Major that we had in the place was Major Marion and he was the Group CO. The captain, however, was not one to give up easily and after threatening dire consequences and explained that CO or no CO Major Marion was to be the Mess Officer on the boat going overseas. Captain Doherty, when last seen, was muttering to himself in an exasperated voice, "My God, he's in New York."
Chuck got back with about half a second to spare, not knowing yet that he was to take over control of the slum galleon in the boat. Things turned into a madhouse because the 360th Squadron as a whole, plus several other officers were given about two hours notice to get on the train and leave for the port of embarkation. We sat on the damn boat for four days waiting for the others to come aboard. If you tried to sneak down the gangplank you were approached by a grisly looking MP who definitely questioned your intentions.
Some of us had bridal suites, which were really scrumptious. The only thing wrong was that there were about 90 other guys in the same suite – and no bride.
Life aboard the old tub was rather pleasant, once we got underway. Outside of the fact that reports kept coming in the latrine that hundreds of subs were waiting for us and that we had been sunk, or if we hadn't been, we were about to be. Poor Chuck was really having his troubles.
There are so many men on the boat that only two meals could be served a day. Even with only the two meals, the men were standing in line practically 24 hours a day. They were divided into eight shifts per meal, and each man was supposed to wear a large, colored button with a number on it representing his shift. Chuck and his two assistants Lt. Charles Miller and Lt. Johnny Nunn were between the frying pan and the fire constantly.
To make a long story short, 17,000 old bags of bones debarked at Glasgow on September 11 and we finally got to Molesworth just a year ago today and prepared to sweat out on the air echelon. After sending out a few patrols to capture some nearby pubs, we settled down to a steady diet of sprouts, lamb and spam. Major Marion parceled out jobs that were to be done in this manner: "Lt Simms, old boy, as you know, we are having to operate the base on a short complement of officer personnel. Now in addition to your other duties, you will be in charge of the V-packets, demonstration, mail censor, mud control officer, war bonds officer, agricultural assistant, of course in your spare time you will meet all trains and lend a general helping hand on other equally important duties. John, old boy, you have my complete backing. I know you will do a swell job."
Finally the air echelon, led by Colonel Romig show of after having set the remarkable record of having been the first heavy bombardment group to bring all their aircraft overseas to the UK intact. Of course for the first week they continually gave us the needle about how after leaving us, Colonel Wallace gave them all kinds of passes, both at Kellogg field and at Dow, in Bangor. Stories about the Sky Club in Battle Creek and the wild escapades in the BOQ at Bangor made even such old diehards as Major Stone and Captain Elmer Nichols blush beneath the mud. Anyway, despite the fact that they thought they were in a prison camp at both places, they said they enjoyed themselves. Finally, on the 16th of November, the first field order came through and the 303rd was to begin operation.
From that moment on, things began to happen, and what I mean – REALLY happen. Colonel Wallace was immediately notified and the base was closed up like a clam. No one was allowed on the field and no one was allowed off the field that was already on, and no telephone calls were to be put through. Excitement was rampant. People are running around having no idea where they were running to. Even the adjutant was trying to figure out the score. Major Ramsey, now endeavoring to keep track at all times of which airplanes are going to fly and which ones won't, came in so many times to change the formation that I doubt if anyone ever did know what airplane took off. Cletracs were backing into propellers, airplanes were getting stuck in the mud, waist gunners were shooting off horizontal stabilizers, only to mention a few. A farmer called up to ask if it were possible for an aircraft or takeoff north to south instead of the east to west, so we wouldn't scare his cattle. Half the British WPA were still on the field and couldn't get off to go home. At this point, Colonel Stone entered asking if it were possible to call the missions off as he was having a practice gas alert and would rather not have any interruptions. He was utterly amazed when Colonel Wallace, without answering, through the phone at him, and when last seen was heard to mutter to himself, "My goodness, I wonder what's eating him?"
Believe it or not, the airplanes did take off in an attempt to bomb Saint Nazaire. Ten minutes after they took off, Colonel Wallace entered into the operations room screaming, "Where is the guy Niemants? There were no bombs or ammunition on my airplane!"
Soon life began to settle down and missions were taken in stride. The mud rose an inch a week and little Bergen Newell was going around with a periscope in his snout. At this particular point Wheeler-Skoner Enterprises, were doing a land office business. Both Muscles Wheeler and the chaplain were well on their way to becoming first-class racketeers.
Anyway, the old gang got pretty well acclimated to life in Mudsworth, even though we underwent several changes. Colonel Wallace went to Bomber Command and Chuck took over and now Colonel Stevens is the CO. But even though we have to sweat out Captain Von Holdt and his stormy weather predictions, we have settled down to taking everything in stride.
[photos courtesy of Marion L. "Dutch" Niemants]