427th Simmons Crew
Thomas L. Simmons, Pilot
Home

About Us

Contact Us

Donate

Newsletters

8th AFHS

Links

FAQ

Facebook

Search
Personnel

Aircraft

Nose Art

B-17 Thunderbird

Ground Support

Uniforms

Journals

More Info
Mission Reports

Combat Crews

Individual Photos

Photos

POW

KIA

MACR

Overseas Graves

TAPS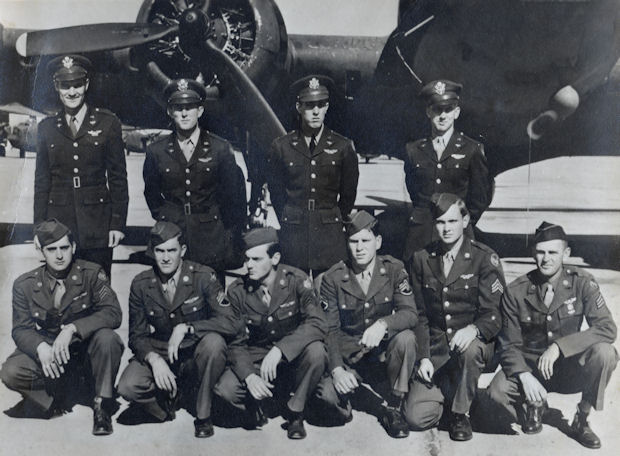 THOMAS L. SIMMONS - 427th BS
(Assigned 427BS: 16 November 1943)

(Back L-R) 2Lt Thomas L. Simmons (P)(POW), 2Lt Fred E. Reichel (CP)(POW),
2Lt William L. Clyatt (N)(POW), 2Lt Richard W. Vaughn (B)(POW)

(Front L-R) Sgt Dante C. DiPietra (BTG)(POW), S/Sgt Wallace S. Elliott (E)(POW),
Sgt Robert D. Stewart (LWG)(POW), S/Sgt Joseph A. Bennett (R)(POW),
Sgt Robert F. Livingston (WG)(POW,Died), Sgt Wesley L. Hasty (TG)(POW)
Four missions flown by the Simmons crew:
89 (16 Dec 1944), 95 (A), 97, 98 (11 Jan 1944)
(A) Mission aborted - no credit
For mission dates and targets see the missions list.
Crew notes:
2Lt Grover E. Henderson (CP) - From the Lt Edward M. Woddrop crew - Only flew with the Simmons crew on one mission (89). 2Lt Fred E. Reichel (CP flew on the three other missions (95(A), 97, 98)
Other crewmen - Flew on all four of the 2Lt Simmons crew missions.
Last Mission:
Mission #98, 11 Jan 1944 to Oschersleben, Germany, in original 427th BS B-17F #41-24619
S-for-Sugar
GN-S. Went down between between 1110 and 1125 hours and crashed near crashed near Braunlage, Germany. Mission led by B/Gen
Robert F. Travis
(CG 41st Combat Wing). A mission recall order was issued when weather started closing in over English airfields. B/Gen Travis claimed that he never received the recall order. P-47s, who were to provide mission withdrawal support, obeyed the recall order and left the 1st Division bombers to fend for themselves. Eleven 303rd BG(H) bombers were lost when attacked by numerous German fighters. This was the greatest loss suffered by the 303rd on any of its combat missions. The 1st Division lost 42 B-17s and 430 crewmen. All of the Lt Simmons crewmen became POWs. Sgt
Robert L. Livingston
(TG) died of pneumonia on 24 March 1944 in Stalag 17B at Krems, Austria.
Oral History:
MSgt Dante C. DiPietra
Ball Turret Gunner on the Thomas L. Simmons Crew
Prisoner of War
https://www.youtube.com/watch?v=G1ST0aJrW4g&feature=youtu.be
[photo courtesy of Steve Arter, Historian, Rochester, NY Chapter of the Sons of the American Revolution]
[Researched by Historian Harry D. Gobrecht]