427th Rose Crew
Jack W. Rose, Pilot
Home

About Us

Contact Us

Donate

Newsletters

8th AFHS

Links

FAQ

Facebook

Search
Personnel

Aircraft

Nose Art

B-17 Thunderbird

Ground Support

Uniforms

Journals

More Info
Mission Reports

Combat Crews

Individual Photos

Photos

POW

KIA

MACR

Overseas Graves

TAPS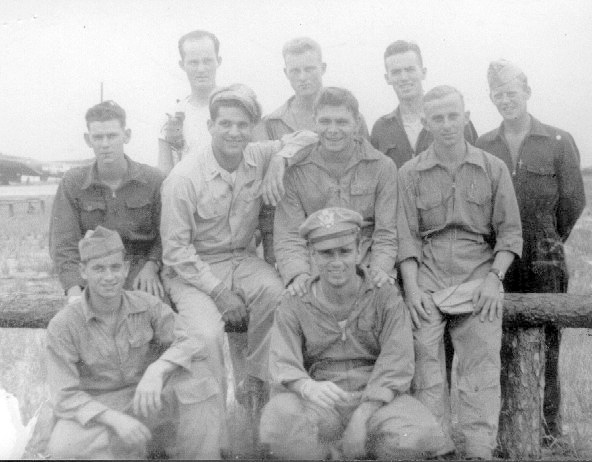 JACK W. ROSE CREW - 427th BS
(crew assigned 427BS: 23 Sep 1944)

(Back L-R) 2Lt T. John "Tex" Cornyn (B-POW), Sgt Lamar H. McCall (WG),
S/Sgt Clyde J. Cottle, Jr. (TG-POW), S/Sgt Lynn M. Brinkley (BT-POW)

(Middle L-R) S/Sgt Warren G. Yates (VI-POW), 2Lt John K. Nazarian (B-POW),
1Lt Jack W. Rose (P-POW), Sgt Donald T. Clare (WG)

(Front L-R) T/Sgt Flake S. Dyson (E-POW), 2Lt William D. Russo (N)

T/Sgt Joseph P. Scaglione (R-POW) - not in photo

Jack W. Rose "Red 166" Crew
Memorial Plaque at the Mighty Eighth AF Heritage Museum, Savannah, GA.

Original 23 Sep 1944 Crewman not in photo: Sgt Hyram C. Harper (R)
POW - On 13 Jan 1945 Mission #301 to Mannheim, Germany in B-17G #44-6166 Red 427th BS (GN-V). Aircraft received a direct flak hit in the #3 and #4 engines which caught fire. The entire crew bailed out at 20,000 feet. The B-17 crashed at Primasens, Germany. The crewmen were captured that day, except for S/Sgt Warren G. Yates and T/Sgt Joseph P. Scaglione. They hid in a wooded area the first night, then walked in a westerly direction for seven days. Yates spoke German and went to a farmhouse for help, but German soldiers were there and he was captured. Scaglione evaded capture for one more day, then was captured near Primasens, Germany, close to the French border. T/Sgt Flake Dyson lost his left eye, S/Sgt Lynn Brinkley suffered a broken ankle, S/Sgt Lloyd Hester injured an ear drum. Lt John Nazarian received a head wound and was sent to Wetzlar, Germany for interrogation and then to Stalag XIII at Nurnburg, Germany. This prison camp was evacuated in early April 1945 and the POW's walked about 20 miles to Moosburg. Lt Nazarian then met up with General Patton's troops and finally found his way back to Molesworth and return to the USA. The Sergeants were placed in the Moosburg POW camp north of Munich and were released on 29 April 1945 by the 14th Armored Division of General Patton's Third Army. McCall, Clare, Harper and Russo were not on that mission. The navigator was 2Lt William F. McMahon (POW).


[photo courtesy of John K. Nazarian]
[Researched by 303rdBGA Historian Harry D. Gobrecht, with information from Joseph Scaglione]