427th Richardson Crew
Thomas W. Richardson, Pilot
Home

About Us

Contact Us

Donate

Newsletters

8th AFHS

Links

FAQ

Facebook

Search
Personnel

Aircraft

Nose Art

B-17 Thunderbird

Ground Support

Uniforms

Journals

More Info
Mission Reports

Combat Crews

Individual Photos

Photos

POW

KIA

MACR

Overseas Graves

TAPS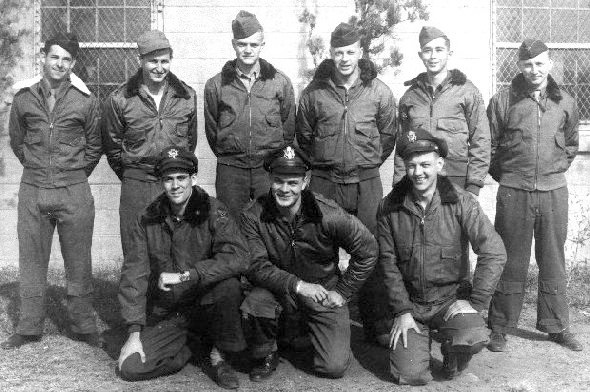 THOMAS W. RICHARDSON CREW - 427th BS
(crew assigned 427BS: 24 Dec 1944 - photo: at USA training base)

(Back L-R) Sgt John M. Graves (BT)(*),
Sgt Frank Higgenbotham (WG)(4), Sgt Richard E. Wakefield (TG(*),
Sgt Dave Massingill (E)(3), Sgt Frank Hendrix (R )(4),
Sgt John Ladd (Tog)(4)

(Front L-R) 2Lt Peter D. Ayling (CP)(*),
2Lt Thomas W. Richardson (P)(1)(*), 2Lt Richard M. Emick (N)(2)
Richardson (P) - Had an attack of appendicitis when the crew landed in New England and was taken to a hospital for surgery. The crew, without Richardson, was flown to Scotland with an ATC Pilot. They were given 10 days ground school at Molesworth and then awaited the arrival of Lt Richardson. So they could fly as a crew.
Emick (N) - Was killed in action on 13 January 1945 mission #301 to Mannheim, Germany in B-17G #42-107099 Old 99 (427BS) GN-W, Capt M.S. McGinnis Pilot.
Massingill (E) - Injured his back while flying with another crew.
Higgenbotham (WG), Hendrix (R) and Ladd (Tog) - Had been removed from the Richardson crew after ground school training and were turned into radar counter-measure operators.
(*) Crew Incident:
On 15 March 1945 mission #337 to Zossen, Germany in B-17G #43-39220
Smilie Jack
(aka
Shillelagh
) (427BS) GN-G. Lt Richardson, calling the formation leader on VHF, reported that he was going to abort, had one engine feathered and was heading for the lines. He did not specify which lines, but it was believed he meant the western front lines. A wheels-up landing was made at the Okecie airfield near Warsaw, Poland. All crewmen were unhurt.
Replacement crewmen on mission and crash landing: F/O William R. Rubins (N) [See 427th Julius C. Demian Crew photo] for 2Lt Emick (N); 2Lt John E. Pacheco (B) for Sgt John Ladd (Tog); S/Sgt Henry E. Lindeman (E) (From 427th BS Lt Donald C. Aagesen Crew) for Sgt Massingill (E); S/Sgt Howard A. Grossman (R) [See 427th P.D. Eisenwinter Crew photo] for Sgt Hendrix (R). Sgt Higgenbotham (WG) was not on the eight man crew - The waist gunner position had been deleted from the crew.
B-17 #43-39220 Smilie Jack Crash Photo
[Photo and comments courtesy of Dick Wakefield]
[Researched by 303rdBGA Historian Harry D. Gobrecht]