427th Pursel Crew
Stanley E. Pursel, Pilot
Home

About Us

Contact Us

Donate

Newsletters

8th AFHS

Links

FAQ

Facebook

Search
Personnel

Aircraft

Nose Art

B-17 Thunderbird

Ground Support

Uniforms

Journals

More Info
Mission Reports

Combat Crews

Individual Photos

Photos

POW

KIA

MACR

Overseas Graves

TAPS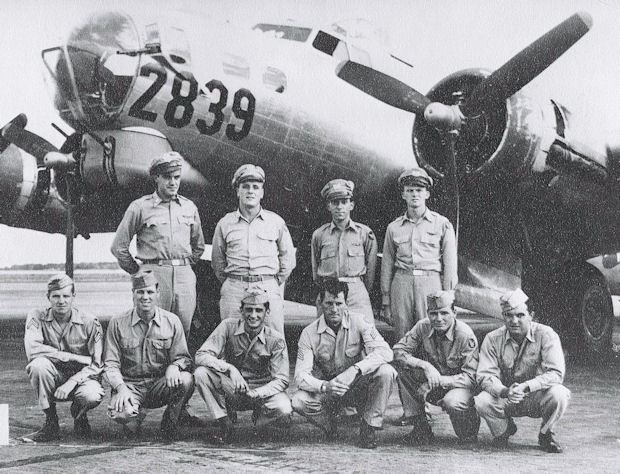 STANLEY E. PURSEL - 427th BS
(Assigned 427BS: 04 October 1944 - photo USA Training)

2Lt Stanley E. Pursel (P)(KIA)(back, left), 2Lt Richard H. McClure (CP)(KIA),
2Lt Joseph A. Cecce, Jr. (N)(KIA)

Sgt John E. Kling (E)(KIA), Sgt Philip M. Schoch (R)(KIA),
Sgt Kenneth H. Stockman (BTG)(KIA), Sgt Gildo Fugazzi (WG)(KIA),
S/Sgt Howard H. Ganson (WG), Sgt Robert G. Hannah (TG)(KIA)
Ten Missions flown by the 2Lt Pursel Crew:
259 (18 Oct 44), 260, 261, 262, 263, 266, 267, 268, 269, 270 (9 Nov 1944)
Crew Notes:
2Lt Stanley E. Pursel (P) - Flew as CoPilot with a combat orientation Pilot, 2Lt Robert Van Antwerp, on two missions (259 & 260). Other missions flown as Crew's Pilot
2Lt Richard H. McClure (CP) - Did not fly on three missions (259, 260 & 261), 2Lt Pursel was CoPilot on two missions (259 & 260) and a substitute CoPilot used on one mission (261). Flew as CoPilot on crew's final seven missions.
Crew Bombardier - The crew had no assigned Bombardier. Used five different Bombardiers.
S/Sgt Howard H. Ganson (WG) - Flew no missions with the 2Lt Pursel crew. Crew flew with a single Waist Gunner. S/Sgt Ganson flew on 28 missions with 16 different Pilots (Missions 259 - 18 Oct 1944) through 313 (09 Feb 1945). His B-17 was lost on his last mission (#313 - 9 Feb 45) as a result of a mid-air collision near the target at Lutzkendorf, Germany. His B-17 crashed near Jaraczewo, Poland. S/Sgt Hanson parachuted and he and two other crewmen were picked up by Russian troops and he returned to Molesworth on 06 March 1945 [MACR 12245). Two of the 18 crewmen became POWs and thirteen were killed in action.
Other Crewmen flew on all of the ten 2Lt Pursel crew missions.
Crew had a Photographer on one mission (261), S/Sgt Donald E. Skinner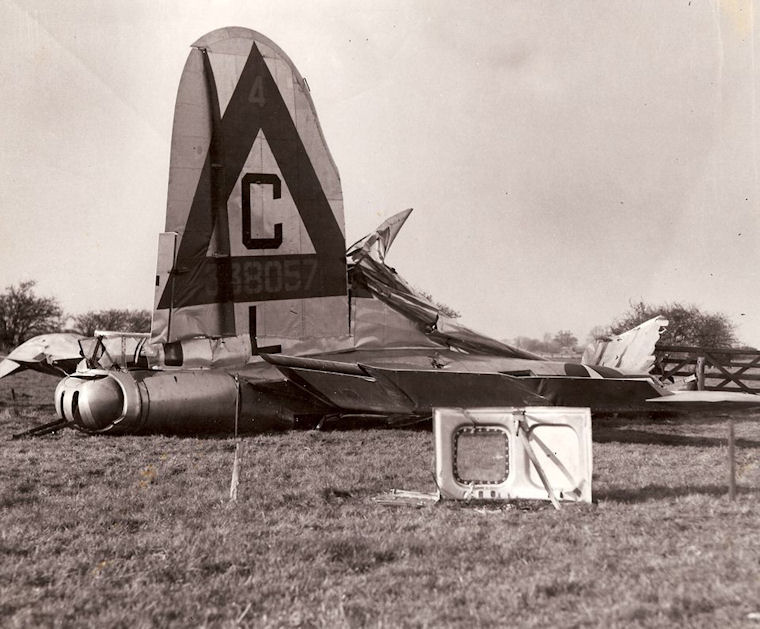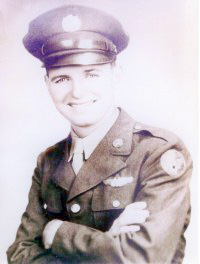 Sgt Philip M. Schoch (R)(KIA)
Last mission of the Lt Pursel Crew:
Mission #270, 09 Nov 1944, to the Metz, Germany area to bomb concrete emplacements in support of the American ground troops. Weather was poor in England and over the target. Bombing was assisted by Gee-H radar equipment. Two 427th BS B-17s had a mid-air collision shortly after takeoff and crashed near Wenlock, Shropshire, England.
B-17G #43-38057 (No name) (427BS) GN-L - 2Lt Stanley E. Pursel Pilot
B-17G #43-37666 Full House (427BS) GN-T - 1Lt Robert W. Davis Pilot
Sgt
Robert G. Hannah
, Tail Gunner, alone in the severed tail section of B-17 43-38057, managed to reach the tail escape hatch and bail out. He was the only survivor of the eighteen crewmen on the two B-17s. Following the crash, LtCol Raper, 303rd BG(H) Group Commander, received a letter, with a one pound note enclosed, stating: "Would you please place a small floral tribute on the graves of the boys, so far from home, who lost their lives near here." It was signed, "A Wenlock Mother."
[crew photo courtesy of John Skelton - photo of Sgt Schoch courtesy of Jean and Margaret Heesen-Schoch
[Researched by Historian Harry D. Gobrecht]