427th McGinnis Crew
Martin S. McGinnis, Pilot
Home

About Us

Contact Us

Donate

Newsletters

8th AFHS

Links

FAQ

Facebook

Search
Personnel

Aircraft

Nose Art

B-17 Thunderbird

Ground Support

Uniforms

Journals

More Info
Mission Reports

Combat Crews

Individual Photos

Photos

POW

KIA

MACR

Overseas Graves

TAPS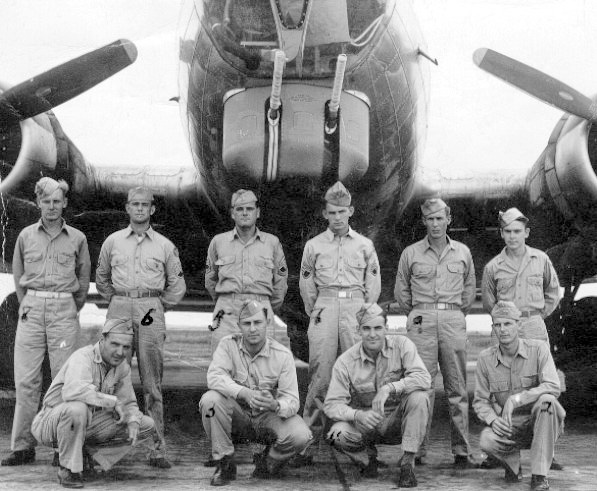 MARTIN S. McGINNIS CREW - 427th BS
(crew assigned 427BS: 14 Nov 1944 - photo: Oct 1944, Savannah, GA)

(Front L-R) Capt Martin S. McGinnis (P)(KIA*), 1Lt Wallace A. Burket (B)(POW#)(2),
2Lt Frederick C. Doscher (CP)(KIA*), Capt Marshall A. Neubert (N)(1)

(Back L-R) Sgt Lowell F. Stevenson (TG)(POW*), S/Sgt Lois R. Hamilton (WG)(POW*),
T/Sgt Keith R. Muir (R)(POW*), S/Sgt Robert J. Lyons (E)(POW*),
Cpl Sillings (AE)(3), Sgt Donald L. Beal (BTG)(POW*)
CREW NOTES:
(KIA*-POW*): Mission #301, 13 January 1945 in B-17G #42-107099 Ole 99 (427BS) GN-W. Hit by flak after bombs were released. Another flak hit set the #4 engine on fire and Ole 99 lagged behind the formation. Capt Martin S. McGinnis (P) and Sgt Lowell F. Stevenson (TG) were wounded. Capt McGinnis gave the bail-out order and he was assisted out of the stricken B-17 by Sgt Robert L. Lyons (E). The enlisted crewmen, led by Sgt Donald L. Beal (BTG), bailed out with 2Lt Frederick C. Doscher (CP) at the controls. The enlisted crewmen were joined after capture at the Dulag Luft Frankfurt, Germany interrogation Center and remained together as POWs until their POW camp was liberated. The Crew's original Navigator, Capt Marshall A. Neubert, and Bombardier, 1Lt Wallace A. Burket, were not on mission #301. Mission Navigator was 2Lt Richard M. Emick and Togglier S/Sgt S.R. Simone. Lt Emick was on his third mission - first mission with the McGinnis Crew.. S/Sgt Simone flew 11 missions with the Lt Philip D. Eisenwinter Crew. He became the crew's regular Togglier on mission #286, 12 December 1944, and was on his tenth mission with the McGinnis Crew.
(POW#): - 1Lt Wallace C. Burket (B) -Mission #348, 30 March 1945, to Bremen, Germany, in B-17G #44-8484 (no name) 358BS (VK-W) lead crew led by Capt Hugh B. Johnson (P) and Major Glynn F. Shumake (CP). B-17 was downed by flak over Bremen (10 POWs)
Capt Marshall A. Neubert (N) - Flew his first seven missions with the McGinnis Crew. Became a Lead Crew Navigator and completed his combat tour on 14 April 1945. The McGinnis Crew flew with eight substitute Navigators on their last eleven missions.
1Lt Wallace A. Burket (B) - Flew four missions with the McGinnis Crew (#278,279,285 & 294) then with other Pilots. Became a Lead Crew Bombardier on 2 January 1945, flew seven missions as a Lead Crewman. Became a POW on 30 March 1945.
Cpl Sillings (AE) - Removed from crew at Savannah, GA when crew size was changed from 10 to 9 men. Reassignment unknown.
[photo courtesy of Donald L. Beal]
[Researched by 303rdBGA Historian Harry D. Gobrecht]