427th Mars Crew
Charles W. Mars, Pilot
Home

About Us

Contact Us

Donate

Newsletters

8th AFHS

Links

FAQ

Facebook

Search
Personnel

Aircraft

Nose Art

B-17 Thunderbird

Ground Support

Uniforms

Journals

More Info
Mission Reports

Combat Crews

Individual Photos

Photos

POW

KIA

MACR

Overseas Graves

TAPS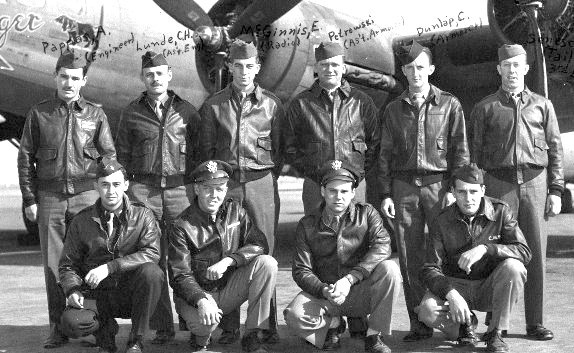 CHARLES W. MARS CREW - 427th BS
(crew assigned 427BS: 21 Jan 1944)

(Back L-R) S/Sgt A. Pappas (E)(*)(**); Sgt C.H. Lunde (AE/WG)(*)(*);
Sgt Eddie McGinnis (R-POW); Sgt Petrowski (Asst Armorer)(*)(**);
Sgt Charles W. Dunlap, Jr. (BT-POW); Sgt Albert J. Senechal (LWG-POW)

(Front L-R) 1Lt Charles W. Mars (P-POW); 2Lt William J. Dallas (CP-POW);
2Lt James G. Clark, Jr. (N)(*)(+); 2Lt Charles W. Webster (B)(*)(+)
Original 21 Jan 44 Crewmen not in photo: S/Sgt Raymond L. Foster (E-POW) & S/Sgt Vincent A. Angione (TG-POW)
(POW-EVD) - On 26 March 1944 mission #128 to Wizernes, France in B-17G #42-31929 Tennessee Hillbilly (427BS) GN-R. Hit just a few seconds before "bombs away". It peeled off to the right passing under the #4 B-17 and went into a shallow dive. Tennessee Hillbilly nosed down in a half-spin with the left wing on fire. The left wing fell off and the B-17 made a three-quarter turn before it exploded in mid-air and crashed at Lederzelle, 10 Km NE of St. Omer. Eight parachutes were seen to open before the B-17 blew up.
Substitute Crewmen on mission: 2Lt George L. Arvanites (N-POW), T/Sgt Conrad J. Kersch (B-Evd)(1), S/Sgt Delbert S. Nivens (WG-POW)
(*) Not with crew on 26 Mar 44 mission
(**) Pappas (E), Lunde (WG) & Petrowski (A/Arm) were not members of the original crew at Molesworth.
(+) Clark (N) and Webster (B) completed their combat tours and returned to the USA
(1) Kersch (B) -After parachuting was taken to a farm family near St. Omer on the Belgium border south of Dunkerque. They gave him a new name - Albert De Groote. After several months, he made contact with the French Underground and assisted them in successfully robbing the Nieppe Townhall on 20 July 1944. The stolen money and food coupons were used for underground needs. He spent six months working with the underground and evading capture. Returned to England on 19 Sept 44. Later in August and early September, he helped in "Sabotage" and attacks on retreating German soldiers and came back to Nieppe many times later on.
READ NOW !
THE MILITARY HISTORY OF WILLIAM J. DALLAS 1935-1960
by William J. Dallas
[photo courtesy of William J. Dallas and Shiley Nivens]
[Researched by 303rdBGA Historian Harry D. Gobrecht]