427th Leve Crew
Franklin Leve, Pilot
Home

About Us

Contact Us

Donate

Newsletters

8th AFHS

Links

FAQ

Facebook

Search
Personnel

Aircraft

Nose Art

B-17 Thunderbird

Ground Support

Uniforms

Journals

More Info
Mission Reports

Combat Crews

Individual Photos

Photos

POW

KIA

MACR

Overseas Graves

TAPS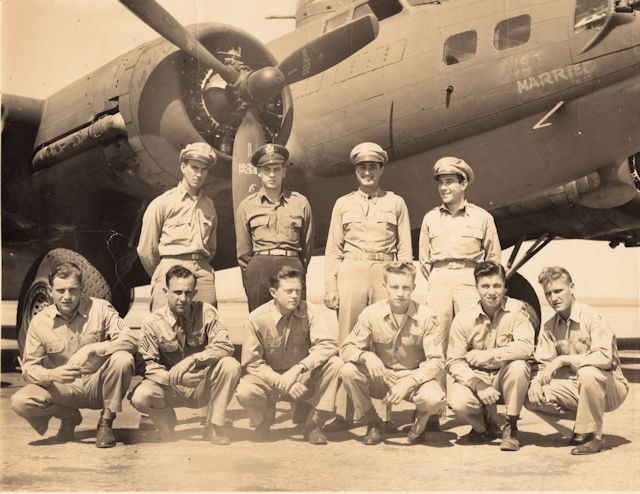 FRANKLIN LEVE CREW - 427th BS
(Assigned 427BS: 27 October 1943 - photo: USA Training)

2Lt Franklin Leve (P)(KIA), 2Lt Dick L. Libbee (CP)(KIA),
2Lt Richard D. Morehead (N)(KIA), 2Lt Dennis J. Murphy (B)(KIA)

T/Sgt James C. Spross (E)(POW), T/Sgt Percy D. Craig (R)(KIA),
S/Sgt Edward A. Drees (BTG)(KIA), S/Sgt Frank L. Midkiff (LWG)(KIA),
S/Sgt Oliver L. Keefer (RWG)KIA), S/Sgt Armond O. Vanlandingham (TG)(POW)(front row, 2nd from left)

- crewman are not in order -
2Lt Franklin Leve Crew Six Credited Missions:
82 (16 Nov 1943), 83, 86 (AS), 87, 88, 90 (20 Dec 1943)
(AS) Credited abortive sortie - no bombs dropped. For mission dates and targets see the missions list.
Crew Note: All crewmen flew on all six missions.
Last Combat Mission:
Mission #90, 20 December 1943 to Bremen, Germany in B-17G 42-31233 (no name) (427BS) GN-V. The crew were on their sixth mission. Lt Leve was having trouble staying in formation in the target area. An ME-110 came in on the tail of Lt John C. Barker's B-17 Flying Bitch (427BS ) GN-V firing rockets and 20 mm cannon shells. Lt Barker was flying parallel to Lt Leve's B-17. The ME-110 turned right 90 degrees and came with 50 feet of Lt Leve and fired two rockets which entered the B-17 between the ball turret and the tail. S/Sgt Edward A. Drees (BTG) fired bursts and hit the right wing of the ME-110 breaking it off and sending it down. Bursts from another enemy aircraft entered the ball turret causing two bright flashes. Engines #2 and #3 were smoking heavily. S/Sgt Dress still fired after the burst, but no flames were seen. Lt Leve peeled off to the right and fell about 6,000 feet in a straight dive, then leveled off before hitting cloud cover. No parachutes were seen. The B-17 crashed near Bremen, Germany. T/Sgt James C. Spross and S/Sgt Armond O. Vanlandingham survived, were captured, and became POWs. The other eight crewmen were killed in action. Lt Libbee and S/Sgt's Craig, Dress and Midkiff are buried in the Netherlands American Cemetery at Margraten, Netherlands. This was the mission when the seriously wounded 358th BS T/Sgt Forrest T. Vosler (R) valor resulted in his being awarded the Medal of Honor.
[Researched by Historian Harry D. Gobrecht - photo courtesy of Bryce VanLandingham]