427th Fowler Crew
James F. Fowler, Pilot
Home

About Us

Contact Us

Donate

Newsletters

8th AFHS

Links

FAQ

Facebook

Search
Personnel

Aircraft

Nose Art

B-17 Thunderbird

Ground Support

Uniforms

Journals

More Info
Mission Reports

Combat Crews

Individual Photos

Photos

POW

KIA

MACR

Overseas Graves

TAPS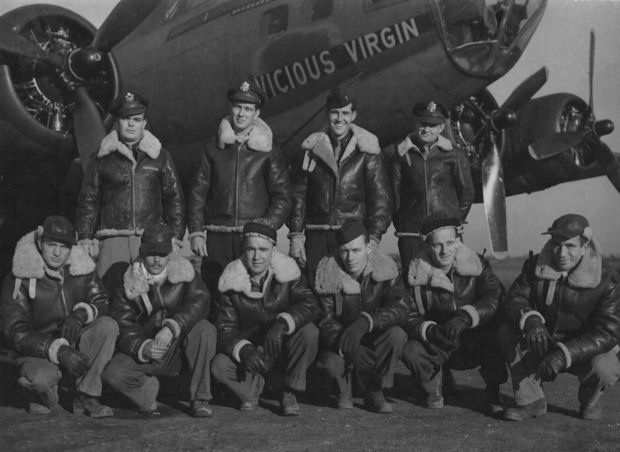 JAMES F. FOWLER CREW - 427th BS
(crew assigned 427BS: 16 Nov 1943 - photo: 4 Dec 1943)
(Back L-R) 2Lt James F. Fowler (P-Evd/POW)(1); 2Lt Bernard W. Rawlings (CP-Evd)(2);
2Lt Joseph C. Thompson (B-POW)(3); 2Lt Alvin L. Taylor (N-POW)(3)

(Front L-R) T/Sgt Curtis E. Finley (E-POW)(4); S/Sgt Richard Arrington (BT-Evd)(5);
T/Sgt Donald J. Dinwiddie (R-Evd/POW)(1); S/Sgt Loren E. Zimmer (RWG-Evd)(5)(7);
S/Sgt Harry Wallrobenstein (TG); Sgt Miller O. Jackson (LWG-KIA)(6)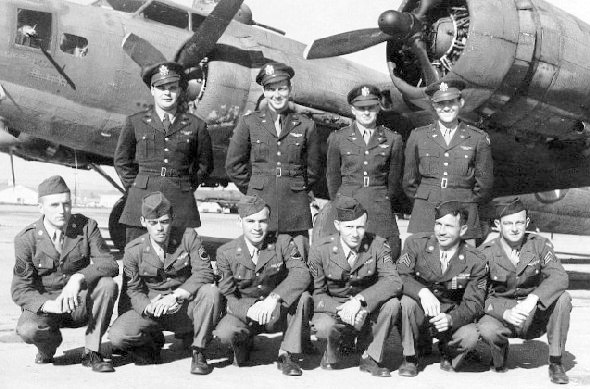 JAMES F. FOWLER CREW - 427th BS
(crew assigned 427BS: 16 Nov 1943 - photo: USA Training, Fall 1943)

(Back L-R) 2Lt James F. Fowler (P-Evd/POW)(1);
2Lt Bernard W. Rawlings (CP-Evd)(2); 2Lt Alvin L. Taylor (N-POW)(3);
2Lt Joseph C. Thompson (B-POW)(3)

(Front L-R) T/Sgt Curtis E. Finley (E-POW)(4); S/Sgt Richard Arrington (BT-Evd)(5);
T/Sgt Donald J. Dinwiddie (R-Evd/POW)(1); S/Sgt Loren E. Zimmer (RWG-Evd)(5)(7);
Sgt Miller O. Jackson (LWG-KIA)(6); S/Sgt Harry Wallrobenstein (TG)

Not Pictured: S/Sgt Jack D. Ferguson (TG-POW)(3) who replaced Wallrobenstein.
(KIA-POW-EVD) On 29 Jan 1944 on mission #101 to Frankfurt, Germany in B-17 #42-39786 GI Sheets (427BS) GN-R. The crew crossed the German coast with a faulty #2 engine and was forced to feather the #4 engine just before reaching the IP, when it developed a bad oil leak. Bombs were jettisoned when the B-17 was unable to keep up with the formation. It was soon hit by German FW-190 fighters that disabled the oxygen system, interphone and many flight instruments. Lt Fowler belly landed his B-17 in a field at Soire-Saint Gery, Belgium. All crewmen, except Lt Fowler and Lt Rawlings, were wounded.
The Belgium and French resistance fighters gave valuable and heroic assistance to the evaders. The people of Belgium erected a monument at Soire-Saint Gery on 27 June 85 to commemorate the crash and crew. [See memorials]
Fowler (P) & Dinwiddie (R) - Evaded capture until 13 May 44 when they were betrayed by a French doctor and his wife who drove them to a German outpost.
Rawlings (CP) - Made his way back to England on 25 May 44 after crossing the Pyrenees into Spain
Taylor (N), Thompson (B) & Ferguson (TG) - Badly wounded. Taken to a civilian hospital by Belgiums where they were made POW and cared for a Germans.
Finley (E) Evaded with Rawlings. Captured not far from the Spanish border after they split up.
Arrington (BT) & Zimmer (RWG) - Evaded Capture. Picked up by American troops.in September 1944. Back to England on 08 Sept 44.
Jackson (LWG) - Died from severe wounds after the crash landing. Had taken off his flak vest in flight.
Zimmer (RWG) - Bailed out at about 150-200 ft altitude and landed in a bog.
[photo from the 303rd BGA Archives]
[Researched by 303rdBGA Historian Harry D. Gobrecht]