427th Callahan Crew
Charles A. Callahan, Pilot
Home

About Us

Contact Us

Donate

Newsletters

8th AFHS

Links

FAQ

Facebook

Search
Personnel

Aircraft

Nose Art

B-17 Thunderbird

Ground Support

Uniforms

Journals

More Info
Mission Reports

Combat Crews

Individual Photos

Photos

POW

KIA

MACR

Overseas Graves

TAPS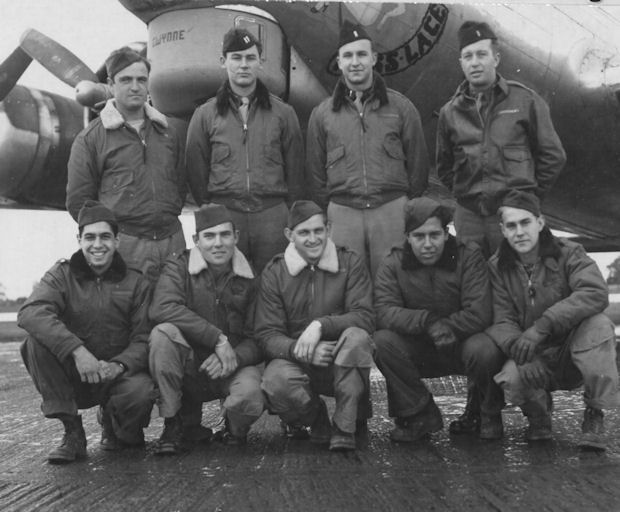 CHARLES A. CALLAHAN CREW - 427th BS
B-17G #42-102411 Miss Lace GN-P
(crew assigned 427BS: 02 October 1944 - photo: 14 October 1944)

(Back L-R) Cpl Robert A. Erdmann (E), Capt Charles A. Callahan (P),
2Lt Oliver T. Eisenhart (CP)(KIA)(1), 2Lt Carl J. Dye, Jr. (N)

(Front L-R) Cpl Roland K. Kamen (R), Cpl Alvin W. Dorner (TG),
Cpl James B. Robins (WG), Cpl William A. Sears (WG)(2),
Cpl Gene W. Johnson (BTG)
Captain Callahan (P), on 24 December 1944, and Lt Charles J. Dye, Jr. (N), on 12 December 1944, became lead crew members. Captain Callahan became the 427th BS Operations Officer. All crewmen, except Capt. Callahan, completed their combat tours in April 1945.
2Lt Oliver T. Eisenhart (CP) was upgraded to Pilot on 07 January 1945. He was KIA on mission #301, 13 January 1945, to Mannheim, Germany, on his 27th mission, in B-17G #43-38689 (no name) 427BS (GN-A). His B- 17 received a direct flak hit in the tail that blew off the horizontal Stabilizer and pulverized the entire tail section. The aircraft went into a steep dive and broke up in the air. The entire 9 man crew were KIA. The B-17 crashed at Roxheim, Germany.
Cpl William A. Sears (WG) was deleted from the Callahan Crew when one of the two waist gunner positions was eliminated. He went on to complete his combat tour as a Utility Waist Gunner flying with various Pilots.
[photo courtesy of Carl J. Dye, Jr.]
[Researched by 303rdBGA Historian Harry D. Gobrecht]