360th Van Geyten Crew
John J. Van Geyten, Pilot
Home

About Us

Contact Us

Donate

Newsletters

8th AFHS

Links

FAQ

Facebook

Search
Personnel

Aircraft

Nose Art

B-17 Thunderbird

Ground Support

Uniforms

Journals

More Info
Mission Reports

Combat Crews

Individual Photos

Photos

POW

KIA

MACR

Overseas Graves

TAPS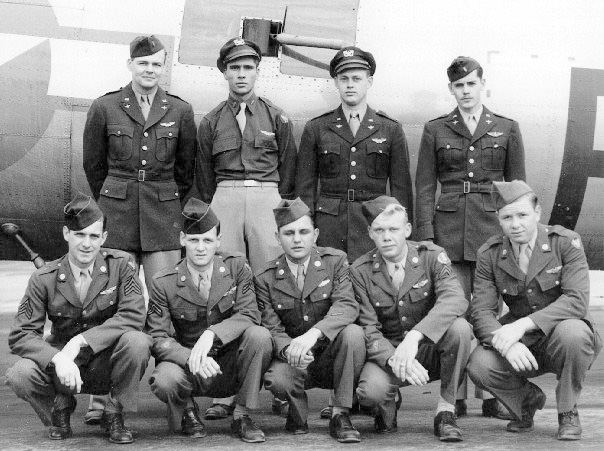 JOHN J. VAN GEYTEN CREW - 360th BS
(crew assigned 360BS: 04 April 1945 - photo: April 1945)

(Back L-R) Lt John J. Van Geyten (P), F/O Harry T. Payne (CP),
F/O John G. Brauchle (N), F/O Wilbert C. Pherson, Jr. (B)

(Front L-R) Sgt Gordon A. Winkler (WG), T/Sgt Herman W. Fischer (E),
Sgt Henry P. Nicklas (BT), S/Sgt Warren E. Arnold (R),
Sgt Billy J. Clem (TG)

Memorial to Van's Crew
Mighty Eighth Air Force Heritage Museum, Savannah, GA

Three missions flown by the Van Geyten Crew:
361 (16 April 1945), 363 & 364 (25 April 1945)
Crew Notes:
F/O John J. Van Geyten (P) - Flew one missions (361) with a crew orientiation Pilot Other missions as crew Pilot
F/O Harry T. Payne (CP) - Did not fly on one mission (361). Other missions as crew CoPilot
S/Sgt Warren E. Arnold (R) - Flew on two missions (361 & 363) with the Lt Van Geyten Crew. A substitute Radio Operator, S/Sgt John A. Sole, on one mission (364)
Other crewmen flew on all three Lt Van Geton crew missions
Extra crewmen on two missions: Sgt Jack M. Thomas - 360BS Voice Interpreter (363); S/Sgt Seymour Brenner - 427BS Voice Interpreter (364)
Crew flew without Waist Gunners on all of their missions.
[photo courtesy of John J. Van Geyten]
[Researched by Historian Harry D. Gobrecht]