360th Sapak Crew
Aloysius I. Sapak, Pilot
Home

About Us

Contact Us

Donate

Newsletters

8th AFHS

Links

FAQ

Facebook

Search
Personnel

Aircraft

Nose Art

B-17 Thunderbird

Ground Support

Uniforms

Journals

More Info
Mission Reports

Combat Crews

Individual Photos

Photos

POW

KIA

MACR

Overseas Graves

TAPS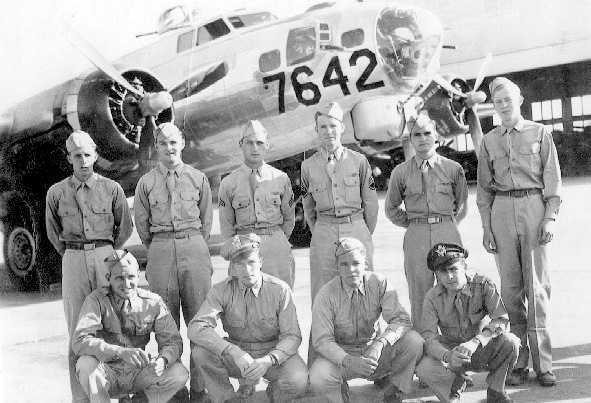 ALOYSIUS I. SAPAK CREW - 360th BS
(crew assigned 360BS: 06 Sep 1944 - photo: Pyote, TX, July 1944)

(Back L-R) Sgt Claude McGraw (E-POW); Sgt Thomas E. Baker, Jr. (TG-POW);
Cpl Darrel L. Clark (R)(2); S/Sgt George E. Stewart (WG-POW);
Sgt Joseph C. Sofianek (BT-POW); Sgt Duane J. Odegaard (WG)

(Front L-R) 2Lt Aloysius I. Sapak (P-POW)(1); 2Lt Virgil R. Schuchard (CP);
F/O Robert B. Ellis (N-POW); 1Lt Sgt Jack L. Timmins (B-POW)


(POW-KIA)
on 28 Sep 44 mission #248 to Magdeburg, Germany in
B-17G #43-37930 (No name) 360BS (PU-P)
, 1Lt
V.L. Howard
, Pilot. Hit by 20mm shells from severe and intense fighter attacks. Two 20mm shells exploded in waist knocking off parts of the B-17 and stetting the left wing on fire. Went down in a spin and crashed near Ohrum S/Wolfenbuttel, Germany (1 KIA 8 POW).
1Lt Victor L. Howard (P-POW) was flying as an Instructor Pilot for Sapak's combat orientation flight, Sapak was flying as CoPilot. Howard had been upgraded from CP to Pilot from the William.M. Wilson crew on 06 Sept 44.
Sgt Sheppard Kerman (R-KIA) was flying as a replacement for Cpl Clark (R). Clark failed to turn up for departure from USA at Kearney, NE. and was replaced by Kerman. Kerman parachuted safely with minor wounds and was murdered by German civilians who allowed him to bleed to death. It is believed that he lost his life because his dog tags had the letter "H" for Hebrew. For more information, see: Crewmen Murdered and Murder of Sheppard Kerman.
[photo courtesy of Aloysius I. Sapak]
[Researched by 303rdBGA Historian Harry D. Gobrecht]