360th Osborn Crew
William C. Osborn, Pilot
Home

About Us

Contact Us

Donate

Newsletters

8th AFHS

Links

FAQ

Facebook

Search
Personnel

Aircraft

Nose Art

B-17 Thunderbird

Ground Support

Uniforms

Journals

More Info
Mission Reports

Combat Crews

Individual Photos

Photos

POW

KIA

MACR

Overseas Graves

TAPS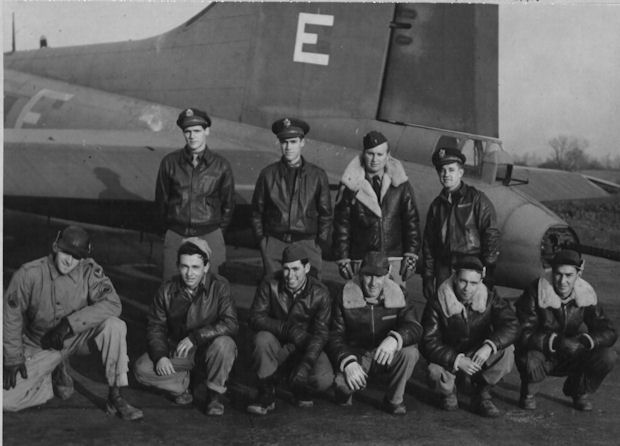 WILLIAM C. OSBORN CREW - 360th BS
(crew assigned 360BS: 17 Oct 1943 - photo: 21 Nov 1943)
B-17G Woman's Home Companion aka Ladies Home Companion #42-39795 360BS (PU-E)

(Back L-R) 1Lt William C. Osborn (P-Evd/POW), 2Lt Nelson Campbell (B-EVD),
2Lt Lawrence D. Ross (N)(1), 2Lt Jack Jernigan, Jr. (CP-Evd/POW)

(Front L-R) S/Sgt George L. Daniel (R-WIA/POW), S/Sgt William E. Wolff (E-Evd),
Sgt Lyle W. Fitzgerald (BT-WIA/KIA), Sgt Vincent J. Reese (WG-Evd/POW/KIA),
Sgt Earl D. Wolfe (WG-WIA/POW), Sgt Lawrence B. Evans (TG-KIA)
(KIA-POW-EVD)
- Mission #93, 30 December 1943 to Ludwigshafen, Germany in B-17G
Woman's Home Companion
aka
Ladies Home Companion
#42-39795 360th BS (PU-E) - MACR 1674 - Lt
Osborn
was seen to turn back towards England at 1125 hours at 15,000 ft., under control, with three enemy fighters heading to attack his B-17. 2Lt
Jack Jernigan
(CP) and S/Sgt
William E. Wolff
(E) later related that they had been hit by flak that severed the rudder cable shaft, causing them to leave the formation. They were soon attacked three times by FW-190 fighters before they managed to reach a cloud bank at 12-15,000 ft.
After flying a short distance, a farm field appeared at Froid Chappel near the Luxembourg-French-Belgian border. The B-17 crash-landed in this field. Some Belgian civilians arrived at the crash scene and told the wounded and others to scatter. A Belgian doctor treated Sgts Daniel and Wolfe, who became POWs. Sgt Fitzgerald died of his wounds shortly after the landing. Sgt Evans was shot out of the aircraft while in flight and died.
Lts Osborn and Jernigan evaded capture with the help of the underground for six months. They were leaving Brussels for Paris in an automobile when they were betrayed and driven to a Gestapo prison. They remained in this prison for two months before being transferred to a Luftwaffe prison camp.
S/Sgt Wolff evaded capture for approximately 6 months and made it to Gibraltar by way of Belgium, France and over the Pyrenees Mountains into Spain. He returned to Molesworth on 21 May 1944. He was accompanied on his trek by Lt Benjamin T. Martin, a 355th FG P-47D fighter Pilot, stationed at Steeple Morden, England who was shot down on 29 January 1944 providing bomber escort service on a mission to Frankfurt, Germany. Lt Campbell (B) also evaded capture and made his way to Gibraltar. He was the last 303rd BG(H) crewman to cross the Pyrenees Mountains into Spain. He returned to Molesworth on 06 October 1944.
Sgt Reese made contact with the underground and fought with them destroying German installations. He and 22 other underground members were captured and executed on 22 April 1944 in a woods near Chimay, Belgium where they were discovered hiding in a shack. There is a monument at Cerfontaine, Belgium honoring the 1Lt William Osborn Crew. It was dedicated on 15 August 1993.
Regular Osborn Crewman 2Lt Lawrence C. Ross (N) was not on the 5 December 1943 mission. Substitute Navigator was 2Lt Edward L. Cobb (N-POW). Lt Ross was KIA on mission #188, 22 June 1944 to Wizernes, Germany with the 1Lt R.W. Erickson / Capt R.J. Lynch Lead Crew in B-17G #42-97405 Mary Cary, 360th BS (PU-H). The crew bailed out of their damaged B-17 over the English Channel - 5 drowned and 5 rescued. Lt Ross' body was recovered by a nearby Destroyer that had assisted in the rescue of the surviving crewmen.
[photo from Peter M. Curry Collection - identification by William E. Wolff]
[Researched by 303rdBGA Historian Harry D. Gobrecht]