360th Matheson Crew
John A. Matheson, Pilot
Home

About Us

Contact Us

Donate

Newsletters

8th AFHS

Links

FAQ

Facebook

Search
Personnel

Aircraft

Nose Art

B-17 Thunderbird

Ground Support

Uniforms

Journals

More Info
Mission Reports

Combat Crews

Individual Photos

Photos

POW

KIA

MACR

Overseas Graves

TAPS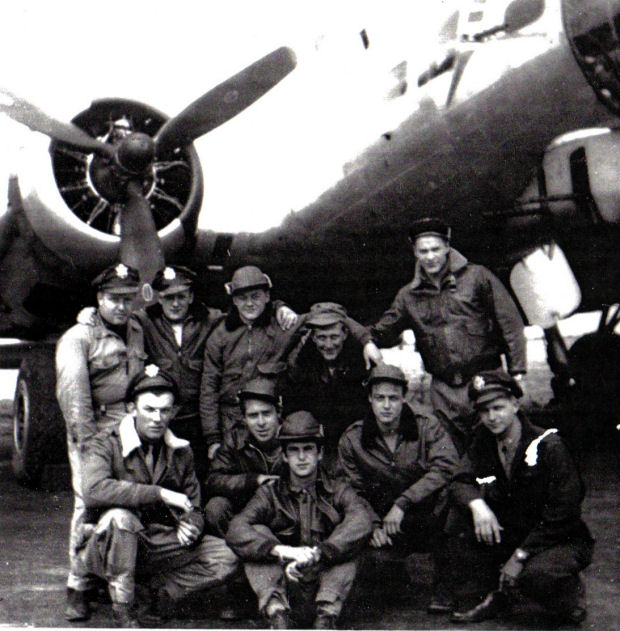 JOHN A. MATHESON CREW - 360th BS
(Assigned 360BS: 21 August 1944 - photo: 1 September 1944)

(Back L-R) 2Lt Charles L. Gould (N)(POW), 2Lt Lorin W. Hamann (B)(POW)(3),
Sgt Lloyd D. Hagan (BTG)(KIA), Sgt Jimmie R. Smith (E)(KIA), Sgt Leo E. Jeambey (R)(POW)

(Front L-R) 2Lt John A. Matheson (P)(KIA)(1), Sgt William E. Fredenburg (WG)(POW),
Sgt Charles R. Coughlin (TG)(KIA), Cpl Edward W. Schaefer (WG) (4), 2Lt James C. Johnson (CP)(KIA)(2)
Missions flown by the Matheson Crew:
237 (8 Sept 1944), 241, 243, 244 & 248 (28 Sept 1944)
Crew Notes:
2Lt John A. Matheson (P) - Flew as CoPilot on mission #237 with an experienced Pilot


2Lt James A. Johnson (CP) - Did not fly on mission #237


2Lt Lorin W. Hamann (B) - Did not fly on mission #243. Substitute Togglier used.


Cpl Edward W. Schaefer (WG) - Removed from crew before its first mission in compliance with 8th AF order to reduce the size of combat crews from 10 to 9 men. After leaving the 303rd and a brief stint in the Casual Pool, Schaefer was back in the USA by mid-October and began training for service on B-29s. By V-J Day he was command gunner on a crew in combat crew phase training in Clovis, NM.
Last Mission (#248):
28 September 1944 to Magdeburg, Germany in B-17G #42-97893
Minnie the Moocher
(360BS) PU-M [MACR 9413]. Was flying in the tail-end charlie formation position. German fighters put approximately six 20mm shells through the fuselage exploding in the cockpit and killing the Pilot, CoPilot and Flight Engineer. Shells also killed the Ball Turret Gunner and Tail Gunner. The B-17 spun in to about 12,000 feet and then blew up. It crashed at Schladen, near Hornburg (South of Brunswick), Germany. The Navigator and Bombardier were blown out of the B-17 and made successful parachute jumps and became POWs. The Radio Operator and Waist Gunner also parachuted and became POWs. Lt
Lorin W. Hamann
(B) later related "I head Coughlin call and report 'Here come the fighters.' The pilot told him to keep cool and try to get a few of the FWs. I heard Coughlin's tail guns firing while his interphone button was still down, then he said 'Jesus.' That was the last I heard from him. The plane went into a tight spin and I bailed out at 18,000 feet." The dead were buried at the Schladen Cemetery and re-interred at the American Cemetery at Margraten. Four of the crewmen's bodies were later returned to the U.S.A. for final burial.
[photo courtesy of Edward "Ned" Schaefer]
[Researched by Historian Harry D. Gobrecht]