360th Luke Crew
George W. Luke, Jr., Pilot
Home

About Us

Contact Us

Donate

Newsletters

8th AFHS

Links

FAQ

Facebook

Search
Personnel

Aircraft

Nose Art

B-17 Thunderbird

Ground Support

Uniforms

Journals

More Info
Mission Reports

Combat Crews

Individual Photos

Photos

POW

KIA

MACR

Overseas Graves

TAPS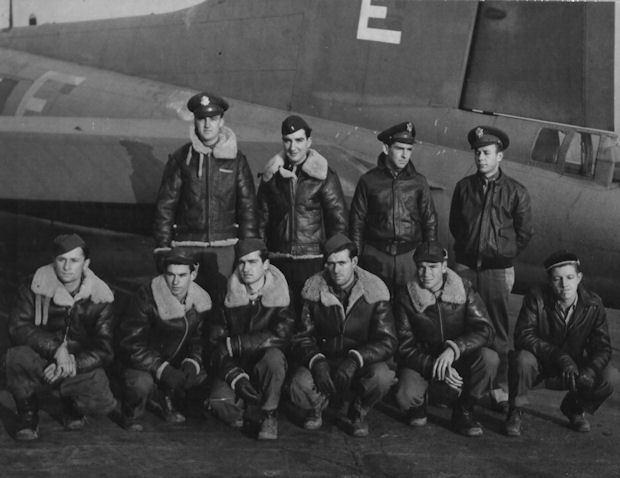 GEORGE W. LUKE, JR. CREW - 360th BS
(crew assigned 360BS: 27 Oct 1943 - photo: 21 Nov 1943)

(Back L-R) 2Lt Leonard L. Dahnke (B)(POW), 2Lt Gordon A. Ballagh (N)(POW),
2Lt Frank Mitchell (CP)(EVD), 2Lt George W. Luke, Jr (P)(POW)

(Front L-R) Sgt Elwood D. Yeakel (RWG)(POW), Sgt Robert H. Washburn (BTG)(KIA),
S/Sgt Millard A. Boren (E)(POW), Sgt Sherman G. Wright (LWG)(POW),
Sgt Ira J. Walter (TG)(Evd/POW), S/Sgt Ben T. Day (R)(POW),
Two dispatched and credited combat missions flown by 2Lt George W. Luke, Jr
and all members of his crew named below the crew photo:
#83 -16 November 1943 to Bremen, Germany
#85 -12 December 1943 to Solingen, Germany
Both missions flown in B-17G 42-39781
Career Girl
(360BS) PU-D
(KIA-POW) On 01 Dec 43 mission #85 to Solingen, Germany in B-17G #42-39781 Career Girl (360BS) PU-D. A flak burst hit one of the inboard engines. They left the formation, were losing altitude, were again hit by flak, which severed the control cables.
Lt Luke ordered his crew to bail out near Lille, France. The B-17 crashed 10 km west of Lille. Lt Luke landed in soft ground while being observed by a French lady and her children. She shouted "Good Luck" in broken English. He was captured and made a POW and became the first 8th AF POW to enter Stalag 1.

Lt Frank Mitchell evaded capture and served with the French underground until France's liberation.

Sgt Ira Walter evaded capture for a week before he was captured and made a POW at Stalag 17B.

Sgt Robert Washburn was killed by the Germans during an escape attempt. Sgt Robert Washburn landed in an open area near Carvin. He noticed a crowd of Frenchmen running towards him. He ran the other way towards a German search party and then turned towards the Frenchmen. The German soldiers shouted for him to surrender, but he kept running and the Germans shot him. He was buried in the British plot of the Lille Southern Cemetery as "Washburn RAF". His body was reburied in the Ardennes American Cemetery at Neuville-en-Condroz.

2Lt Leonard L. Dahnke (B) evaded capture. Over the course of approximately six weeks he was hidden by a number of French families and individuals. Over time he was given civilian clothes and false identification papers. In January, he was dropped off at the Lille train station with tickets to southern France. While waiting for the train to arrive Dahnke was arrested, possibly by the Gestapo. He was taken to a prison in Lille where he was harshly interrogated over the course of nearly two weeks concerning the identity of the people who had helped him. Dahnke was eventually sent to Stalag Luft I where he was a POW until the camp was liberated by the Russians in May, 1945. (information courtesy of Dahnke's son William)

Sgt Sherman G. Wright (WG) was captured on 08 January 1944 after climbing into a lory with three other evaders. The driver, a double agent, handed them over to the Germans.

The B-17 was dismantled by the Germans and sent to the Scrap yard of the Lille-Vendeville airfield.

See photographs of Stalag Luft 1 taken by George W. Luke.
[photo from the 303rdBGA Archives - identification by Gordon A. Ballagh]
[Researched by 303rdBGA Historian Harry D. Gobrecht]