360th Hobbs Crew
Willard Hobbs, Pilot
Home

About Us

Contact Us

Donate

Newsletters

8th AFHS

Links

FAQ

Facebook

Search
Personnel

Aircraft

Nose Art

B-17 Thunderbird

Ground Support

Uniforms

Journals

More Info
Mission Reports

Combat Crews

Individual Photos

Photos

POW

KIA

MACR

Overseas Graves

TAPS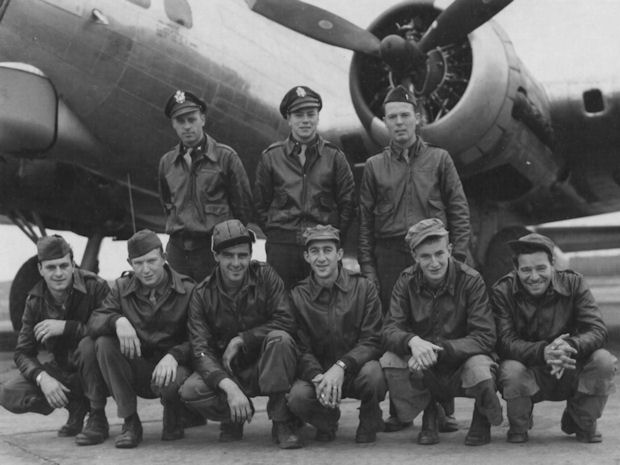 WILLARD HOBBS CREW - 360th BS
(crew assigned 360BS: 23 June 1944 - photo: 30 June 1944)

(Back L-R) Lt Robert E. Wade (B/N)(1),
2Lt Earl R. Huckins (CP), 2Lt Willard Hobbs (P)

(Front L-R) Sgt Earl E. Wiggans (AR/WG)(3), Sgt Fred Callahan (WG),
Sgt Morris B. Glaser (TG)(4), S/Sgt Bethel A. Cole (E),
S/Sgt Lester E. Champion (R)(2), Sgt James J. Bibik (BT)
Crew had no Navigator when they were assigned to the 360th BS. Flew with various Navigators for first 10 missions. Lt Robert B. Wade (B) , a dual rated Navigator/Bombardier, became the regular crew Navigator on 21 July 1944. Crew then flew with various Bombardiers or Toggliers.
S/Sgt Lester E. Champion (R) flew as Radio Operator on the Crew's first two combat missions. He was replaced on 08 July 1944 by Sgt Earl E. Wiggans (AR/WG) who was also a trained Radio Operator.
Sgt Earl L. Wiggans (WG) - The second Waist Gunner position was deleted from the crew. Sgt Wiggans became the crew's Radio Operator. Crew then flew with nine men
Sgt Morris B. Glaser (TG) - Removed from flying status and crew on 24 Aug 1944 after 18 missions following an attack of aero-sinus at high altitudes. Changed name to Lee Tavvab in 1961. Tavvab is an Islam word meaning "Repentant."
[photo from the 303rdBGA Archives]
[Researched by 303rdBGA Historian Harry D. Gobrecht]