360th Duffield Crew
Richard D. Duffield, Pilot
Home

About Us

Contact Us

Donate

Newsletters

8th AFHS

Links

FAQ

Facebook

Search
Personnel

Aircraft

Nose Art

B-17 Thunderbird

Ground Support

Uniforms

Journals

More Info
Mission Reports

Combat Crews

Individual Photos

Photos

POW

KIA

MACR

Overseas Graves

TAPS
RICHARD D. DUFFIELD CREW - 360th BS
(Duffield assigned to 360th BS: 14 March 1944)
(Upgraded from Nelson B. O'Beirne CoPilot to Pilot on 16 June 1944)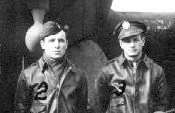 1Lts Richard B. Duffield (P) and Gene K. Shipp (N), Original Crewmen on the 1Lt Nelson B. O'Beirne Crew KIA on mission #305, 21 January 1945
Lt Duffield had no regularly assigned crew on his three missions as 1st Pilot: (184 (19 June 1944), 185 and 186 (20 June 1944). He had different crewmen on each of these three missions.


Crew Note:

1Lt Richard B. Duffield (P) - Dispatched on 31 combat missions - 26 missions with the 1Lt Nelson B. O'Beirne Crew (29 March through 18 June 1944). Flew two missions with other Pilots as their CoPilot. UpGraded from CoPilot to Pilot on orders dated 16 June 1944 and flew three missions as a 1st Pilot. Thirty mission combat tour completed on 20 June 1944. Returned to the 360th BS in October 1944 to fly a second combat tour. Flew 19 missions as a 1st Pilot (15 October 1944 through 21 January 1945) with eight different crews. Missions #298A , 300 and 304 flown as a Lead Crew CoPilot. Final mission, #305 21 January 1945, flew as a Lead Crew Pilot.
Last Combat Mission:
Mission #305, 21 January 1945, to Aschaffenburg, Germany in PFF B-17G #44-8137 (no name) (360BS) PU-Z. Crewmen were as follows:
1Lt Richard B. Duffield (P)(KIA)(*), 1Lt Richard H. Cambron (CP),
1Lt Gene K. Shipp (N)(KIA)(*), 1Lt Thomas E. Wilson (MN)(KIA),
1Lt James C. Flemmons (B)(POW)

2Lt Raymond E. White (TG/OBS)(KIA), T/Sgt Raymond Levine (E)(KIA),
T/Sgt Donald R. Christ (R)(KIA), S/Sgt Phillip W. Hensel (WG)(KIA),
S/Sgt John C. Elliott (WG)(KIA)
(*) Original members of the 1Lt Nelson B. O'Beirne Crew What started out as an easy "milk run" mission turned deadly when two B-17s collided at a designated turning point before reaching the IP. The left wing of Lt Duffield's B-17 #44-8137 caught the right wing of B-17G #42-97058 Scorchy II (359BS) BN-V lead B-17 of the high formation element. The wing of #44-8137 came off and the B-17 rolled over and went down. #42-97058 also lost a wing and went down. Both B-17s crashed near Rottweill, Germany There was one survivor who became a POW in each B-17. All other crewmen were killed. (MACR's 11759 & 11760). For further information on the final Duffield crew mission see: 359th BS 2Lt Richard F. Tasker crew photo page.
[Researched by Historian Harry D. Gobrecht]