360th Breslin Crew
Jack D. Breslin, Pilot
Home

About Us

Contact Us

Donate

Newsletters

8th AFHS

Links

FAQ

Facebook

Search
Personnel

Aircraft

Nose Art

B-17 Thunderbird

Ground Support

Uniforms

Journals

More Info
Mission Reports

Combat Crews

Individual Photos

Photos

POW

KIA

MACR

Overseas Graves

TAPS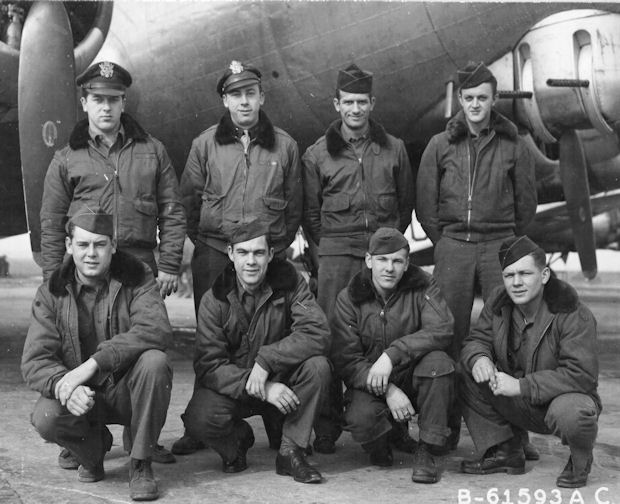 JACK D. BRESLIN CREW - 360th BS
(crew assigned 360BS: 12 February 1945)

(Back L-R) 2Lt Jack D. Breslin (P) (1), 2Lt Hans Bischofs (CP) (2),
T/Sgt Harley E. Moore (E) (1), Sgt Gordon C. Barlow (TG) (1)

(Front L-R) Sgt Wilfred B. Johnson (WG) (7), S/Sgt Millard E. Mason (BTG) (6),
Sgt John S. Daugherty (R) (5), S/Sgt Gordon W. Perry (Tog) (4), 2Lt Donald Fitzpatrick (N) (3)
CREW NOTES:
Lt Breslin (P),T/Sgt Moore (E) and Sgt Barlow (TG) flew on 20 missions together (Feb 25, 26, 27, Mar 1, 8, 10, 11, 14, 19, 21, 23, 24, 30, 31, Apr 9, 10, 14, 15, 16, 25)
An experienced substitute CoPilot flew with the crews on their first mission (2/25/45). Lt Bischofs (CP) flew with the Breslin Crew on the following 19 missions.
Lt Fitzpatrick (N) - Flew on the crews first four missions. Crew had 9 different Navigators on their last 16 missions.
S/Sgt Perry (Tog) - flew on 18 missions with the Breslin Crew.. Crew flew with a Bombardier on two missions (3/30 & 3/31/45)
Sgt Daugherty (R) - Flew on 18 missions with the Breslin Crew. Substitute Radio Operators were used on two missions (3/30 and 4/25/45)
S/Sgt Mason (BTG) - Flew on 14 missions with the Breslin Crew. Substitute Ball Turret Gunners used on 6 missions (2/26, 2/27, 3/1, 4/24, 4/16, 4/15/45)
Sgt Johnson (WG) - Flew on six missions with the Breslin Crew (2/25, 2/26, 3/1, 3/10, 3/11 & 3/19/45). The Waist Gunner position was deleted from crew. Was made a Togglier and flew 5 mission with the Lt Eugene L. Maker Crew.
The Breslin Crew flew with German speaking "Voice Operators" or "Radio Counter-Measure Operators" on ten of their missions
Hans Bischofs' Story:
I was a crew member in the 360th Squadron from Feb - June 1945. I was co-pilot on Jack Breslin's crew during the above time frame. We completed 20 missions when the Germans quit. We were fortunate because 20 missions was the magic number and were given a chance to fly a new B-17 from Burtonwood back to the states. We just had brought a new one to Burtonwood in Jan 45. So you see our stay in jolly ole England was not very long. After returning to the states the crew never stayed in touch so I have no idea where they might be today. I was only 19 years old and Jack Breslin was 25 going on 26 and Probably thought I was to young for him. We never did go out together. The tail gunner was 18 so we the youngest members of the bunch. I got out after the war but went back in the Air Corps after the airlines put a minimum age of 25 for their pilots. I thought 5 years was eternity even though they wanted to hire me as crew dispatcher and retrain in 5 years, I enlisted as a M/Sgt with a pilot's MOS but the wouldn't put me back on flight status. I went into air traffic control which was quite interesting, especially at Andrews and Mitchel Field, NY. Then in 1951 I was recalled to active duty and back on flight status. But by this time I had started a new career as an intelligence language officer. I spoke fluent German and nobody had ever ask me that. There was pencil mark on my records that said German under languages. Anyway I stayed in that field and spent 17 years as an intelligence language officer in Germany. Retired from USAF in 1977 as Lt Col. I flew only administrative aircraft during those years, except during the Vietnam fiasco they sent me to C-130 training, and when I finished that, the Tac Wing. I found out they couldn't send me world wide because I had travel restrictions for 2 years because of the sensitive security clearances I had in the intelligence business. I wound up with about 400 hours in 130s, all in the USA. Then went to Nam as intelligence guy in charge of prisoner interrogation. My last mission (20) was to Pilzen Czechoslovakia and it was the worst. We had 300+ holes and a hole in the elevator the size of my shoulders. We escaped our tour without injuries but the planes we flew did suffer some.
[photo courtesy of Hans Bischofs]