360th Bordelon Crew
Berton A. Bordelon, Pilot
Home

About Us

Contact Us

Donate

Newsletters

8th AFHS

Links

FAQ

Facebook

Search
Personnel

Aircraft

Nose Art

B-17 Thunderbird

Ground Support

Uniforms

Journals

More Info
Mission Reports

Combat Crews

Individual Photos

Photos

POW

KIA

MACR

Overseas Graves

TAPS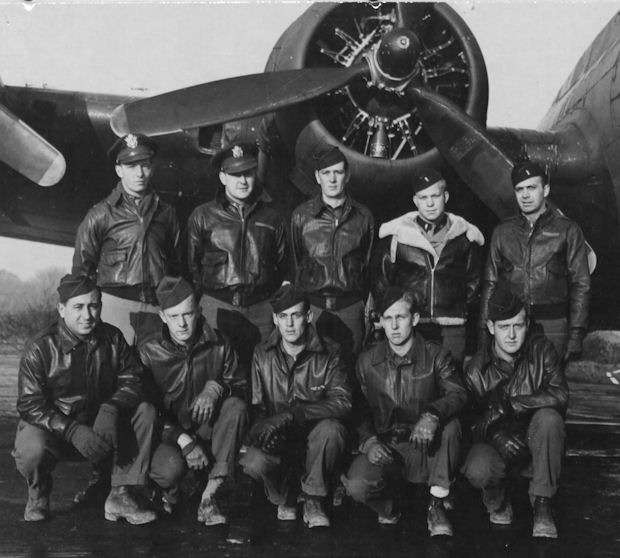 BERTON A. BORDELON CREW - 360th BS
(crew assigned 360BS: 16 Nov 1943 - photo: 26 Nov 1943)

(Back L-R) Capt Berton A. Bordelon (P)(1),
1Lt Charles L. Coons (CP)(2), Sgt Kenneth E. Nebhut (LWG)(4),
1Lt John W. Cottrell (B)(3), 1Lt Frederick P. Cromwell (N)

(Front L-R) T/Sgt Joseph L. Fontana (R),
S/Sgt Joseph F. Harrington (BTG)(5), T/Sgt Forrest Barker (E),
S/Sgt Teddy Couch (TG), S/Sgt Donald K. Adams (RWG)
Crew Notes:
All Bordelon Crewmen completed their 25 mission combat tour except for S/Sgt Joseph H. Harrington.
Capt Berton A. Bordelon (P) - Became a Lead Crew Pilot on 7 May 1944. Completed his combat tour on 18 June 1944.


1Lt Charles L. Coons (CP) - Upgraded from CoPilot to 1st Pilot on 23 March 1944. Flew five of his last ten missions as a Lead Crew Tail Gunner/ Observer with the Capt Bordelon Lead Crew. Flew his 25th and last mission on 29 June 1944 as a 1st Pilot.


1Lt John W. Cottrell (B) - Flew his first 17 credited missions as the Borderlon Crew Bombardier. Flew on 15 additional missions with nine different Pilots and crews of which 9 were flown as a Bombardier and 6 as the crew Navigator. Completed his combat tour on 29 May 1944 and then flew on one additional mission on 25 August 1944.


Sgt Kenneth E. Nebhut (LWG) - Flew on the Bordelon Crews first mission. Completed his combat tour with other Pilots as a Togglier or Waist Gunner. Crew. Was replaced on the Bordelon Crew by S/Sgt Harry L. Patterson (not in photo).


S/Sgt Joseph H. Harrington (BTG) - Flew on 13 credited combat missions d with the Bordelon Crew between 13 Dec 43 and 19 March 44 - his only 303rd missions.
[photo courtesy of Marlene Studley, daughter of Capt. Bordelon]
[Researched by 303rdBGA Historian Harry D. Gobrecht]