360th Bartholomew Crew
Dale E. Bartholomew, Pilot
Home

About Us

Contact Us

Donate

Newsletters

8th AFHS

Links

FAQ

Facebook

Search
Personnel

Aircraft

Nose Art

B-17 Thunderbird

Ground Support

Uniforms

Journals

More Info
Mission Reports

Combat Crews

Individual Photos

Photos

POW

KIA

MACR

Overseas Graves

TAPS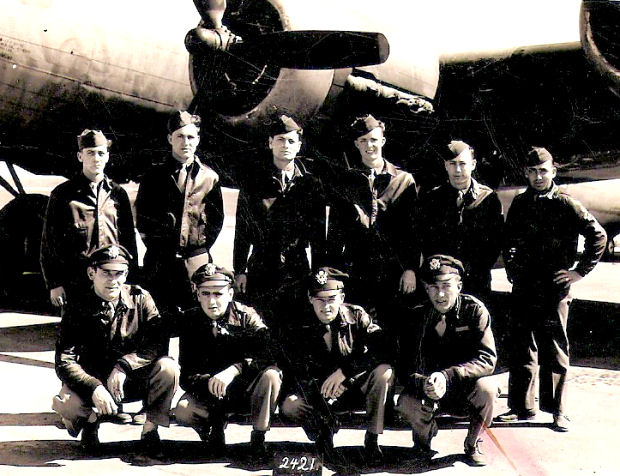 DALE E. BARTHOLOMEW CREW - 360th BS
(crew assigned 360BS: 08 May 1944 - photo: USA training, March 1944)

(Back L-R) S/Sgt Harold D. Litwiller (E), Sgt Ralph R. Lowe (WG), S/S/Sgt Charles G. Allard (R),
Sgt Haywood E. Blackwell, Jr. (TG), Sgt Carey G. Pope (BT), Sgt L.J. Jarreau

(Front L-R) 2Lt Dale E. Bartholomew (P), 2Lt James A. Ross (CP),
2Lt William H. Blume, III (N), 2Lt Joseph G. Andreasen (B)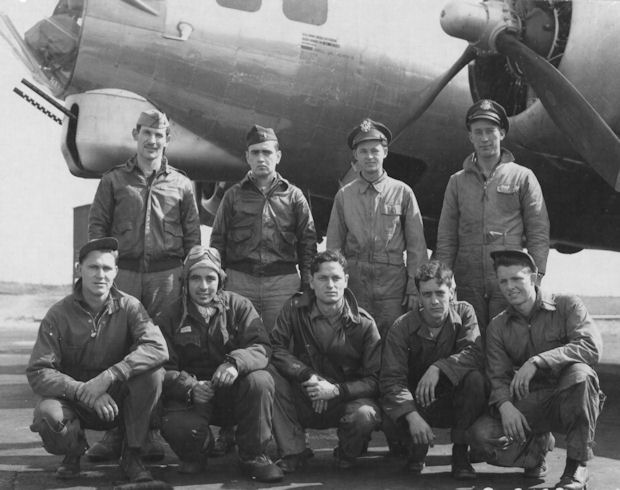 DALE E. BARTHOLOMEW CREW - 360th BS
(crew assigned 360BS: 08 May 1944 - photo: about 30 May 1944)

(Back L-R) 2Lt Dale E. Bartholomew (P), 2Lt James A. Ross (CP),
2Lt William H. Blume, III (N), 2Lt Joseph G. Andreasen (B)

(Front L-R) Sgt Ralph R. Lowe (WG), S/Sgt Victor H. Smith (BT),
S/Sgt Charles G. Allard (R), S/Sgt Harold D. Litwiller (E), Sgt Haywood E. Blackwell, Jr. (TG)
Crew Notes:
Sgt Carey G. Pope (BT) - Sgt Pope flew three missions (158, 161, 163) with the crew and was temporarily taken off flying status. He was replaced by S/Sgt Victor H. Smith. Pope flew five additional missions (199, 200, 201, 202, 203) with the 360th Hector Vitale Crew, then was transferred to the 9th Air Force, completing a total of 54 combat missions.


Sgt Albert L. DeBartolo (WG) flew his first mission with the crew (158), then rejoined the crew on mission 167, 02 June 1944, and finished his tour with them.


Sgt L.J. Jarreau - Was not assigned to the 303rd Bomb Group. No other information is available.
[USA photo courtesy of Carey G. Pope]
[Molesworth photo from the 303rdBGA Archives - identification by Duane Litwiller]