359th Thompson Crew
Lawrence Thompson, Pilot
Home

About Us

Contact Us

Donate

Newsletters

8th AFHS

Links

FAQ

Facebook

Search
Personnel

Aircraft

Nose Art

B-17 Thunderbird

Ground Support

Uniforms

Journals

More Info
Mission Reports

Combat Crews

Individual Photos

Photos

POW

KIA

MACR

Overseas Graves

TAPS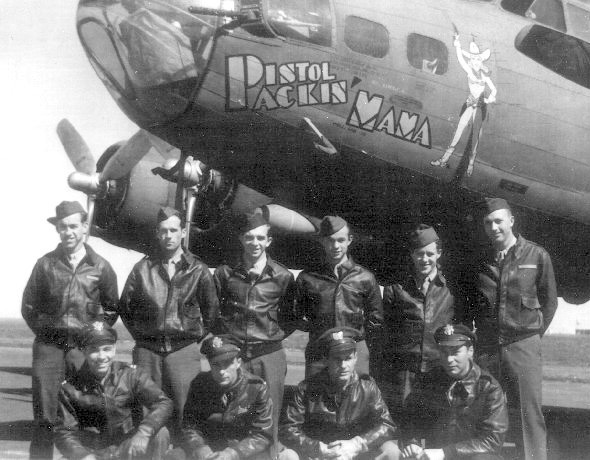 LAWRENCE C. THOMPSON CREW - 359th BS
(crew assigned 359BS: 21 Apr 1944 - photo: US Training, date unknown)

(Back L-R) T/Sgt Charles G. Hammons (E)(*), S/Sgt Jack A. Lemley (WG)(#),
T/Sgt Delos H. Hamann (R)(*), Sgt Kenneth R. Stephan (BT)(#),
Sgt Armin C. Held (TG)(2), Sgt Lars Christensen (WG/TG)(3)

(Front L-R) Capt Lawrence C. Thompson (P)(*), 1Lt Richard O. Johnson (CP)(*)(1),
F/O Warren I. Young (N)(#), 2Lt William J. Champ (B)(*)
Crew Notes:
(*) Completed combat tour of 31 missions in 70 days-between 7 May & 15 July 1944.
(#) Completed combat tour (31 missions) after the other crew members - Lemley on 18 July, Young on 19 July and Stephan on 30 August, 1944

1Lt Richard O. Johnson (CP) - Was upgraded from CoPilot to Pilot on 5 July 1944 but never flew a mission as 1st Pilot.
Sgt Armin C. Held (TG) - 23rd and last mission on 18 June 1944. Did not complete his full combat tour.
Sgt Lars Christensen (WG/TG) - Flew 14 missions as Waist Gunner. Did not fly on 11 of his crew missions between 27 May and 10 June 1944 due to a sinus/inner ear problem. Resumed flying with his crew on 19 June 1944 as a Tail Gunner for seven missions. Completed a total of 21 missions through 05 July 1944. Most of the other Thompson crewmen had completed their combat tours, crew sizes had been reduced from 10 to nine men and the 303rd had a surplus of Gunners. Was transferred to the 410th Bomb Group (M), 9th Air Force, at Coulommiers, France, as a gunner in A-20 twin engine bombers. May have flown some missions in B-26 bombers which the 410th BG(H) used to drop flares on several night missions. Flew 23 combat missions with the 410th BG (M) during which time he was wounded and received the Purple Heart Medal. His total combat missions with the 8th and 9th Air Forces totaled 44.
Crew flew one mission [28 May 1944] in the 359th BS B-17G
Pistol Packin' Mama
. The B-17F
Pistol Packin' Mama
in the photo above is not the same plane. Flew 24 of their missions in 359th BS B-17G #42-102496
Special Delivery
(BN-M) and 3 missions in 359th BS B-17G #42-38050
Thunderbird
(BN-U) [May 15,19 & 23 1944]. Crew flew two missions on D-Day [June 6th] and five missions to Berlin - [May 7,8,19 & 24 and June 21, 1944].
Special Delivery is flying in the lead position of the three B-17 element flying below B-17G Thunderbird in the Smithsonian Air & Space Museum Keith Ferris Fortresses Under Fire mural of the 15 August 1944 mission to Wiesbaden, Germany, 1Lt Lewis M. Walker, Pilot.
[photo courtesy of Mike Carter - identification by Delos Hamann and Nels Christensen]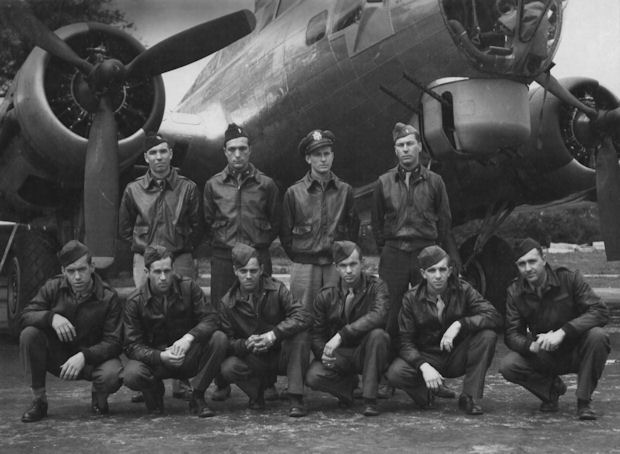 LAWRENCE C. THOMPSON CREW - 359th BS
(photo: 18 May 1944 - Unknown B-17G)
(Back L-R) Capt Lawrence C. Thompson (P), 1Lt Richard O. Johnson (CP),
F/O Warren I. Young (N), 2Lt William J. Champ (B)
(Front L-R) T/Sgt Chuck Hammons (E), S/Sgt Jack A. Lemley (WG),
S/Sgt Armin C. Held (TG), S/Sgt Kenneth R. Stephan (BT),
S/Sgt Delos H. Hamann (R), S/Sgt Lars Christensen (WG)
[photo courtesy of Greg Stephan]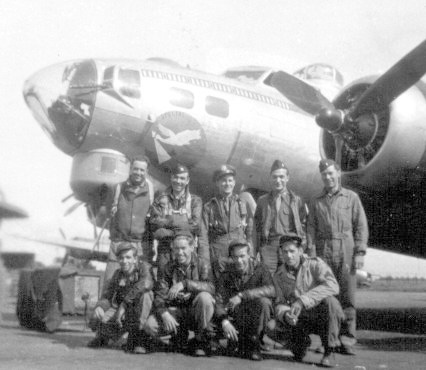 LAWRENCE C. THOMPSON CREW - 359th BS
Special Delivery #42-102496 (359BS) BN-M
(Back L-R) Sgt Lars Christensen (WG/TG),
Capt Lawrence C. Thompson (P), F/O Warren I. Young (N),
1Lt Richard O. Johnson (CP), 2Lt William J. Champ (B)
(Front L-R) T/Sgt Delos H. Hamann (R), T/Sgt Chuck Hammons (E),
S/Sgt Armin C. Held (TG), Sgt Jack A. Lemley (WG)
[photo courtesy of Nels Christensen]
[Researched by 303rdBGA Historian Harry D. Gobrecht]