359th Leister Crew
Francis E. Leister, Pilot
Home

About Us

Contact Us

Donate

Newsletters

8th AFHS

Links

FAQ

Facebook

Search
Personnel

Aircraft

Nose Art

B-17 Thunderbird

Ground Support

Uniforms

Journals

More Info
Mission Reports

Combat Crews

Individual Photos

Photos

POW

KIA

MACR

Overseas Graves

TAPS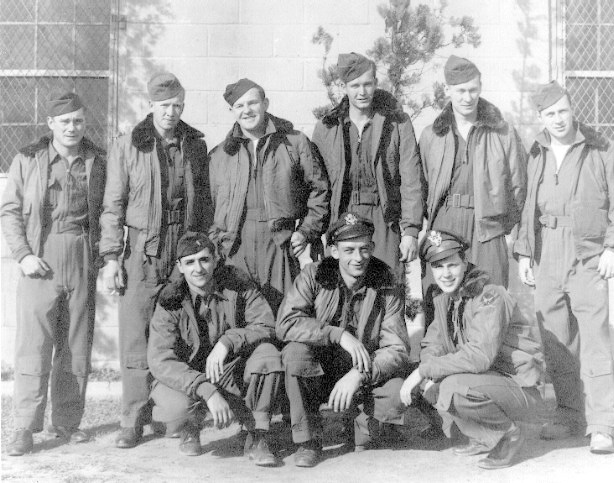 FRANCIS E. LEISTER CREW - 359th BS
(crew assigned 359BS: 07 April 1945 - photo: USA Training, March 1945)

(Back L-R) Sgt Roy E. Crum (BT)(1), unidentified, Sgt Walter W. Cibor (TOG)(3),
Cpl Owen D. Sellers, Jr. (WG)(4), unidentified, Sgt William I. Shaunnessy (R)(1)

(Front L-R) F/O Salvatore J. Maso (N)(1),
2Lt Francis E. Leister (P)(1), 2Lt James A. Timmons (CP)(2)

Unidentified crewmen: Sgt Wilfred O. Stevens (TG)(1) and Sgt Philman C. Smith (E)(1)
Crew Notes:
- Crewmen flew on four combat missions:
#360 - 15 Apr 45 to Royan, France in B-17G #42-107206
Old Black Magic
359BS (BN-R)
#361 - 16 Apr 45 to Straubing, Germ in B-17G #43-38682 (No name) 359BS (BN-K)
#362 - 17 Apr 45 to Dresden, Germ in B-17G #43-39127 (No name) 359BS (BN-K)
#364 - 25 Apr 45 to Pilsen, Czech in B-17G #43-38645 (No name) 359BS (BN-B)
Flew on all four missions
2Lt James A. Timmons (CP) - Did not fly on mission #360. CoPilot was 1Lt Clem W. Rogers, Jr. flying on his last and 35th mission as a combat orientation Pilot for the Leister Crew.
Sgt Walter W. Cibor (TOG) - Flew with the 2Lt Clyde H. Henning Crew on mission #360. Mission #364 with the Leister Crew. Leister crew used substitute Toggliers on missions 360, 361 & 362
Cpl Owen D. Sellers, Jr (WG) - Flew no 303rd BG(H) missions. Deleted from when crew size changed from 9 to 8 men (Waist Gunner position deleted).
Crew had a 359th BS Radio Control Measures (RCM) crewman on mission #360 - S/Sgt
Enrique M. Reider
who completed his combat tour on this mission. Was an original member of the 359th BS
Richard F. Tasker Crew
.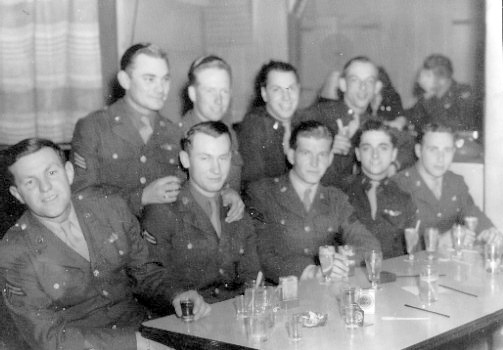 FRANCIS E. LEISTER CREW - 359th BS
(photo: Hotel DeSoto, Savannah, GA - 22 March 1945)
[photos courtesy of Michael K. Cibor]
[Researched by 303rdBGA Historian Harry D. Gobrecht]