359th Haines Crew
Rolland M. Haines, Pilot
Home

About Us

Contact Us

Donate

Newsletters

8th AFHS

Links

FAQ

Facebook

Search
Personnel

Aircraft

Nose Art

B-17 Thunderbird

Ground Support

Uniforms

Journals

More Info
Mission Reports

Combat Crews

Individual Photos

Photos

POW

KIA

MACR

Overseas Graves

TAPS

ROLLAND M. HAINES CREW - 359th BS
(Assigned 359BS: 08 April 1943)

1Lt Haines Original Crew:
1Lt Rolland M. Haines (P)(KIA), 2Lt Mayer Kramer (CP)(POW),
2Lt Dominick D. DeLorenzo (N)(POW), 2Lt Anthony E. Morse (B)(POW)

T/Sgt James A. Wood (E), T/Sgt Kenneth T.M. Kalk (R)(KIA),
S/Sgt Allen G. Foster (BTG)(POW), S/Sgt Raymond W. Martin (RWG)(KIA),
S/Sgt Robert A. Garcia (LWG/E)(POW), S/Sgt Charles E. Davis (TG)(KIA)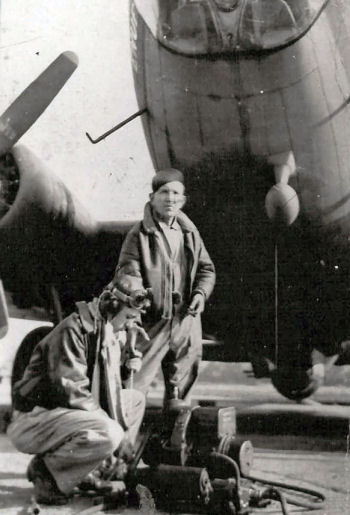 M/Sgt Clyde L. Dewald, Crew Chief (top) and Sgt Robert L. Morgan
with B-17F #42-5430 Good Enuf (359BS) BN-V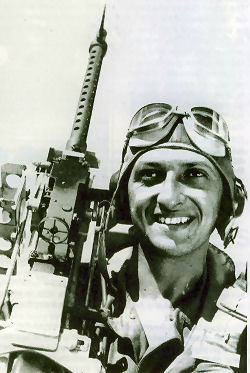 S/Sgt Robert A. Garcia
Twelve dispatched missions by the 1Lt Haines Crew: 30 (16 Apr 1943), 31, 32(AS), 33, 34, 35, 36, 37, 38(A), 39, 40, 41 (11 June 1943). (A) Non Credit aborted mission (AS) Credited abortive sorties - no bombs dropped. For mission dates and targets see the missions list.

Crew Notes:
T/Sgt James E. Wood (E) - Flew on two missions with the 1Lt Haines crew (30 & 31). Flew three additional missions (33, 35, 42) as LWG, TG & BTG with other Pilots.
S/Sgt Robert A. Garcia (LWG/E) - Flew on two missions (30 & 31) as Left Waist Gunner. Replaced T/Sgt Wood as Engineer and flew this position on the crews ten other missions. On Mission 39, Garcia was officially credited with a FW-190 "possibly destroyed" though he was certain it was destroyed. Garcia was promoted to T/Sgt while a POW.
Sgt Robert L. Morgan (LWG) - Replaced S/Sgt Garcia as Left Waist Gunner (Assistant Engineer) after mission #31 and flew ten missions with the Lt Haines crew.
S/Sgt Charles E. Davis (TG) - Claimed a FW-190 destroyed on mission #31.
All crewmen except Sgt Morgan flew on all of the 1Lt Haines crew twelve missions.
Last mission of the Lt Haines Crew:
Mission #41, 11 June 1943, to Wilhelmshaven, Germany, in B-17F #42-5430 Good Enuf (359BS) BN-V. Was hit by flak immediately after bombs away. Engines #1 & 3 were throwing oil and power was lost. It went into a steep dive and then leveled out. At this time they were attacked by FW-190s. Shortly after the German fighter attack the crew bailed out of the stricken Flying Fortress which crashed at Aschhausen, Germany. S/Sgt Martin, who was injured, died on his way down or drowned in a lake near Oldenburg, Germany where he landed. 1Lt Haines, T/Sgt Kalk, and S/Sgt Davis died in the crash. 1Lt Haines T/Sgt Kalk are buried in the Ardennes American Cemetery near Liege, Belgium. 2Lt Kramer, 2Lt DeLorenzo, 2Lt Morse, S/Sgt Garcia, S/Sgt Foster and S/Sgt Morgan were captured and became POWs. S/Sgt Garcia landed in the shallow lake and walked about 200 feet to land. They were captured by waiting German troops, with rifles aimed at them. S/Sgt Garcia was put in a German launch which then picked up the body of S/Sgt Martin. S/Sgt Foster also landed in the lake and was picked up by a German launch.
[photos courtesy of Robert L. Morgan and Bob and Pat Garcia]
[Researched by Harry D. Gobrecht, 303rdBGA Historian Emeritus]