359th Boulter Crew
Raymond A. Boulter, Pilot
Home

About Us

Contact Us

Donate

Newsletters

8th AFHS

Links

FAQ

Facebook

Search
Personnel

Aircraft

Nose Art

B-17 Thunderbird

Ground Support

Uniforms

Journals

More Info
Mission Reports

Combat Crews

Individual Photos

Photos

POW

KIA

MACR

Overseas Graves

TAPS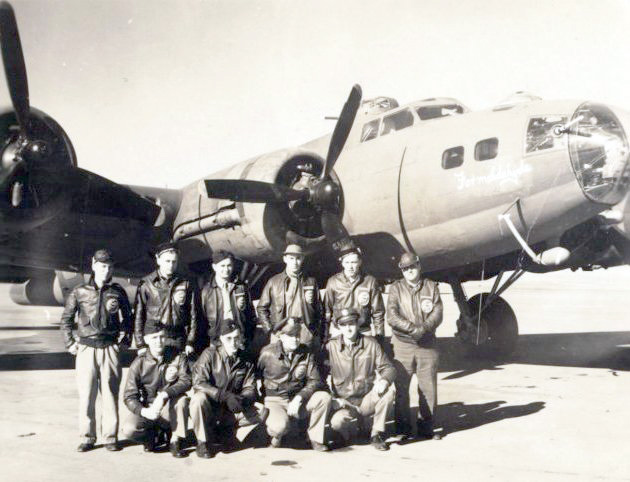 RAYMOND A. BOULTER CREW - 359th BS
(Assigned 359BS: 23 October 1944)

1Lt Raymond A. Boulter (P)(KIA)(front, far right), 2Lt Arthur F. Perry (CP)(POW),
2Lt James M. Craven (N)(POW)

T/Sgt Lewis P. Ficken (Tog)(KIA), T/Sgt Glen R. Wyly (E)(POW),
T/Sgt Harold P. McKelvey (R)(POW), T/Sgt Carl E. Fryhoyer (BTG)(POW),
S/Sgt Joseph J. Sanzone (WG)(POW), S/Sgt Stanley Finch (TG)(POW)

(crewmen are not in order)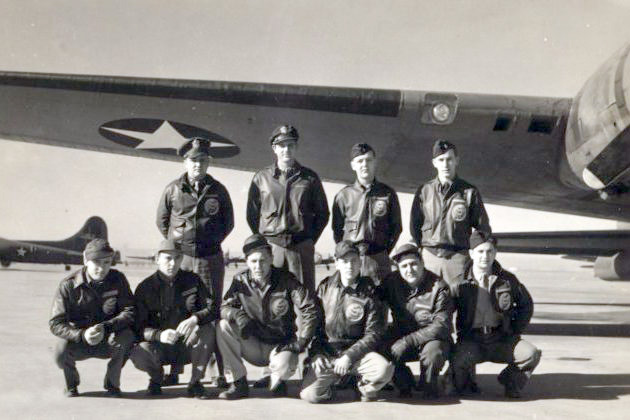 RAYMOND A. BOULTER CREW - 359th BS
1Lt Raymond A. Boulter (P)(KIA)(back 2nd from left)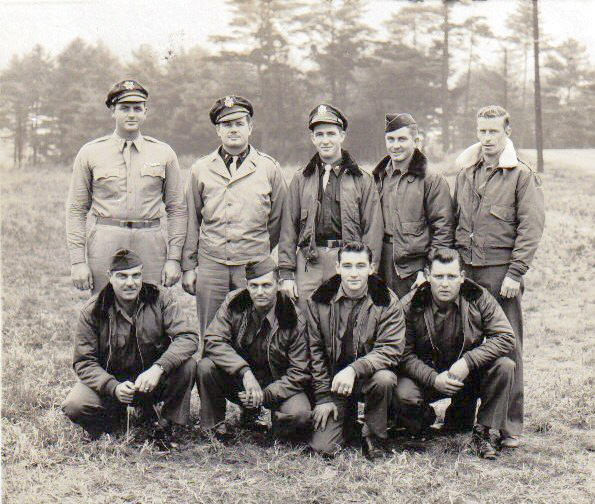 RAYMOND A. BOULTER CREW - 359th BS
1Lt Raymond A. Boulter (P)(KIA) (back left)
T/Sgt Glen R. Wyly (E)(POW)(back, 2nd from right)
T/Sgt Lewis P. Ficken (Tog)(KIA) (front, 2nd from left)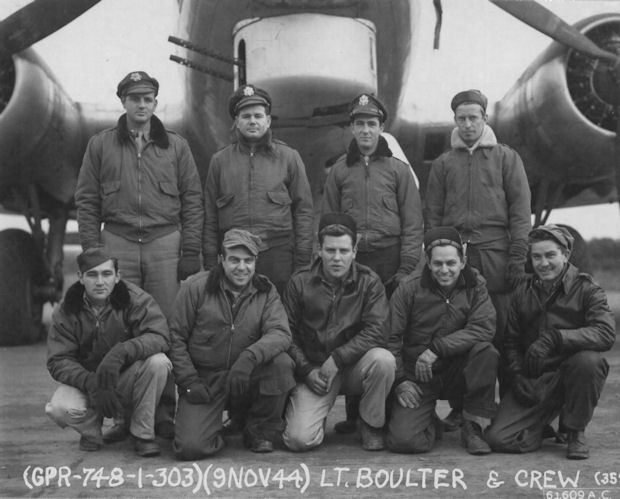 RAYMOND A. BOULTER CREW - 359th BS
1Lt Raymond A. Boulter (P)(KIA) (back left)

Three missions flown by the 1Lt Boulter Crew:
269 (6 Nov 1944), 270, 271 (10 Nov 1944) For mission dates and targets see the missions list.
Crew Notes:
T/Sgt Glen R. Wyly (E)(POW) - Completed a previous 25 mission combat tour with the 306th BG(H) at Thurleigh, England in June 1943 and was assigned to the 359th BS on 23 October 1944 for a second combat tour.
2Lt Arthur P. Perry (CP) - Did not fly on one mission (269). A substitute CoPilot was used.
Other eight crewmen - Flew on all three of the 1Lt Boulter crew missions.
Last mission of the 1Lt Boulter crew [MACR 10355]
Mission #271, 10 November 1944, to Cologne, Germany in B-17G #42-31830 Marie (359BS) (BN-N). Marie was flying in the 41st CBW-A lead Squadron and suffered two direct flak hits over the target near Cologne. The #3 engine and right wheel were knocked off of the B-17 and side panels above the bomb bay and wings were also blown off. When hit, Marie peeled off to the right and went down in a moderately steep dive, partially under control, with the #3 engine nacelle on fire. Three bodies were seen leaving the Fortress, but no parachutes were seen to open by observers in other B-17s. The B-17 crashed near Cologne.
[top two photos courtesy of Joyce M. Boulter, bottom photo courtesy of Becky Sutusky]
[Researched by Historian Harry D. Gobrecht]