Having trouble viewing this email? See the online version here. To unsubscribe, please reply and request removal.
Submissions of 303rd Bomb Group related stories and articles are most welcome.



November 11, 2014
Volume VI, Issue 7
www.303rdBG.com

SLAIN 303RD BOMB GROUP RADIO OPERATOR HONORED
BY GERMAN CITY WHERE HE DIED
by Matt Smith, nephew of Sgt. Sheppard Kerman
Sgt Shep Kermin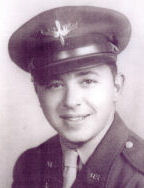 In late October, Matt and Elvira Smith travelled from Chicago to Germany at the invitation of Wolfenbüttel Mayor, Thomas Pink, to participate in the dedication of a memorial plaque at the building where Matt's Uncle, 360th BS Sergeant Sheppard Kerman (R)(POW/KIA) was murdered by his Nazi captors on Mission 248 in September 1944 after he parachuted from his disabled B-17.
The memorial to Shep Kerman was part of a series of four ceremonies held that day by the City of Wolfenbüttel to honor the victims of Nazi atrocities by installing commemorative brass plaques in front of locations where the crimes took place. The plaques are called "Stolpersteine," or "stumbling stones," because they are installed in the sidewalks at the sites of Nazi crimes and literally cause people to stumble over them. They are part of a social/artistic movement started by German Artist Gunter Demnig to keep the memories of victims of the Nazis alive by making them highly visible and putting in the paths of regular citizens. To date, Demnig has installed close to 50,000 Stolpersteine in 18 European nations.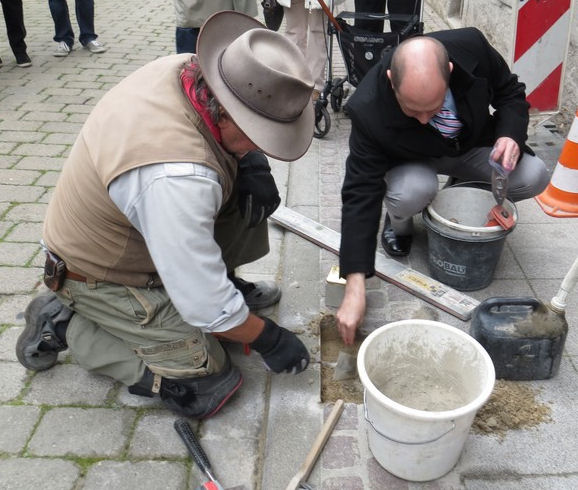 Demnig was on hand to install Shep Kerman's Stolpersteine and worked with Matt onsite to customize it. In addition to mixing in soil from his Uncle's grave in Norridge, Illinois, Smith removed his 8th Air Force lapel pin and had Demnig entomb both under the commemorative stone.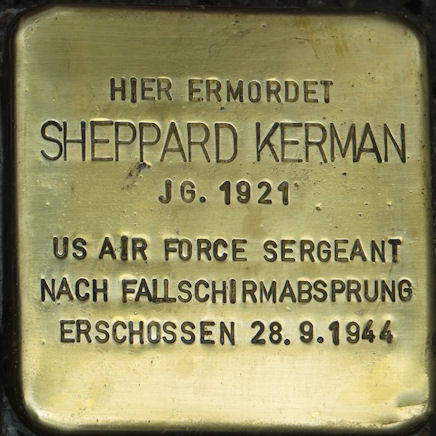 Translation: Here was Murdered Sheppard Kerman JG. 1921 US Air Force Sergeant shot after a Parachute Jump 28 Sep 1944
"Stumbling Stones are generally dedicated to longtime residents who people remembered, and not often to soldiers, but Shep's dramatic arrival in Wolfenbüttel on that cold September day in '44, and his senseless murder which was witnessed by many, forever etched his memory into the history of the city", said Shep's Nephew Matt. "During my visits I have consistently seen a sincere reverence displayed toward my late Uncle and a strong disdain for the wrongness of his killing. I applaud the dedication of this plaque because it both honors Shep Kerman and sends out a strong message to current and future generations about the ultimate price that is paid for hatred and intolerance."
Matt and Elvira Smith with artist Gunter Demnig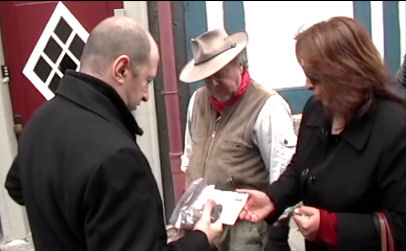 The Smiths first visited Wolfenbüttel in 2007 and again in 2008 to meet with Mayor Thomas Pink. Matt later met with Mayor Pink and a delegation from Wolfenbüttel when they visited Chicago in 2011. Matt was considering a return to Wolfenbüttel on September 28th of this year for the 70th anniversary of his Uncle's death but had to put the idea on the back burner. Shortly after making that decision, Matt received an unexpected invitation from Mayor Pink to attend the October dedication. At that point, Matt and Elvira knew that they needed to be there.
The decision to honor Kerman drew support from several figures familiar to the 303rd family. Veteran 359th tailgunner and the Bishop Emeritus of Corpus Christi, the Most Reverend Rene Henry Gracida sent a personal message via Matt to Mayor Pink and the residents of his city stating "I pray that the celebration may be a source of healing for the people of Germany and the United States, suffering as we do from the effects of the terrible war that divided us." Matt first met Bishop Gracida at the 303rd's final reunion in Washington, D.C. in 2007.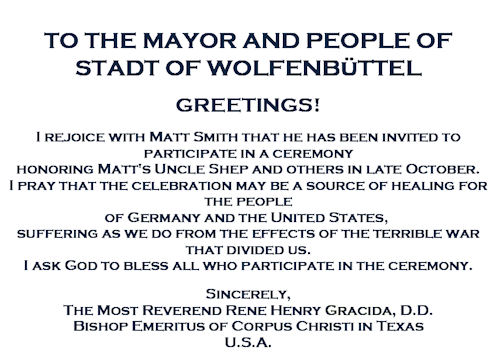 Chicago's Cardinal Francis George sent his prayers and greetings to Mayor Pink and the people of Wolfenbüttel as they gathered "to dedicate Stolpersteine in memory of a young man from Chicago, United States Army (Air Force) Sgt. Sheppard Kerman."
Chicago Mayor Rahm Emanuel also sent his greetings noting that while the circumstances that first brought the two cities together were sad ones, he hoped that the people of both cities could continue to build strong relations. Emanuel stated that Kerman's killing was "tragic and resulted in a terrible loss for Shep's family and for Chicago," but also that the stumbling stone ceremony was "a meaningful step toward healing and hope."
Participants in Wolfenbüttel's celebration included school children, residents, regional dignitaries, family members of Nazi victims, members of the media and even a representative from the US Consulate in Hamburg. Wolfenbüttel's Stolpersteine effort was coordinated by historian and author Jürgen Kumlehn, and Michael Steffen, who had heard stories about the unknown Allied airman who was killed there during the war, served as the sponsor of Shep Kerman's memorial plaque. Also present was Günter Rode, who as a teenager witnessed Kerman's murder seventy years and one month earlier. Rode stood at the ceremony just a few feet from where he did as a young man on that fateful day.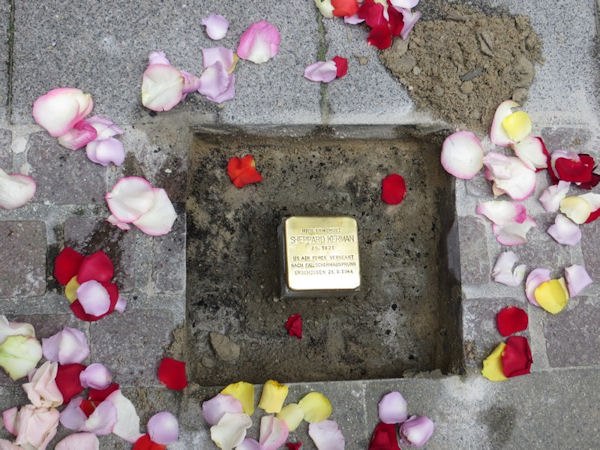 Kerman was a Radio Operator on Mission 248 to Magdeburg when the formation was briefly without fighter cover and was attacked by one of the Luftwaffe 's most experienced fighter wings. Twelve of the 303rd's B-17's were lost that day. Kerman's plane was disabled in the first pass. Though wounded and knocked down twice, Kerman maintained fire against incoming fighters. He threw at least 2 wounded crewman to safety before bailing out. Kerman's delayed exit put him on a collision course with his fate in Wolfenbüttel. His parachute suspended him from a building in the city center and he hung helplessly above a crowd. Kerman was pulled into a nearby window by Nazi officials and shot several minutes later with his arms up in surrender.
It is strongly believed by Shep's crew, family members and historians familiar with the case that an "H" stamped on his dog tags, indicating that Hebrew last rights should be given, led to Shep's execution.
Two War Crimes trials were held at Ludwigsburg and Dachau, and two of Shep's three killers were sentenced to death. Though all served some time in prison, the two death sentences were never carried out.




HELL'S ANGELS NEWSLETTER
— Historic Issues Revisited —
This Month: January 1982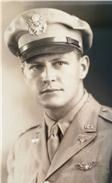 Charles Lee Coons, age 94, of Fort Walton Beach, Fla., passed away peacefully Nov. 1, 2014, at his home surrounded by family. Charley is survived by his son, Pat (Ellen) of Navarre, Fla.; his daughter, Christie (Mike) Chester of Shalimar, Fla.; and his three beautiful granddaughters, Jamie Coons of Navarre, Jennifer Chester of Miami, Fla., and Lauren Chester of Orlando, Fla.
He was preceded in death by his parents, Charles and Eleanor Coons; brother, CK Robinson of Fort Myers, Fla.; and his loving wife of 57 years, Drexel Coons.
Charley was born on Jan. 2, 1920 in Memphis, Tenn., and moved to Paducah, Ky. at age 7. He graduated from Algusta Tillman High School. After two years as an apprentice machinist on the Illinois Central Railroad, he joined the Army Air Corps in June 1943 and was sent to Ellington Air Force Base, Texas as a second lieutenant to learn how to fly. Shortly after, he was assigned as a pilot in the 360th Bombardment Squadron, 303rd Bombardment Group. On Dec. 22, 1943, he flew his first combat mission to attack a railway in Osnabruck, Germany. In February 1944, he was shot down on a bomb run to Frankfurt, Germany and crash landed his B-17 at East Church near Graves Inn at a RAF fighter base. Two days later, he was back to flying missions over Germany and would go on to fly 30 missions before being allowed to go back home to Paducah.
During his long and distinguished military career, Charley was recognized by the United States Air Force for his dedication to duty by receiving several military awards and commendations, to include the Distinguished Flying Cross, the Air Medal with three Oak Leaf Clusters, the Air Force Commendation Medal, the Euro – African Middle East Campaign Medal and the World War II Victory Medal. He was also awarded the Army of Occupation Medal, the American Campaign Medal, the Armed Forces Reserve Medal, the United Nations Service Medal, the Air Force Small Arms Expert Marksmanship Medal, the National Defense Service Medal, Korean Service Medal and the Air Force Longevity Medal.
In early 1945, he met the love of his life Drexel Duke in Birmingham, Ala. and they would soon be married. After several temporary assignments in Orlando, and Jackson, Miss., he received orders to go to Tokyo, Japan in 1949 where he was appointed as the commandant of the Tokyo Electric Building, Far East Squadron Air Force. In August 1951, he became the proud father of a daughter, Christie Vannice Coons. In 1952 he received orders for Eglin Air Force Base to the Air Proving Ground Command Field 3. In March 1955, he became the proud father of a son, Charles Patrick Coons. In 1957, he was assigned to the Air Boat Rescue School in West Palm Beach, Florida and later transferred to Goosebay Labrador. He later retired from the Air Force in 1964 and moved to Fort Walton Beach, Fla. There he worked several jobs before becoming a stockbroker with AG Edwards and Sons. He retired for the second time in 1978. After he retired, he and his wife traveled all over the world.
Charley was a man of absolute integrity and patriotism. His ability to tell a story and a sense of humor were hallmarks of his character. He was a loving husband, father and grandfather and he will be dearly missed. The family would like to express special thanks to his Hospice nurses, Brandi and Misty and caregivers, Caitlyn, Shelly, Sharon, Dee 1, Dee 2, Jennifer and Cathy. Their compassion and loving care for our dad will always be remembered.
A visitation time will be held at 11 a.m. Saturday, Nov. 8 at Emerald Coast Funeral Home, 113 Racetrack Rd., NE, Fort Walton Beach and a service will follow at 12 noon. In lieu of flowers, donations may be made in his name to the Wounded Warriors Fund.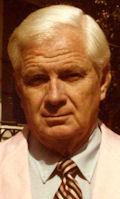 Judge Benjamin H. Smith, Jr., 91, died Saturday evening (October 4, 2014) at Waycross Health and Rehabilitation Center after a long, wonderful life.
He was a native of Lakeland, but he has lived most of his life in Waycross. He served in the United States 8th Air Force during World War II and received the Purple Heart for a combat wound. Because of his service, Judge Smith was very instrumental in the Museum of the Mighty Eighth in Savannah. He was a member of First United Methodist Church, the Adult Bible Class and Sons of Confederate Veterans. After 35 years of service, Judge Smith retired as a State Court Judge of Ware County. Judge Smith is a published writer, an accomplished artist, and avid fisherman. He loved helping people, especially with his law practice and also in the field of alcoholism/addiction recovery. He was an "old timer" in Alcoholics Anonymous since 1973.
He is the son of the late Benjamin Smith, Sr. and Maude Ruth Cooper Smith. He is preceded in death by his wife, Evelyn Woodall "Lynn" Smith; a brother, Cooper Smith; and a sister, Virginia Hagen.
Survivors include one daughter, Evelyn Beaumetz of Chicago, IL; three sons, Ben Smith III (wife Mimi) of Blackshear, William Lawrence "Bill" Smith (wife Freda) of Savannah, and John Randall Smith (wife Debbie) of Waycross; 7 grandchildren and 2 great grandchildren; and several nieces and nephews.
A funeral service will be held 2 p.m. Wednesday (October 8, 2014) at First United Methodist Church. Burial will follow in Oakland Cemetery. The family will receive friends 6 until 8 p.m. Tuesday at the FUMC Social Hall.
Members of Alcoholics Anonymous are asked to meet 1:40 p.m. Wednesday at the church to serve as honorary pallbearers.
In lieu of flowers, memorials may be sent to the Museum of the Mighty Eighth, Savannah, GA, or First United Methodist Church, Waycross.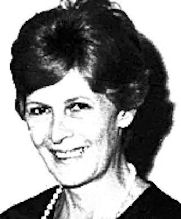 Mary Lee Deerfield, 78, passed away in Palm Harbor, Florida, October 23, 2014.
She was surrounded in prayer in her final days by her husband, retired U. S. Army Lieutenant Colonel Eddie Deerfield, her two stepsons, Jim and Rick Deerfield, and Cantor Deborah Jacobson of Temple Ahavat Shalom.
Mary Lee enjoyed a remarkable life. She was at her husbands side as he served as a Foreign Service Public Affairs diplomat at American Embassies and Consulates in India, Pakistan, Malawi, Canada, Uganda and Nigeria. She was active in social welfare in each country, often invited as a guest speaker at fund-raising and other events. In Calcutta, India, she befriended Sister Teresa and assisted her Missionaries of Charity. In Kampala, Uganda, she was awarded a Tribute of Appreciation by the U.S. Department of State in recognition of outstanding service as headmistress of the Lincoln International School.
Mary Lee continued to shine in private life after she and her husband retired to Florida in 1991. She was an avid gardener, and is past president of the Palm Harbor Garden Club. In the 1995 flower show, her Crown of Thorns, a flowering plant native to Madagascar, earned the blue ribbon. She planted bougainvillea in her garden as luxuriant reminders of their years in South Asia and Africa. As a member of the East Lake Ladies Bridge Club, Mary Lee was selected as a model for the clubs fashion show luncheon in 2004, and appeared in cruise wear, day wear and an evening gown during the fashion parade.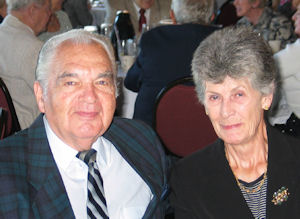 She was active in planning reunions for her husbands 303rd Bomb Group Association, a World War II veterans organization, and was honored by the Association with a plaque in recognition and appreciation for your many years of dedicated and outstanding service.
Mary Lee and Eddie celebrated their 51st year of marriage on August 3, 2014. She was adored by all who knew her. Her stepsons, Jim and Rick, wrote she was truly a second mom, treating us as her own sons throughout her life, always sweet, always loving, always the best cook. She was one-of-a-kind, adventurous, courageous, and warm hearted. We'll never stop loving and missing her.
She is survived by her husband, brother, stepsons, four granddaughters, and two great-grandchildren. She is predeceased by two sons, Scott and Mark, and her parents Leo and Thelma Decker. Burial arrangements will be made by Curlew Hills Memory Gardens and will take place at Arlington National Cemetery, with a Memorial Service at Temple Ahavat Shalom in Palm Harbor on dates to be determined.


Earl J. King 1922-2014 -- Earl passed from Earth to his heavenly home.
He was preceded in death by his wife, Glenna and eldest son, James. He is survived by James' wife Debbie, Pamela (Merle) Friedman, Lynda (Erik) Hedl, Donald (Joan) King, Susan (Robert) Schutte, Charles (Dona) King and Kenneth (Kathy) King; 14 grandchildren; nine great-grandchildren, friends and family.
Friends may call at the Bacher Funeral Home, 3326 Manchester Rd., Akron, on Friday, October 17, 2014 from 11 a.m. to 12 p.m., where a Celebration of Life Service will be held for Earl immediately following the calling hour at 12 p.m., with Pastor Mike Prebynski officiating. Military honors will be provided by Firestone Post 3383 after the service at Lakewood Cemetery.


Everett E. Culp, 91 of Bellefontaine, passed away on Sunday, November 2, 2014 at 11:00 am in Mary Rutan Hospital where he had been a patient since Monday.
Born April 30, 1923, at home near Rushsylvania, he was a son of the late John Otto and Clara Lucrectia (McAdams) Culp and was a lifelong resident of Logan County.
Everett attended Belle Center Schools and graduated from Rushsylvania High School in the class of 1941. He entered the Army Air Corps on December 3, 1942 and served his country during WWII as a radio operator on a B-17 with the 303rd Bombardment Group. His plane was shot down, and he spent 13 months in the Stalag 17B German prison camp until liberated in June 3, 1945. He retired in 1988 as a pressroom superintendent at The Bellefontaine Examiner having worked there 37 years.
He was a lifelong, active member of the Rushsylvania United Methodist Church and was an Assistant Scoutmaster for Rushsylvania Troop 51. He was also a member of the 303rd Bomb Group (H) Association Inc., The Eighth Air Force Historical Society Inc. and the Logan County Historical Aviation Organization. He served the Rushsylvania community as Mayor and Water Board Member. Everett had a lifelong love of flying and aircraft and was a member of the Top of Ohio Pilots Association. He was a loving and caring husband, father and grandfather and will be greatly missed by all who knew him.
He married Ella Jane Ramsey on August 22, 1942 and she preceded him in death in 1990. They were the parents of three surviving children, Russ (Edwina) Culp of Dothan, Alabama, Ed (Judy) Culp of West Mansfield and Linda Kerns of Bellefontaine.
Also preceding him in death was his son-in-law, Jeff Kerns, and brothers, John and Carlos Culp and a sister, Virginia Miller.
Other survivors include his wife of 19 years, Merrilyn Kline Gallentine Culp and step-daughters, Dr. Kathleen (Bjorn) Gallentine-Mossberg M.D. of Houston, Texas, Anita (Rodger) Collins of New Lebanon, OH and Diana (John) Johnson of Willard, Ohio; his siblings, Miriam Curler, and Carl and Bill Culp all of Rushsylvania; nine grandchildren, 17 great grandchildren, six step grandchildren and seven step great grandchildren. Funeral services will be conducted Thursday, November 6, 2014 at 11:00 a.m. in the Rushsylvania United Methodist Church with the Rev. Gene Phelps officiating. Burial will follow in the Rushsylvania Cemetery with military honors by the Logan County Veterans Honor Guard. Friends may call Wednesday, from 5:00 p.m. to 8:00 p.m. at the Eichholtz Funeral Home in Bellefontaine and at the church one hour prior to services.




Keeping the Legacy Alive,



Submissions of 303rd Bomb Group related stories and articles are most welcome.