Having trouble viewing this email? See the online version here. To unsubscribe, please reply and request removal.
Submissions of 303rd Bomb Group related stories and articles are most welcome.



March 25, 2014
Volume VI, Issue 3
www.303rdBG.com
Salute to T/Sgt Walter N. Jones: 32 B-17 Missions over Germany Without a Scratch

by Robert Wilcox, 50Plus Senior News
Pvt. Walter N. Jones in 1943 at Scott Airfield in St. Louis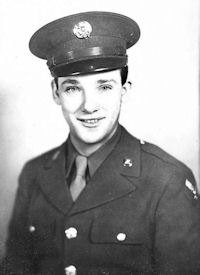 When Walter Jones graduated from high school, he reasoned that, since it was likely that he would soon be drafted, he better enlist in the Army Air Corps. In that way, he could follow his long-held dream of becoming a pilot.
So, on Nov. 28, 1942, he enlisted and shipped to Miami for basic training.
After basic, the Air Corps discovered that he was color blind, so that was the end of his dream of becoming a pilot. They then put him through a battery of tests and found that he was adept at radio work.
So, he was sent to Scott Field in St. Louis to learn to become a radio operator. Morse code seemed to come to him naturally, and he did so well with it that he was made an instructor, teaching Morse code there for 18 months before he was sent to more extensive training to equip him to be a B-17 radio operator.
Jones says there was a lot more to that training than he ever imagined. On a B-17, the radio operator compartment was just behind the bomb bay and just in front of the waist section of the Flying Fortress.
He had far more responsibilities than just manning the main radio gear for the aircraft, however. He also had a .50 caliber machine gun mounted in the ceiling of his compartment. And he primarily assisted the navigator.
He had a couple of instruments that duplicated those of the navigator that gave heading information. He could forward radio fixes, known as position reports, to the navigator. And as long as the navigator knew where the radio signal was coming from, based upon the heading of the signal from the radio operator, the navigator could get a fix on where the aircraft was.
After that training, Jones was assigned to a B-17 crew at Lincoln, Neb., and they were soon headed for combat, flying over the northern route, through Goose Bay, Labrador; Reykjavik, Iceland; and Valley, Wales.
In England, he was assigned to the 303rd Bomb Group (called the Hell's Angels) in Molesworth, England, and flew his first mission on Dec. 6, 1944.
On that and later missions, he found that there was a lot to keep the radio operator busy in combat. He would monitor the group frequencies to find out any changes to the flight plan. If the lead plane decided to switch to a secondary target, or if a plane fell out of formation, he would record the message over the group channel and pass the information on to the pilot.
He logged all radio events and as much of what he could see going on around him as possible. He would note which planes went down, when and where, along with the number of chutes seen to come from the plane. He checked with his crew every 15 minutes on intercom to make sure all were OK. If needed, he would have been one of the first ones to tend to a wounded crewmember.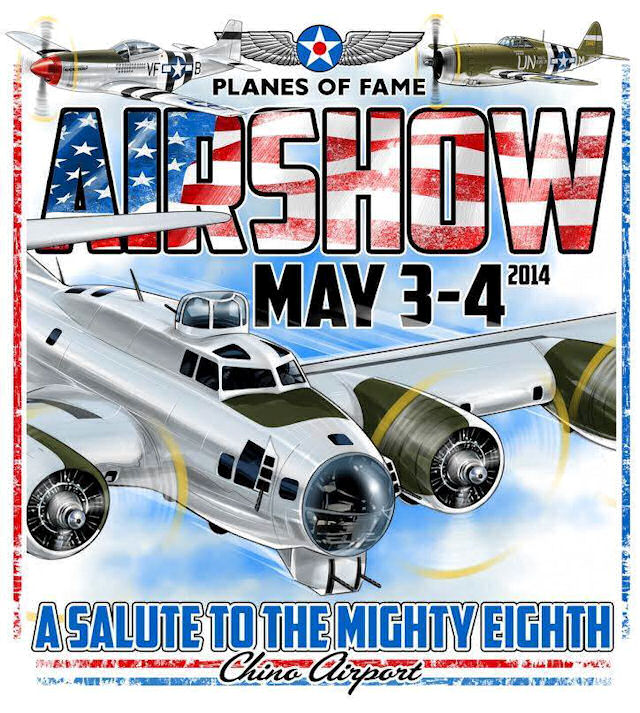 We'll be there! Hope to you will, too !
2014 8th AIR FORCE HISTORICAL SOCIETY ANNUAL REUNION
SHERATON MUSIC CITY HOTEL – NASHVILLE, TN -- (615) 885-2200
https://www.starwoodmeeting.com/StarGroupsWeb/res?id=1402066861&key=30784
October 8 - 12, 2014

HELL'S ANGELS NEWSLETTER
— Historic Issues Revisited —
This Month: June 1980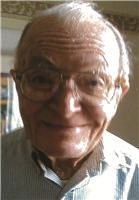 Jack B. Fawcett
passed away peacefully in Greeley on March 18, 2014.
Beloved father of Pamela, Karen, Joel and Larry, he is also survived by two grandchildren, Andrea and Max and one great-grandaughter, Savannah.
Jack was preceded by Ruth Ann, his wife of 62 years.
Born November 26, 1921, in Brush, CO, Jack had a rich and diverse life as a teacher and Foreign Service Officer. He also served honorably in WWII as lead bombardier in a B-17 in the European Theater. He served in the 360th Bomb Squad, 303rd Bomb Group of the 8th Airforce (Army/Aircorps). He not only flew the mandatory 25 missions but volunteered for another five! He was awarded the Distinguished Flying Cross twice!
Jack had a deep appreciation and love of language. He taught us early on about the importance of literature and reading as a bird's eye view into different cultures. He had a wonderful sense of humor and loved "play on words". He always enjoyed the richness of the English vocabulary.
He will be deeply missed by all that loved and knew him.
The family wishes to extend their appreciation to the entire staff at Grace Pointe for their compassionate care of Jack. Family and friends are invited to military honors burial Monday, March 24, 2014, at 1 p.m. at the Brush, CO cemetery. In lieu of flowers, contributions may be made in Jack's memory to the Northern Colorado Honor Flight in care of Allnutt Funeral Service.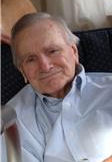 Thomas W. Highfill, of Links Passage, Westerly, died peacefully at his home, on March 13, 2014.
Born in Bloomington, Illinois, on December 17, 1922, Tom was the son of Thomas W. Highfill and Ada Jane Eubank of Farmer City, Illinois. He is survived by his three daughters, Nancy Socha and husband John; Christine Kepple and husband Mark; Stacy Stahl and fiance Bill Ottavi. He is also survived by his six grandchildren, Christopher Kepple of Boulder, Colorado, Aaron Socha of New York, Lindsay Malek of Westerly, Nathan Socha of Providence, Avery Kepple of Boston and N. Bronte Stahl of Rome, Italy. Tom was lovingly cared for over the last several years by his care giver Marta Rigova.
Tom was predeceased by his wife Anne (Gencarelli). He was also predeceased by a brother, Philip. Tom's father died two months before Tom was born, leaving his mother to raise him and his brother Phil on the farm in Illinois. Tom told many stories of life in Farmer City delighting generations of friends and families over the years.
Tom served in the Army Air Corps during World War II as a ball-turret gunner on a B-17 bomber based in Molesworth, England, as part of the 303rd Bomb Group, 427th Bomb Squad. During his service, Tom flew more than 35 missions over France and Germany. He recalled for us that he had the best view of the D-Day invasion from his seat as he flew over the English Channel that day. He was discharged in 1945 with a rank of Staff Sergeant. For his service, Tom was awarded an Air Medal with 5 Oak Clusters, and the EAME with 1 battle star.
Tom worked in the real estate business with his wife Anne for many years in Westerly, and built or re-modeled numerous homes in town. Although Westerly was his home, Tom had a life-long love for Florida and he and Anne spent many winters in the Naples and Fort Meyers area. He was a former member of the Westerly Lions Club and other civic organizations in the town.
Calling hours will be held at the Buckler-Johnston Funeral Home, on Main St., in Westerly, on Saturday, March 22 from 2 to 5 p.m. A memorial service will be held at a later date, burial will be private. Donations in his memory may be made to The Westerly Hospital, Wells Street, Westerly, R.I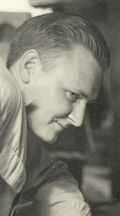 Benjamin Harrison Wilson, Jr., 89, peacefully passed away Friday, February 28, 2014 in Easley, South Carolina. A memorial service will take place Saturday, March 8, 2014, 2:00 p.m., at Finch Chapel, Greensboro College, with a reception to follow in the Main Building.
Born in Pittsburgh, Pennsylvania on March 8, 1924, Ben was the son of the late Benjamin Harrison Wilson and Rachel Violet Johnston Wilson. After graduating from Perry High School in 1941, he attended the University of Pittsburgh before withdrawing to serve in the United States Army Air Corps. He served in World War II as a navigator and bombardier on a B-17 Flying Fortress with the 358th squadron of the 303rd bomber group in Europe. Following his discharge from the Army in November 1945, he briefly attended the University of Pittsburgh before transferring to West Virginia Wesleyan College, where in 1948 he graduated with a degree in mathematics and English. He married the late Kathleen ("Kitty") Lucille Snyder in 1949, and in 1950 received his master's degree in English from the University of Pittsburgh. He later earned a Ph.D. in English from the University of North Carolina at Chapel Hill in 1965.
Ben taught English for two years at West Virginia University in Morgantown before moving to North Carolina to teach at Davidson College. He subsequently taught part time at The University of North Carolina, Chapel Hill. In 1958, Ben was appointed chair of the English department at Greensboro College, where he remained until his retirement in 1991. While at Greensboro College, he was an active member of the Inter-Faculty Forum, a group of instructors from all of the city's colleges that frequently discussed social and political issues in the 1960s. Civil Rights Greensboro has an interesting interview of Ben, which can be found at http://library.uncg.edu/dp/crg/oralhistitem.aspx?i=593.
For many years, Ben taught Sunday school at West Market Street United Methodist Church. He also worked as an advocate for the mentally ill, serving on the board of John Umstead Hospital and other mental health organizations. After Kitty's death in 1992, he married Kathryn Lois Colburn Wilson and later moved to South Carolina. While in South Carolina, he taught, and took, classes at the Furman University Learning in Retirement program.
For all of his personal and professional accomplishments, Ben is perhaps best remembered as being a caregiver at heart. He helped numerous family members, friends and students, through his time, talent and wisdom, navigate the difficulties of life.
Ben is survived by his loving family: his wife, Kathryn Lois Colburn Wilson and her daughter, Polly Brown and her husband Steve, and their children Steve and Abbie, all of South Carolina; his daughter, Kate Elizabeth Rachael Wilson of Greensboro; his son, Andrew Harrison Downes Wilson and his wife Lisbeth and their children and his two grandsons, Andrew Harrison Downes Wilson, Jr. and Holden Frederick Moore Wilson, all of Midlothian, Virginia; his sister, Lois Wilson Jourdan and her husband William, his niece, Janet Jourdan, and her children, Rachel and Miranda, all of Pittsburgh.
In lieu of flowers, please send donations in Ben's memory to either Greensboro College or the National Alliance on Mental Illness-North Carolina.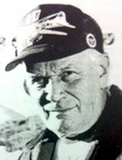 George Karl Reimche was born April 19, 1925 he passed away Feb. 23, 2014. George is a Stockton native born and raised.
He graduated from Stockton High School and joined the Army Air Force in 1943. He was a Tech Sergeant B-17 "Flying Fortress" nose turret gunner, he became a togglier and bombardier in the 8th Air Force in England during WWII. He flew 30 missions from Aug. 1944-Apr. 1945, flying the last B-17 mission of the European War. He flew with 303rd "Hells Angels" Bomb Group, 358th Bomb Squadron. He has been an active member of the WWII Warbird Group since its inception in 1983. He was an owner-machinist at Fremont Garage since 1960.
George is survived by his loving wife of 67 years, Maybelle "Jerry" Reimche, and his children Rick Reimche, Debra Lea, Bret Reimche, Bart Reimche, and Dotie McGuire, and preceded in death by his son Greg Reimche, Sr. His kind and gentle nature will be missed by all, including his numerous grandchildren and great grandchildren.
Graveside funeral services will be held Wednesday, March 5th at 10 am at Cherokee Memorial Park, Harney Lane at Highway 99, Lodi, CA 95241 (209)334-9613. In lieu of flowers, memorial contributions may be made to Stockton Field Aviation Museum, 7432 CE Dixon St., Stockton, CA 95206.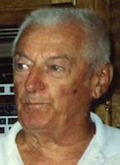 Louis E. Hampl, 97, of Wareham, died Thursday, February 27, 2014 at Sippican Healthcare Center in Marion. He was the husband of Yvonne M. (Dager) Hampl.
Born in Poultney, VT, he was the son of the late Louis & Kathryn (Krall) Hampl. A resident of Norwood for over 60 years, Mr. Hampl was a longtime summer resident of Wareham for many years. He was employed as a printing press mechanic.
Mr. Hampl was a World War II U.S. Army Air Corps veteran who served five years in Europe with numerous missions over Germany and France. Louis was also a member of the V.F.W. Post # 2452 in Norwood.
He is survived by his daughter, Lois Enos of Wareham; his son, Steven L. Hampl of Northwood, NH; his sisters, Florence Fell of Wellesley and Karan Osenton of Jamestown, RI; his grandchildren, Dr. Nicholas Enos, Gregory Enos and William Hampl.
A Mass of Christian Burial will be held on Mon., March 3, 2014 at St. Rita's Church, Front St., Marion at 11:00 AM. Interment will be in Agawam Cemetery, Wareham. Relatives and friends may visit at the Chapman, Cole & Gleason Funeral Home, 2599 Cranberry Highway (Rt. 28), Wareham on Monday from 9:00 to 10:30 AM prior to the Mass.
Donations in his memory may be made to St. Jude Children's Research Hospital, 501 St. Jude Place, Memphis, TN 38105.




Hi Gary,

I wanted to take a moment to thank you for the time and effort you have put in to keeping the legacy of the 303rd BG alive for all of us who had fathers, brothers, uncles and other loved ones in this group and in the 8th AF.

I also wanted to tell you what an impact the 303rd BG website has made on my life.

In about 2002, my brother Mike contacted me to tell me he had found the website, and had found pictures of our dad along with his plane, crew, etc. He was so excited, that I decided to check it out myself. I too was fascinated, and spent quite a long time investigating the site. At the end of my initial visit, I posted a "thank you" to whomever kept the site going and all the contributors who had compiled the photos, data, etc. Little did I know how fortuitous that one post would be in the future!

At the time, my dad, Lt. Col. Oran T. O'Connor (Ret.) was 88 years old, and as with many military families I'm sure, we moved so much while in the service, that much of his old photos had been lost along the way. I was overjoyed to see my dad as a young man in his prime before the war.

In 2004, I was contacted out of the blue by a man named Jean Paul Favrais who found my e-mail address on the 303rd website! As you know, that led to finding the crash site where my dad's plane was shot down in France in 1943. In 2007, my family and I traveled to France as Jean Paul's guests to visit the site. Last year, Jean Paul was honored by the 8th Air Force at their reunion in Savannah, and my husband and I were lucky enough to be there with him.

In 2008 or so, I began corresponding with Doc Brown after he read my account of our trip to France. He was very good friends with General Lewis Lyle, who was also my dad's best friend, and Best Man at his wedding to my mom. After Lew died, Doc found many letters from my grandmother, my mom and my dad (while he was a POW!) to Lew's mom. He was kind enough to send them to me, and I treasure them.

Now, for the last little bit of this story, this week, I was contacted by a man in Minnesota who lived near Dad and my step-mom Lee in Vernon Center (close to dad's hometown). He also had found my email on your website, and wanted to share some stories about Dad. They used to have coffee together, and he did handiwork around the house if anything needed to be done. They had gone to the AF museum together once outside of MInneapolis, and Randy said the Vets there were fascinated by dad's stories. Weren't we all? It turns out, Randy has a trunk of some sort that belonged to my grandfather! He wants to send it to me as a gift in appreciation of his friendship with my dad, and this all came about because of a little post on your website.

So again, Gary, thank you for all you do to keep this running. I know it can't be easy, but it has impacted the lives of so many and in ways I bet you can't imagine!

Kathy Stanclift

---

Hello,

My name is Karen Crivello and my daughter found your page while looking up my grandfather's name, William Fleming, on the web. He is featured on your page "Dressing for a mission" Today is my birthday and these pictures are the best present I could have gotten. To see my grandpa so handsome was a treat. Thank you and God bless you for keeping their memory alive!

Karen
Keeping the Legacy Alive,

Submissions of 303rd Bomb Group related stories and articles are most welcome.