Having trouble viewing this email? See the online version here. To unsubscribe, please reply and request removal.
Submissions of 303rd Bomb Group related stories and articles are most welcome.



November 11, 2013
Volume V, Issue 7
www.303rdBG.com
VETERANS DAY 2013
HONORING OUR 303RD BOMB GROUP HEROES
303rd Veteran Awarded The Distinguished Flying Cross
Over seventy years after giving his life for his country
Courtesy of Ed Burns, Past Commander, American Legion Post 15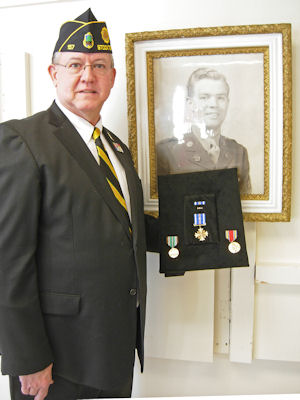 STOCKTON SPRINGS, MAINE - On Saturday, 9 Nov 2013, United States Senator Susan Collins (R-Maine) and BrigGen Gerard Bolduc, Commander, Maine Air National Guard, presented the Distinguished Flying Cross with Valor to Gene Dobbins, nephew of Sgt Jerry W. Dobbins who represented the family.
In January 1943 19-year-old Jerry Dobbins was killed after his plane was shot down over France. He helped save another man's life, but was never formally honored, until now.
With the help of American Legion Post 157 and Senator Susan Collins, the World War II veteran has been awarded the Distinguished Flying Cross for Valor, seventy years after his death.
"It fills me with a sense of awe that a 19 year old would give up his life so that his comrade could live. That is absolutely extraordinary," says Sen. Collins.
Mel Schulstad, Dobbin's commanding officer, had the flu and was not on the plane. His son says the accident stayed with him until his recent death.
"He thought of this as his airplane and his crew. And he was proud of them. He would be delighted," explains his son John.
Both veterans and family members agree the large turnout speaks to the strong sense of community in Stockton Springs.
"I know how tight small communities are and how much they work for each other and do things for each other," says Gene Dobbins, Jerry's nephew.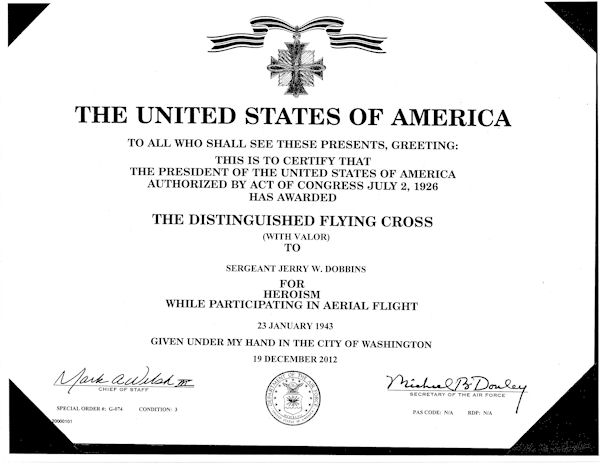 CITATION TO ACCOMPANY THE AWARD OF THE DISTINGUISHED FLYING CROSS (WITH VALOR) (POSTHUMOUS) TO JERRY W. DOBBINS
Sergeant Jerry W. Dobbins distinguished himself by heroism while participating in aerial flight as left waist gunner over France on 23 January 1943. On that date his B-17F bomber was hit and damaged by a falling bomb from an aircraft above, ripping off most of the bomber's tail section. Sergeant Dobbins, displaying great courage, not only continued to man hi station but rendered aid to the radioman by finding and offering an oxygen tube to replace the one lost in the initial accident, thereby allowing his fellow crewman to remain conscious and bail out. As the damaged aircraft began to recover, it flew for approximately ten minutes when it was attacked by two German FW-190 aircraft killing both the pilot and copilot. As anti-aircraft fire began to intensify and without taking time to locate or put on a parachute, Sergeant Dobbins, with complete disregard for his own life, opened defensive fire upon the two attacking aircraft resulting in one confirmed kill, Sergeant Dobbins' aircraft then began to nose over into a slow spin and fall from the sky, eventually crashing in a forest near Pluvigner, France, killing seven of the ten remaining crewmembers, including Sergeant Dobbins. The outstanding heroism and selfless devotion to duty displayed by Sergeant Dobbins in the dedication of his service to his country reflect great credit upon himself and the United States Air Force.




HELL'S ANGELS NEWSLETTER
— Historic Issues Revisited —
This Month: March 1979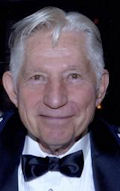 Robert (Bob) Cribley
, Lt. Col (Ret.), 89, of Valdosta, died on Tuesday, Oct. 15, 2013, at his residence. Born in Warren, Ohio, to the late Clifford James and Hilda Marie Rantimake Cribley, he had lived in this area for the past seven years. Bob joined the U.S. Army Air Corps in 1944, and was a navigator on a B-17 and was stationed at Molesworth Cambridgeshire, England — 303rd Bombardment Group (H) "Hell's Angels" Combat Team, 360th Bomb Squadron, 8th Air Force, WWII. He became a pilot in 1948. That year, the U.S. Army Air Corp became the U.S. Air Force, a separate branch of the service. After pilot training, he flew many different Bomber aircraft including B-24s, B-25s and B-27s as well as others. During the Korean Conflict, Bob flew the Airlift, taking troops over and bringing wounded back until 1953. When the Conflict was over, he qualified for the B-47s, which he flew from 1955 to 1960. In 1961, Bob qualified to fly the B-52s and in 1963, he was deployed to Homestead AFB in South Florida during the Cuba Missile Crisis. Bob's last aircraft was the B-52s. He flew the B-52 out of Loring AFB during the Cold War with Russia. Bob retired in 1965, from the U.S. Air Force after 22 years of service.
After Bob's retirement from the Air Force, he became an education specialist for the U.S. Naval Training Device Center in Orlando, Fla. He received several superior and outstanding awards during this time and worked with the United Nations overseas. From 1976 until 1988, Bob was the chairman of the Air Force Academy Selection Committee for FLS 11th Congressional District. He first worked with Congressman Bill Frey and then Congressman Bill Nelson. Bob retired from the Navy in January 1988, after 21 years of service. Mr. Cribley was a member of Lake Park United Methodist Church.
Survivors include his wife of 67 years, Roselle Bartlett Cribley of Valdosta; five daughters, Elizabeth Stephanie Angel and her husband, James Van Liere of Sherman, Conn., Candice Ann Carnley of Tallahassee, Fla., Barbara Lynn Oliker and her husband Steve Oliker of Manhattan Beach, Calif., Michelle Marie Keir and her husband Chuck Keir of Alachua, Fla., and Heidi Suzanne Carlman of Ocala, Fla.. Also surviving are six grandchildren, Jon (Jennifer) Sandstrom, Ryan Angel, Madeleine Kelley, John Kelley, William Kelley and Kady Oliker; and two great-grandsons, Chase and Cade Sandstrom.
He was preceded in death by his parents-in-law, Morris and Vi Bartlett.
A funeral service for Mr. Cribley will be held at 3 p.m., Friday, Oct. 18, 2013, at Lake Park United Methodist Church. The Rev. Wayne Anthony and the Rev. Richard Trewick will officiate. Burial will follow in McLane Riverview Memorial Gardens with military honors. The family will receive friends from 5-7 p.m. today at McLane Lakewood Funeral Home in Lake Park. The pallbearers at the church will be Ben and Jen Bartlett, Joe Bartlett, Jim Van Liere, Steve Oliker, Chuck Keir, John Kelley and Will Kelley. Honorary pallbearers will be Stan Bartlett, Syd Bartlett, Joe Scarborough, Jimmy Schluraff, James Mc Mullen, Bill McGraw and Tim Strzelczyk.
In lieu of flowers, donations may be made to Lake Park United Methodist Church, Hospice of South Georgia or the House of Hero's.


Richard (Buddy) Thomas Fogarty, 91, a native of Savannah Georgia passed away on 17 OCT, 2013. He was born in Savannah Georgia to the late Richard and Ruth Fogarty on 5 DEC, 1921.
Richard graduated from Benedictine Military School in 1940 and enlisted in the US Army following graduation. He was a crewmember on B 17s, flying out of Molesworth England as a member of the famous 303d Bomb Group, the "Hells Angels" of the "Mighty Eighth" Air Force. His bomber was shot down over Czechoslovakia on his 35th mission in March of 1945 and he spent the remainder of the war as a POW in Germany (http://www.303rdbg.com/missionreports/362.pdf.)
He returned home to Savannah and married the love of his life, Frances Mary Clemence on 16 JUN, 1945. They settled in Savannah and raised seven children.
He was employed by the US Army Corps of Engineers and after 30 years of outstanding service retired in 1974. In 1979, he and Frances moved to Lawrenceville GA to be near their children and he started a second career with International Safety Instruments.
Richard was a devout Catholic and was active in church activities throughout his life including serving as an officer of the Catholic Charity - the Society of ST Vincent De Paul. He loved all sports, but especially playing golf and passed this passion on to his sons. Richard is survived by his wife, seven children, sixteen grandchildren, eleven great-grand children and many sons and daughters in law. Funeral mass will be said Monday October 21, 2013 at 11 A.M. at Prince of Peace Catholic Church with Fr. Juan Anzora serving as celebrant. A viewing will be held from 6-8 p.m. Sunday, October 20, 2013 at Wages & Sons Funeral Home. Burial will be held at 1 P.M. at Gwinnett Memorial Park Cemetery. Wages and Sons Gwinnett Chapel. 770-277-4550.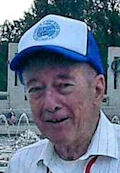 John Innes Jenkins passed away in the early morning hours of Oct. 16, 2013 following a brief illness. He had lived in Alamogordo since he was transferred from the 509th Bomb Wing at Walker Air Force Base to the Missile Development Center at Holloman AFB in 1958. John was born on March 16, 1925 in Waterloo, Iowa, to Peter and Mary Jenkins who had emigrated from Scotland shortly before World War I. After graduating from high school in Waterloo, he began his life long interest in aviation while taking flight lessons in Taylorcraft in the Civilian Pilot Training Program. John briefly attended college before enlisting in the U.S. Army Air Forces in 1943. Following his commissioning, he flew 35 combat missions as a B17 navigator over Nazi occupied Europe with the 303rd Bomb Group based at Molesworth, England. The worst mission he could recall was the bombing of the Leuna oil refinery at Merseburg, Germany, in November 1944 where many allied aircraft were lost. He also participated in bombing which supported allied ground forces during the Battle of the Bulge.
After the war, John returned to Iowa and to school where he received a degree in engineering from Iowa State University. Upon completion of college, he was recalled to active duty in 1950 for pilot training with the U.S. Air Force during the Korean conflict. It was during pilot training that he married Twyla Stammer in Sherman, Texas. John and Twyla had attended the same high school but did not know each other well at the time. Happily, they were eventually brought together through John's father, with whom Twyla worked. John's service included tours at bases throughout the United States, Canada and overseas. John would ultimately fly many aircraft, including the B29, B50, B47 and B58. Overseas assignments took him to locations in the United Kingdom, the Philippines, Morocco and Thailand. He retired from the Air Force in 1967 with the rank of Lieutenant Colonel after a staff tour in southeast Asia during the Vietnam conflict. Following retirement, John and Twyla remained in Alamogordo because it was "a good place to raise a family" and had "excellent weather," which was optimal for flying.
Upon leaving the service, John worked for several military contractors as a statistical analyst at Holloman AFB, White Sands Missile Range, and in Texas. Additionally, he pursued his passion for flying as a flight instructor for Ed's Flying Service in Alamogordo. John was very happy to share cross-country flying with his children, John and Ann, whom he also instructed and helped to earn private pilot certificates. He frequently commented on how lucky he was to have been able to work at what he loved. Reading, listening to big band music, model railroading and traveling to visit relatives in this country and the British Isles were all enjoyable activities for him.
He was preceded in death by his parents, his elder brother James, his wife of 49 years, Twyla, and an infant son, Michael. He is survived by a son John (Audrey) of Alamogordo and two daughters Ann Walsh (Mike) and Susan Queen who reside in Washington state. He was adored by his grandchildren: Amber Anne Crim, Michael Crim (Michaela), Megan Jenkins Orzalli (Ian), Anthony Queen, Dara Lynn Horn (Stuart), and Alec David Walsh. John was very proud of grandson Michael who is currently serving in Afghanistan. John's great grandchildren are Austin, Evan, Brianna and Aereana.
At John's request no services are planned. In lieu of flowers, it is requested that donations be made to the American Air Museum in Britain, the American Military Cemetery at Madingley, England, the Wounded Warrior Project or the Salvation Army in memory of John I. Jenkins.
A Scottish toast to John: "Here's tae us. Wha's like us? Gey few, and they're a' deid. Mair's the pity!"


Edwin Lamme former Eureka resident, passed away April 9, 2013 at his home in Santa Rosa. He was 92.
Ed was born and raised in Santa Fe, NM. It was there that he met his first love, the trumpet. After graduating high school, Ed attended various colleges in New Mexico and later in southern California, supporting himself by playing in dance bands.
In early 1942, Ed joined the military. He served in the US 8th Air Force as a bombardier in B-17s, surviving 27 missions over occupied Europe from March through September of 1943. He served the remainder of World War II in various training positions.
In 1942, while stationed in Spokane, WA, Ed met the next love of his life, June. Two weeks after they met they married, remaining together until June's death in 1999. After the war, Ed worked for various employers before moving to Reno, NV to begin what became a 30-year career with the Union Pacific Railroad. That was also where Ed enjoyed his greatest music success. In the early 1950s, he joined the Paul Jones Orchestra, a six-piece Dixieland dance band very popular in the Reno-Tahoe area. The band had a weekly tv show in Reno in the late 1950s. Ed stayed active in the Reno music scene until being transferred to Eureka in 1967.
After moving to Eureka, Ed and June discovered another love, golf. They joined Baywood Country Club in Arcata and were very active members until June's health began to fail in the late 1990s. Ed was also a member of the Ingomar Club, the Eureka Elks Lodge 652 and the Concatenated Order of Hoo-Hoo.
Ed retired from Union Pacific in 1981 and he and June enjoyed a retirement filled with travel and golf. Ed remained in Eureka after June's death but moved to Santa Rosa in 2005. Ed was preceded in death by his parents, his wife June, and his brother Kenneth. Ed is survived by his daughter Sandra Lamme of Santa Rosa, son Bill Lamme (Sherie) of Omaha, NE, sister-in-law Rose Lamme of Santa Rosa, cousin Gloria Perdue of Terra Linda, grandson Ryan Lamme of Omaha, granddaughter Tara Carlson (Craig) of Omaha, great-grandson Kyler Carlson of Omaha, nephew Robert Lamme of Leeseville, LA, niece Katie Lamme-Blanc of Las Vegas, niece Karrie Singler (Pete) of Forestville, CA, niece Kim Streblow (Jeff) of Napa, CA, other grand-nieces and grand-nephews. Interment of Ed's ashes will be at Oceanview Cemetery in Eureka at 1 pm on Friday, June 14.




---
Keeping the Legacy Alive,

Submissions of 303rd Bomb Group related stories and articles are most welcome.