Having trouble viewing this email? See the online version here. To unsubscribe, please reply and request removal.
Submissions of 303rd Bomb Group related stories and articles are most welcome.



June 17, 2012
Volume IV, Issue 6
www.303rdBG.com
Ehle Reber Airport Dedicated
Malin, OR Airport Renamed for 303rd BG Pilot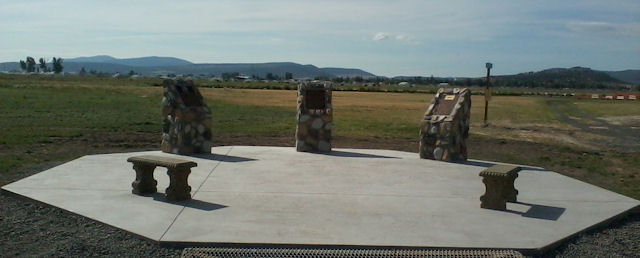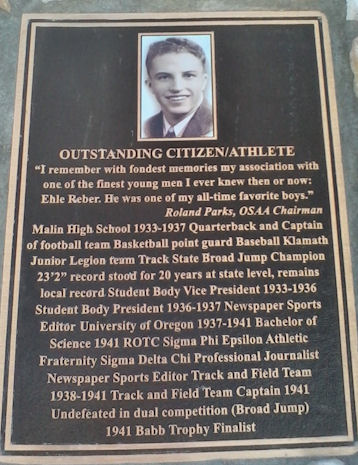 As part of the 2012 Memorial Day events, the City of Malin, Oregon, dedicated their little airport in honor of local hero, Ehle Reber. Reber and the crew of the Jerry Jinx were lost on a mission over France with the 427th BS. The City had three plaques placed at the airport, which was renamed for Reber. There was a plaque noting general local and military information on Reber, a plaque noting Reber's local sports accomplishments, and, a plaque honoring the Jerry Jinx and the crew.

The Ehle Reber Airport dedication went extremely well. Just under 100 people were at the dedication ceremony and the dedication dinner was sold out. It was an impressive turnout for a town of only 800. Over $10,000 was raised in three months to fund the project.


The whole community really came together and it was a proud moment in a small town.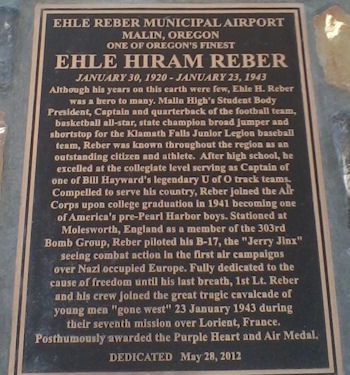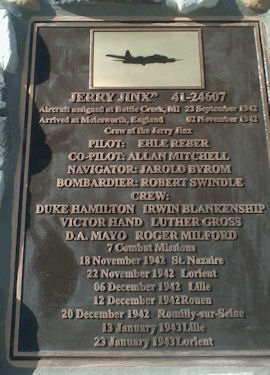 Before She Was Queen:
A Royal Visit to Molesworth Home of 303rd Bomb Group
68 Years Ago
by Peter G. Park, RAF Molesworth Historian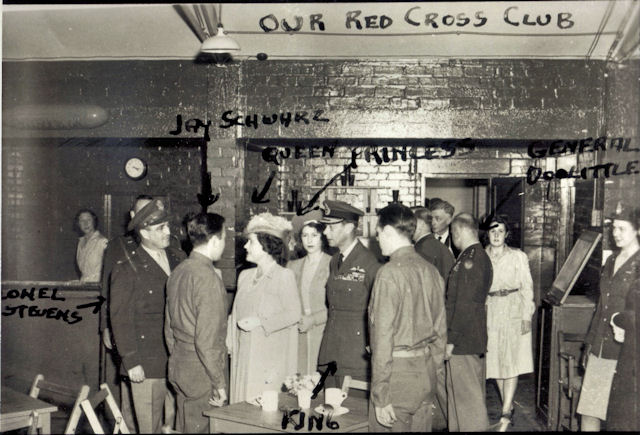 68 Years before her Diamond Jubilee, then-Princess Elizabeth visits RAF Molesworth
On 6 July 1944, King George VI, Queen Elizabeth (later the Queen Mother) and then-Princess Elizabeth visited the 303rd Bomb Group (Heavy) at Molesworth, now the home of the JIOCEUR Analytic Center (JAC). Other notables in the photo include Gen Jimmy Doolittle, 8th Air Force Commander; Col Kermit Stevens, 303rd BG Commander, and ladies of the American Red Cross who served coffee and donuts to aircrews flying B-17 'Flying Fortresses returning from combat in the skies over Nazi-occupied Europe. Photo U.S. Army Air Corps.
Queen Elizabeth II may not make it this year to RAF Molesworth as part of her ongoing Diamond Jubilee tour of Britain celebrating 60 years on the throne, but she has been to the home of the World War II 303rd Bomb Group (Heavy) before.
On July 6, 1944 during World War II, King George VI, Queen Elizabeth (later the Queen Mother) and then-Princess Elizabeth visited the 303rd BG at U.S. Army Air Corps Station 107, Molesworth England, which continues as a U.S. base today and home to units of the U.S. European Command, U.S. Africa Command, and NATO.
Notables in the photo in addition to the royal family are Gen Jimmy Doolittle, 8th Air Force Commander, and Colonel Kermit Stevens, 303rd BG Commander, and Red Cross ladies. The long lost photo, recently found at what is now RAF Molesworth, was almost certainly sent home by an American airman who helpfully annotated for his family the VIPs in the photo, such as "King" -- and interestingly, "Jay Schwarz."
Standing stiffly at attention in the photo Private Jacob "Jay" Schwarz and an unidentified sergeant were no doubt staged and 'just happened to be in the Red Cross Club' when the royal party arrived at 4:15 PM according to the clock above the bar. Note the carefully placed tea cups and cookies ('biscuits' to the British) and flowers on the table. The female officer (wearing gloves in July!) was almost certainly an aide or protocol officer from Gen Doolittle's 8th AF headquarters at Bushy Park near London, as there were no female airmen stationed at Molesworth (there were however, American nurses at nearby Lilford Hall, home of the 303rd Station Hospital).
Eight years after her visit to Molesworth the Princess ascended to the throne in 1952 and has ruled for now 60 years. As for Private Schwarz? The Shelby County, Tennessee native served at Molesworth from 1942 until the end of the war, returning home still a private according to Veteran's Administration records where his civilian occupation is listed as 'salesman.' In October of this year, the American base at Molesworth will celebrate the 70th anniversary of the arrival of the first echelon of the 303rd Bomb Group.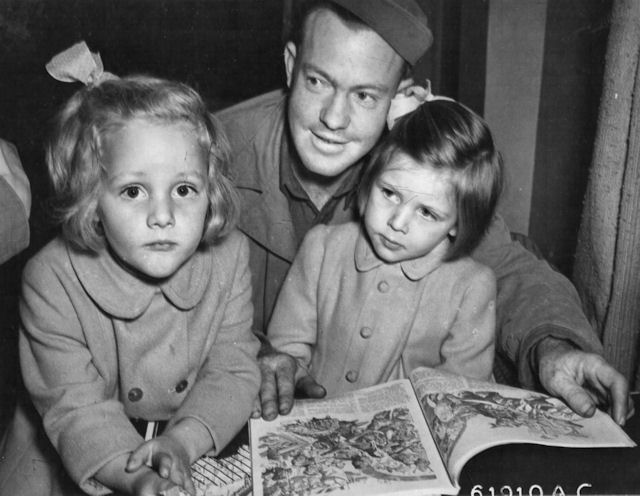 At a Red Cross party for refugees, an american soldier keeps two youngsters amused with a picture book. 303rd Bomb Group, England. 10 Oct. 1943.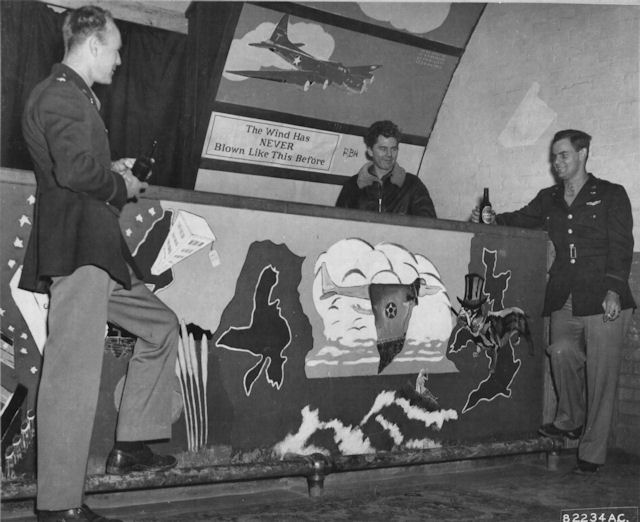 Do you recognize this bar or the men in the photo? The B-17 in the background artwork is "Duchess" 41-24651. The writing in the upper right-hand corner of the painting lists the officers on the Duchess Crew: Capt Harold L. Stouse (P), 1Lt Squire T. O'Connor (CP), 1Lt Jesse H. Elliott (N) and 2Lt Jack W. Mathis (B)(KIA) (photos are courtesy of Daniel Bon)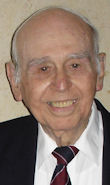 Malcolm James Magid
, 88, of Atlanta, passed away May 16, 2012. He was born August 17th, 1923, in Miami, Florida. He was preceded in death by his parents, Harry Israel Magid and Anna Ginsburg Magid, brother, Mitchell Magid, and sister, Janice Magid Ghertner. Malcolm was a decorated B-17 bomber pilot with the Army Air Corps, flying 35 missions over Germany in World War II. In January, he was awarded The Legion of Honor Medal by the French government for his service in the liberation of their country. He was active in the 303rd Bomb Group, Georgia Chapter of the 8th Air Force, American Legion Post 134, and Silver Wings. He is survived by his English war bride of 67 years, Iris Fensom Magid; daughter, Cheryl Magid Swartz (Bruce); sons, Dr. Kevin F. Magid (Ofelia) and Jonathan D. Magid (Deborah); grandchildren, Jon Magid (Lisa), Sabine Flynn, David Magid (Asli), Ryan Magid, Stefanie Magid Spivey (Trey), and Mackenzie Magid; great grandchildren, Kevin C. Magid, Alex D. Magid, and Garrett D. Magid. Visitation will be Tuesday, May 22nd, from 6:00 p.m. to 7:00 p.m. at A. S. Turner & Sons in Decatur, followed by a memorial service in the chapel. Burial with military honors will be Wednesday, May 23rd, at 1:00 p.m., at Georgia National Cemetery in Canton, Georgia. A. S. Turner & Sons Funeral Home and Crematory.

Dr. Robert Oakman Akers
passed away peacefully on Tuesday Sept. 8 in a local Arlington hospital. Funeral Service: 1:00 p.m. Friday at Calvary Baptist Church 401 W. Church St. Grand Prairie. Visitation: 6-8 p.m. Thursday at Moore Funeral Home, Arlington. Interment: Moore Memorial Gardens, Arlington.
Robert was born Nov. 2, 1920 in San Francisco, CA. He held a Bachelor Degree from Texas Tech. in Lubbock and Doctorate from Carver Chiropractic College in Oklahoma City. World War II was in full force. He entered the United States Air Force for training which was followed by immediate deployment. Lt. Col. Akers served his country through active service through six wars; WWII, Vietnam, Korean, two Conflicts and Desert Storm. When it came time for discharge, as a civilian he immediately was "grabbed up" by armed-forces companies- esp. Lockheed and Redifusion and served flying all over the world.
Lt. Col. Dr. Robert O. Akers was a true patriot all his life. He served under two flags; Old Glory and the "Old Rugged Cross" of Jesus Christ. From 1945 to his home-going he served as deacon, teacher and filled any job needed at Calvary Baptist in Grand Prairie. Survivors: Wife of 66 years, Katie; daughter, Katrina and husband Terry Pawley; four sisters-in-laws, Louise Oldman of Grand Prairie, Gloria Schneider of Ft. Worth; Joyce Looney of Montisano, WA; Helen Mack Akers of Lubbock and a brother-in-law, Dick Cress and a host of nieces and nephews. Thank God for the heritage. Maranatha. Moore Funeral Home 817-275-2711


Herbert M. Shanker, 87, of Mashpee, formerly of Greenwich Village, NY died at Falmouth Hospital at 4:45 pm on August 17, 2010. He was the husband of Rose (DiMeo) Shanker to whom he was married 52 years.
In 1923 Mr. Shanker was born in the Bronx, NY. During World War II he served in the United States Army Air Force and was awarded the Distinguished Flying Cross and 4 Air Medals while completing a tour of 35 missions with the 303rd Bomb Group - 359th Bomb Squadron of the 8th Air Force. He attended NYU under the GI bill and graduated with a BS degree in Accounting. After becoming a senior accountant at a Big 8 accounting firm he left for corporate work. He was the Vice President & Treasurer of Maintenance Management Corp., Maspeth, NY, Treasurer and member of the Board of Directors of Benthos, Inc., North Falmouth, Treasurer and member of the Board of Directors of Sapphire Engineering, Inc., North Falmouth. He served as the Coordinator of the original Otis Task Force involved in the establishment of Massachusetts National Cemetery, and was the original Treasurer of the Massachusetts Government Land Bank. He also served on the following: Town of Mashpee Finance Committee for 13 years with 1 year as Chairman, Board of Directors of the Cape Cod YMCA for 20 years and was Secretary and Treasurer at times during this period, and as Treasurer and then Executive Director of Peninsula Council, Inc., the Property Owners' Association in New Seabury, for a number of years as well as village committeeman for the Village of High Wood. He was an officer in both the New Seabury Men's Club and the Men's Club Educational Fund.
In addition to his wife, he is survived by a niece, Eli Shanker of New York City; a nephew Michael Shanker of Scotch Plains, NJ; and 2 grand nephews, Zach and Andrew.
---
Keeping the Legacy Alive,



Submissions of 303rd Bomb Group related stories and articles are most welcome.