Having trouble viewing this email? See the online version here. To unsubscribe, please reply and request removal.
Submissions of 303rd Bomb Group related stories and articles are most welcome.



August 14, 2011
Volume III, Issue 8
www.303rdBG.com
Reunion at Margraten
by Charles A. Palmer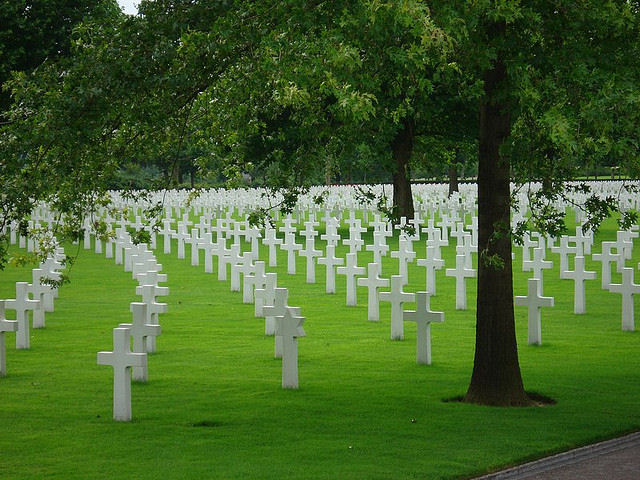 Charles A. Palmer was the older brother of 303rd BG / 360th BS Pilot 1Lt Joseph F. Palmer. On Mission #44, June 25, 1943, 1Lt Palmer and his crew, flying B-17F 42-5390 Avenger, were lost to fighter action and crashed at Borgsweer, Netherlands. Lt. Palmer, 2Lt. Robert M. Sheldon, S/Sgt. Elmer E. Duffey, T/Sgt. Edmund Gullage, S/Sgt. Burl M. Owen, S/Sgt. Samuel A. Holder and S/Sgt. Norman E. Hornbacher were all killed. They are all buried in Netherlands American Cemetery, Margraten, Netherlands. 2Lt. Claude M. Kieffer, Sgt. Leonard C. Applequist, S/Sgt. Alva E. Hodges and Sgt. James L. Stringer were captured by the enemy and taken prisoners of war.

During that time, Corporal Charles Palmer was building airfields with the 819th Engineer Aviation Battalion in England. In his story "Reunion at Margraten," Charles chronicles the four reunions the brothers had together at various places in England.

But it would be 44 years before their fifth reunion, which was held at the Netherlands American Cemetery in Margraten, The Netherlands.

This story was originally published in the May 29, 1988 issue of the Pittsburgh Press, followed by the November 1988 issue of the V.F.W. Magazine. The excerpt which follows was published in the 303rd Bomb Group Association's Hell's Angels Newsletter in January 1989.

In giving his permission to use the article, Charles wrote, "I feel a deep desire to tell the world about the Dutch, and my lasting admiration for the courageous flying crews, and my respect and love for my brother." Charles passed away in December of 1995. We are pleased to echo his sentiments once again.

We pick up this touching story as Charles travels on the train from Amsterdam to visit the beautiful Netherlands American Cemetery at Margraten.
---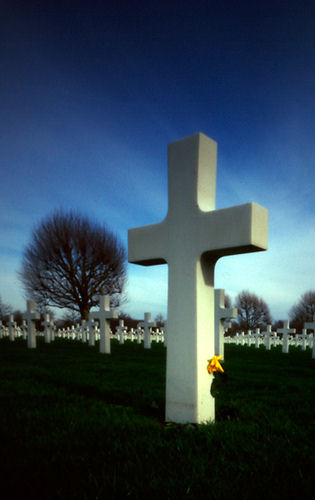 It was May 1987 and I was traveling alone on a train from Amsterdam, speeding smoothly southward toward the only American military cemetery in Holland.
The flat countryside showed no sign of the World War II battles fought there. How much blood had spilled into the Dutch soil from the dead and wounded soldiers? How many traumatic memories do the Dutch retain? Do they ever forget the awesome sights and sounds? I thought of planes that crashed in Holland during the war. How can they ever forget the impact of a major war? As I traveled to the town of Margraten, where Joe and some of his crew were interred, my thoughts went back to those terrible months early in 1943.
The train sped past the small town of Geleen. We were nearing Maastricht. Checking my map, I noticed I was near areas known all over the world as datelines during World War II; Malmedy, St. Vith, Bastogne, Aachen, the Ardennes. Thousands of American soldiers were killed there near the end of the war.
The sky was gray and overcast. A cold, damp wind swept in from the North Sea. Holland reminded me of England. As we sped past the small towns, I noticed many civilians riding bicycles effortlessly on the flat terrain; half of Holland lies below sea level in a network of lakes, rivers and canals. Somehow it made me think back to the Normandy invasion, when my battalion built the first emergency landing strip on the beachhead by laying metal planks.
I checked into a hotel and began to explore the charming town of Maastricht, where the U.S. Ninth Army had made its headquarters during the war. I fell in love with the town and its people. They had a relaxed, unhurried attitude, and were polite and helpful. The cobblestone streets were crowded with shoppers. Others were sitting in sidewalk cafes. Colorful banners hung from the buildings and over every road and alley.
The Netherlands American Cemetery and Memorial in Margraten is 6 miles from Maastricht. I had difficulty conversing with the bus driver, but with the assistance of other passengers who spoke English, I counted out enough guilders for the fare.
1Lt Joseph F. Palmer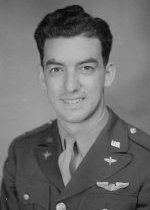 The road in front of the cemetery has a long military history. It was used by the Romans and later by Napoleon in his conquest of the region. Now the American Battle Monuments Commission oversees 65 1/2 acres of former farmland owned by the Dutch government but granted free in perpetuity to the United States. Margraten is the final resting place for 8,301 American soldiers, and another 1,722 are commemorated in tablets honoring soldiers missing in action.
At the cemetery I met Albert Rooding in the visitor's building. Rooding, who is most cooperative and sensitive to the emotions of Americans who visit graves of relatives, is the Dutch guide employed by the commission. I was given literature on American military cemeteries in Europe, and a musical record, "Do You Remember." dedicated to the Americans who gave their lives liberating Holland. The record is in English on one side and Dutch on the other. The song was recorded by a Dutch symphony with a male chorus and tenor soloist. Rooding gives out about 100 copies a year to relatives of the dead soldiers. The lyrics, though a bit awkward in translation, are a moving testimony to Dutch appreciation for the sacrifices made by American soldiers:
"Do You Remember"
If you come near Margraten
You will find the big American cemetery.
Thousands of soldiers lie there,
Having unlimited leave.
They were ordinary people just like us,
But nevertheless we call them great heroes,
Considering all the things they did for us.
Now they rest, far from home, in our fields.
Do we ever think of that now?

They fought here;
We were liberated by them;
They must have suffered a lot of agony
In those sad and anxious war days.
They gave up everything for us,
And what was their profit?
Nothing. They even gave up their youth.
Have we ever thought of that again?
Yes, have we ever thought of that again?

| | | | | | |
| --- | --- | --- | --- | --- | --- |
| 2Lt Sheldon (CP) | S/Sgt Duffey (E) | T/Sgt Gullage (R) | S/Sgt Holder (WG) | Sgt Hornbacher (WG) | S/Sgt Owen (BT) |
The others from the 1Lt Palmer Crew Interred in the Netherlands American Cemetery
Joe's plane was lost June 25, 1943, while returning from a bomb run to Hamburg. Our family received a letter three years later from Termunten, Holland, describing the scene as the plane was hit, caught fire and partly disintegrated before crashing into a field. Seven bodies were found in the wreckage. According to the letter from A.J. Wannen:
"The mayor ordered services to be held for the victims, so the poor boys were carried to our little church. The next day the burial took place with great solemnity. The organ played, a sermon was preached and a clergyman recited the 'Our Father' in English. When things quieted down and the Germans left, we all brought flowers and placed them on their common grave. Thus the men rested here for two years. A couple of months ago, the bodies were disinterred and taken to be placed in a cemetery for all the Allied soldiers who died in Holland."
Rooding was born seven years after the war ended in 1952. "When I qualified for the job here as custodian guide, it was just a memorial, nothing more, but doing more and more administration the language became easier. My interest went to the people that are buried here. A lot of people are impressed by the beauty of this cemetery.
"I would like them to remember the boys we have buried here who gave all they had to give — their lives. As a father of two sons, I started to realize what these men did. From the states to Europe, a totally unknown country to them, but still they came to liberate the people — among them, my parents," he said with genuine sincerity.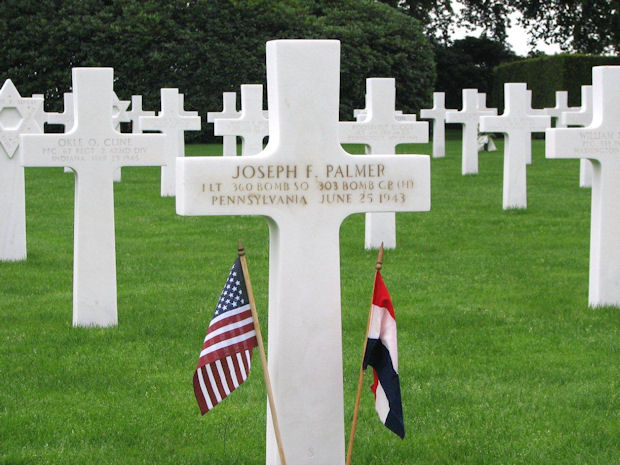 1Lt Joseph F. Palmer's grave at beautiful Margraten. The golden sand highlighting the lettering is from Omaha Beach. Many thanks to long-time 303rd BG friend and supporter J.W. van de Griendt, who made a special trip to Margraten to take this photograph for us.
Rooding offered to escort me to my brother's grave. We walked up three steps and I was immediately confronted with the emotionally arousing sight of 8,301 marble monuments. As we slowly passed row after row, I was made painfully aware of the brief tragic story that each marker related: ''PFC.../ 3rd Infantry, 8th Div. / Pennsylvania, April 11, 1945."
I certainly did not anticipate the groundswell of emotion that was building within me. I was walking along the rows of American soldiers who were buried in a foreign country. I couldn't hold back the flow of tears. Rooding, who was walking at my side, spoke softly, ''That's all right. Don't hold it back, or feel embarrassed. This happens."
The thousands of white markers became blurred before me as we walked toward my brother's grave. With great effort I managed to say, "But this is such a waste!" gesturing with my arms to cover the entire cemetery.
Rooding disagreed with me. "We do not consider it a waste. These brave soldiers sacrificed their lives for the liberation of my country, and we shall never forget it."
We reached Joe's grave. After 44 years, the sad reunion finally materialized. Reunion in Margraten. "Joseph F. Palmer / 1Lt., 360 Bomb Sq., 303 Bomb Gp. (H) / Pennsylvania, June 25, 1943." His life was summed up in a few words on a marble cross.
I couldn't help but think back to our last reunion in England. We were laughing and joking and projecting a happy-go-lucky attitude, but we both knew what the immediate future held. I wondered how he and all those young men who consistently witnessed violent death high over Europe could withstand such intense pressure and not crack up, although some did end up with a "Section 8."
The fact that I was in the midst of so many American war dead in Holland had a great impact on me, far beyond my expectations. I had visited Arlington Cemetery years ago, but not with the same reaction, for they were interred in America. They were home near their loved ones.
Rooding remained with me for about a half-hour. Speaking softly, he explained with pride how the groundskeepers cut the grass twice a week and periodically wash each marble cross and Star of David. The cemetery is pampered ground.
As I casually strolled between the graves, I noticed markers indicating that many soldiers were killed two or three months before the war ended.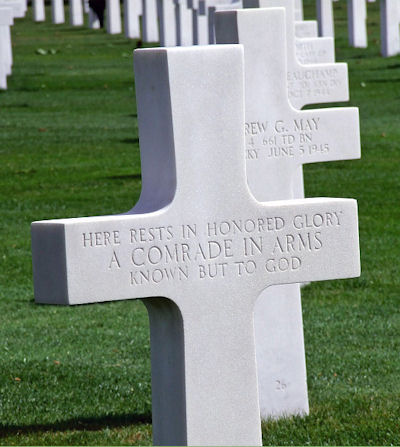 I could almost hear them call out to me: "Hey mister, how are things in the States?" "How are my New York Yankees doing?"
I walked slowly past a blur of white marble markers. Somehow they belonged together in Holland where their lives ended so soon. This was a unique camaraderie. "Tell my mom I love her."
"Sir, could you get someone to put my name on my cross. I don't want to remain unknown. I HAVE A NAME."
"You noticed — I was a general. Let me tell you how proud I am to be here with these young soldiers."
A large American flag waved gently in the breeze. Somehow the flag took on more significance in a foreign country.
"Hi, big brother. You finally made it after all these years. I'm glad Mom and Dad couldn't make it when they were alive. It would have been too much for them."
Mom thought it would be great for you to get into commercial flying after the war, and you wrote me, "I can't think that far ahead." "Hey, big brother. you're crying. Don't. It doesn't hurt anymore."
Rooding told me each of the 8,301 graves was adopted by a Dutch family. I was surprised and pleased to hear this. I was also moved when I saw a bus load of Dutch children visiting. On the Dutch "Day of Remembrance," May 3, they place flowers on the graves of American soldiers.
The day before I left Margraten and Holland. I met Lambert Dutz at the cemetery. I was resting on one of the concrete benches and absorbed with the solemn view spread out before me, oblivious to the stranger sitting next to me. I tried to imagine each man represented by the markers from every state in the union. What sort of person was he? What were his dreams? His goals? Who did he leave behind? What future might have awaited him had he survived the war? How did he die and who was the enemy soldier who killed him?
My thoughts were interrupted by the Dutchman next to me. He asked the obvious, "Do you have someone here?" I told him it was my brother and asked him if he had someone in the American cemetery. Dutz told me he was a teenager when the German army conquered and occupied his country. When the U.S. Army drove the Germans out, he became acquainted with the American soldiers and made many friends. Looking out over the cemetery he told me, "I come here three or four times throughout the year so that I will never forget what they did for my country."
During my last day in the cemetery I noticed trucks unloading chairs for the May 30, Memorial Day activities. Rooding told me that 10,000 chairs were being set up to accommodate the crowd of visitors. The Dutch know the meaning of Memorial Day.
I felt somewhat ashamed of our own indifference to the day. To most Americans it means time off from work, a picnic or cookout, a ball game. World War II and its awesome price in lives has very little relation to Memorial Day in America. But then the closest we ever come to the sounds of war are Fourth of July firecrackers, or a truck backfiring.
Before I left Holland. I made one last visit to Margraten. I said a final prayer at Joe's grave and also those of his copilot, Bob Sheldon, and a turret-gunner named Gullage. Once again I did not anticipate another buildup of emotion as I walked away from the 8,301 markers. I was going home to America. I was abandoning these soldiers. They would remain in a foreign country forever. It would be impossible to return the remains to America. Once again I couldn't fight back the tears Two voices seemed to call out to me.
"Don't forget, mister, I have a name."
"Goodbye, big brother. Take care."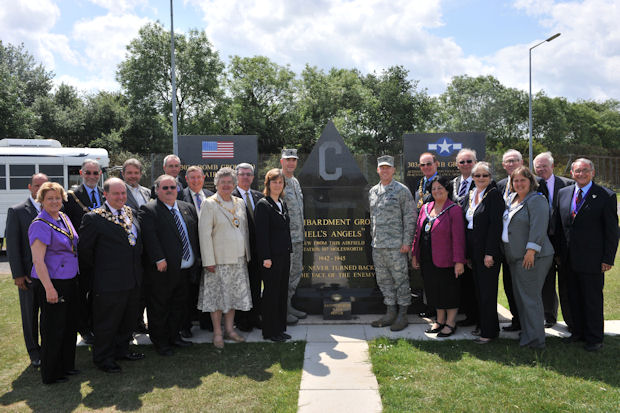 British Civic Leaders Briefed on Legacy of 303rd Bomb Group (Heavy)
during Molesworth Base Visit
The current day RAF Molesworth "JAC - The Legacy Continues" theme of JAC Commander COL Matthew P. Glunz emphasizes the 303rd Bomb Group (Heavy) history on this base. This theme and this legacy is extended to relations with the surrounding British communities and their leaders.
The 16 June visit of eighteen Mayors, Councilmen, and business leaders from the surrounding area to RAF Molesworth was a chance to showcase the modern day U.S. European Command and U.S. Africa Command missions here. It was also an excellent opportunity to remind these British leaders of the role and sacrifices of the 303rd during the Second World War in ensuring the defeat of Nazi Germany from bases in England like Molesworth near their communities. It is to convey this important message about the 303rd legacy to these leaders and similar visiting groups that the beautiful 303rd Bomb Group Memorial is a 'must see' first stop on any tour of this base.
As they gathered for a group photo at the 303rd Bomb Group (Heavy) Memorial the British visitors were visibly respectful when told of the 841 young Americans for whom Molesworth was the last place that they trod the earth before flying on a mission from which they would not return alive. Some of the group had been small children In the years just after the war and knew well the impact of American airmen on their nation.
The town and city mayors (With the gold chains of office in the photo) appreciated the volunteer work that RAF Molesworth military and civilian members living in their districts contribute each year as our way of giving back to the communities we are privileged to live in. Each of the participants in the tour was given a copy of the group photo to further remind them of the 303rd legacy here.
---
Total Refurbishment of 303rd Memorial at Molesworth Nearing Completion
by Peter G. Park, Commander's Action Group
JIOCEUR Analytic Center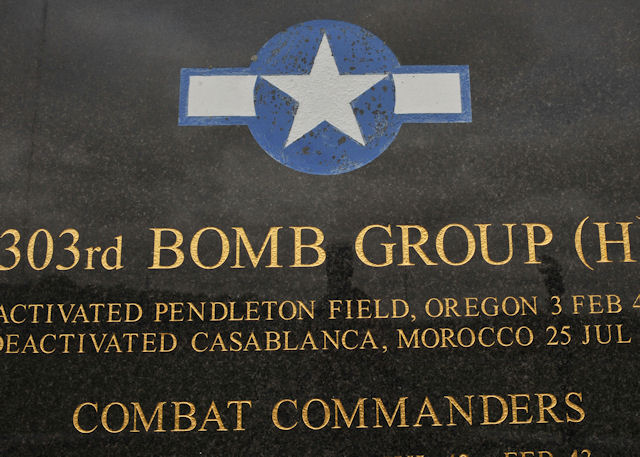 In the eleven years since its proud dedication by former 303rd Bomb Group (Heavy) Commander, Major General Lewis Lyle, and other 303rd veterans in June 2000, the harsh British climate and the effects of age have taken a toll on the beautiful granite memorial to the brave men of the Group at what is still an American occupied base at Royal Air Force Molesworth. The memorial is often visited by VIPs to the base, as seen in the article above..
The painted flag, emblems, and logos along with the gold filled letters were chipped and faded, the paving stones around the memorial were broken and moss covered, and the chain symbolizing the imprisonment of 747 men of the 303rd in German stalags was broken, and in part missing. While the original decision to include color painting on the stone produced a beautiful memorial, it was a decision which would have long term consequences resulting in the need for upkeep to maintain proper respect for the legacy of the 303rd BG. The detail photo of one part of the memorial shows the fading and wear.
A large scale and expensive restoration project commenced this spring, under the management of the 423rd Civil Engineering Squadron of the 423rd Air Base Group which supports RAF Molesworth. Under the leadership of Air Force Lt. Col Eric S. Fajardo, the work by 423rd CE is projected to be completed in September restoring the memorial to its former glory. Already the paving stones around the base of the memorial have been replaced and a beautiful metal chain which includes a 'barbed wire' effect has been installed.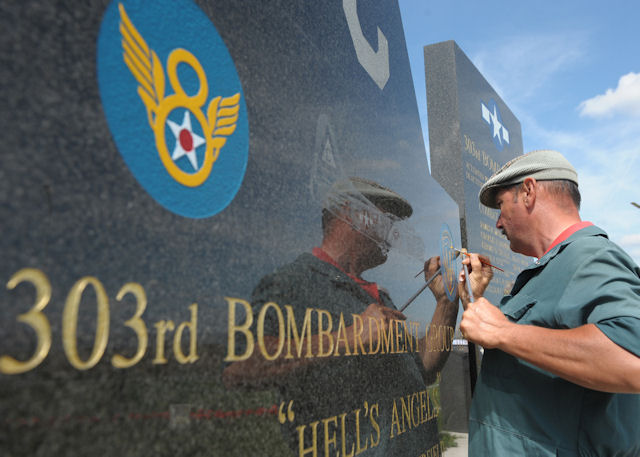 The need for intricate and detailed painting of the flag, emblems, and logos by a contracted specialized professional artist using specially formulated and long lasting paints suitable for granite was projected to cost well over $2000 - a sum of money hard to find in the increasingly stretched Air Force maintenance budget. By wonderful coincidence a member of the staff of the 423rd Civil Engineering squadron whose full time job is involves cleaning drains and sewers across the tribase area, is both a part time professional caliber artist and also deeply knowledgeable of the wartime history of the base.
Mr. Ralph Thompson volunteered to take on the task and, as his other duties and the always fickle British weather allow, is doing amazing painstaking work on the painted areas of the memorial, saving the government hundreds of dollars and producing a truly beautiful result. The second photo shows artist Thompson at work on a rare sunny day. A formal rededication ceremony open to all will be planned this fall when the work is completed and the memorial again stands proud as part of the legacy of the 303rd.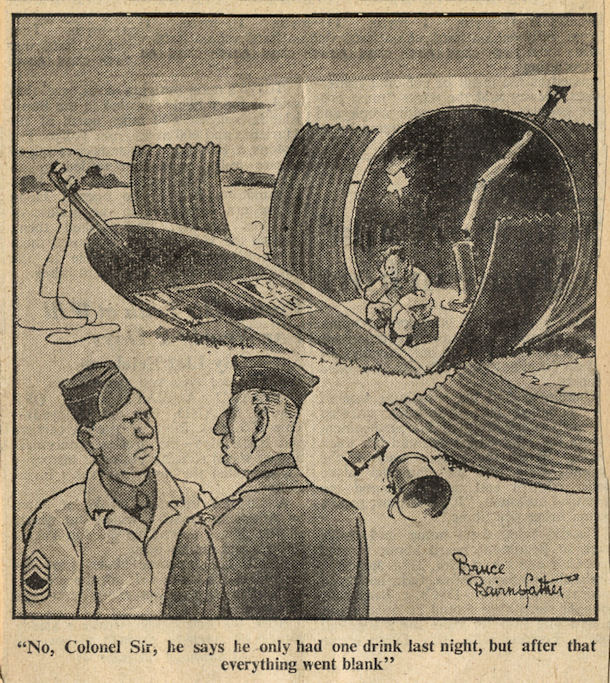 Don J. Schwarzenbach:
[This is an excerpt from the first of three letters by Don Schwarzenbach. They were written in 2003 to a grandson for a school project. Don passed away in 2007. Many thanks to his grandson Todd Schwarzenbach for this letter. He is trying to locate the other two.]
You have requested some information on my army experiences. As it involves nearly four years of my life, it would take many pages to relate them, but I will try to highlight the ones foremost in my memory. Of course there are some I wish I could forget.

The war started on the morning of Dec 7, 1941. It was Sunday and I was hunting with a friend at a State owned lake north east of Carroll, Iowa. It was about 10:30 AM and nothing was flying, so my friend decided to go to a little village near the pond to get some lunch. He came back and said the Japanese had bombed Pearl Harbor. I said he had stayed too long at the tavern and had too many beers. He said go up to the car and listen to the radio, which I did. It was a fact and we were at war.

The next day President Roosevelt declared war as I was fanning forts out of shirt tails at Dad's laundry. I made up my mind right then I was going to enlist and go. So on the following Friday, I and my Mother got in my old Oldsmobile and drove to Omaha, Nebraska to the old Federal Building to enlist. I passed the tests and was told to report on the 31st of December 1941 at the Federal Building for induction.

I had Christmas at home and the day approached for me to leave. If I remember right, it was Monday and I went to the laundry about 8:00 o'clock. The laundry was located about a block east of the railroad station. My Dad and I left the laundry and the entire family walked to the train station. Dad bought my ticket and shook my hand and said goodbye. Little did I know it would be three and a half years before I would be saying hello again. I didn't cry then, but I am now for my dear Dad is no longer with us.

The enlistment office was called Fort Crook Army Base, which is now Offutt Air Base. A carrier vehicle came and took me to the base. At that time the base was made up of only old brick buildings, numerous large hangers, underground levels, several long runways and many unknown things to the public.

The first meal I had with hundreds of other future GIs left something to be desired. I took one bite and that was enough. Plus, they paraded about ten prisoners in irons by us, which would make you think it was not the thing to go AWOL.

However, they were nice to us for they gave everyone a pass to go to the city (Omaha) for New Year's Eve till morning. I and a young kid from Nebraska went. We attended a show at the Orpheum Theater and saw Edgar Bergen and Charlie McCarthy, plus Lou Breeze and his band, a really a good show.

We came out of the theater and it had snowed so bad the street cars had quit running and we were stuck in downtown Omaha. We were at a loss as to where we were in downtown Omaha. We finally wandered around in a foot of snow until we found an old flop house of a hotel called the Windsor, which is now the old market of Omaha. This old building is still standing and is called the Windsor Building and is still functioning today. We stayed for the night and returned to the base after the streetcars began running.

At about 3:00 P.M. on January 1, 1942 they swore a large group of us into the Army Air Corps, me included at the ripe old age of barely 20 years old, and a volunteer not a draftee...
Your "Molesworth Memories" are most welcome. Please email to glm@303rdbg.com.


Kenneth Carnahan
sends his greetings to his friends in the 303rd BG. He is still enjoying life in Florida and doing well at 88.
Ken was the navigator on the 358th BS Marvin H. Heckendorf Crew and flew with several other pilots. He also flew on a few missions as a PFF Navigator on Lead Crews, totaling 23 missions with the 303rd. He flew some additional PFF missions with the 91st Bomb Group.
---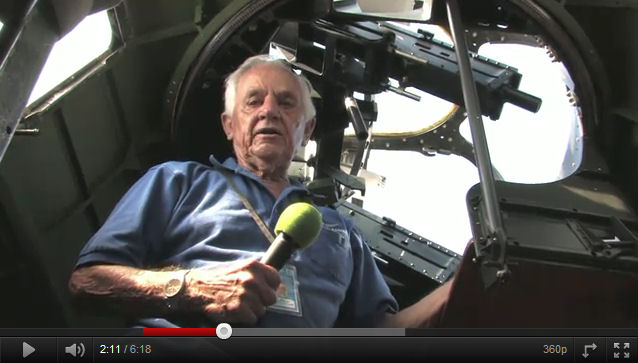 The Carl Rossman Story on YouTube
Carl Rossman, flight engineer of the 358th BS Joseph A. Moreau Crew, looks great at 90 years young. Carl volunteers as a docent at the Planes of Fame Air Museum in Chino, California.
This video of Carl in the B-17 was made by a WWII enthusiast known on YouTube as "WarbirdsOnTheNet." He writes, "Carl Rossman is a WWII vet that volunteers at the Planes of Fame Air Museum on the weekends. One day, with my camera in hand, I started asking Carl questions about his time flying in the B-17 over Germany in WWII. What I recorded on tape, for the first time since Carl returned home from WWII, was his experiences inside a B-17 during war time. I could see at first the words were not easy to come by, but after a while Carl started to feel more comfortable standing at his old station inside the B-17. Only after the interview Carl tells me he never told anyone about his life fighting in WWII. I was honored to be able to record Carl's story for everyone else to hear."
You can watch the YouTube video by clicking the photo above, or this link. If you are in the Chino area, please visit the Planes of Fame Air Museum and say hello to Carl.
---
WWII Tail Gunner Returns to the Sky in a B-17
By Kristi Pihl Tri-City Herald
Vincent DeLiso of Pasco recounts with vivid detail his experiences as a tail gunner on a B-17 bomber during World War II. DeLiso was at the Tri-Cities Airport Monday when three vintage aircraft, including this B-17, landed as part of the Wings of Freedom Tour. On Tuesday evening, he took a one-hour flight in a B-17, his first since being shot down over Germany in 1944. (Tri-City Herald/Bob Brawdy)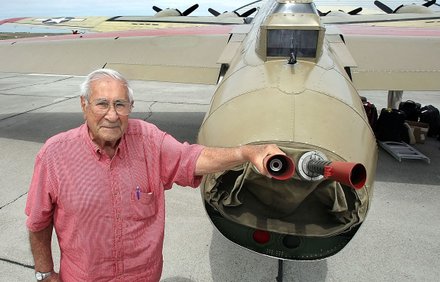 The last time Vincent A. DeLiso flew in a B-17, he had to bail out over Germany after the bomber was hit by anti-aircraft fire. On Monday, DeLiso, 86, once again saw a bomber much like the one he served on during World War II as a tail gunner.
He, his wife Claudine and 18-year-old grandson, Nick Rinehart, were among those who toured the three World War II planes that visited the Tri-Cities Airport earlier this week for the two-day Wings of Freedom Tour operated by the nonprofit Collings Foundation.
Early Tuesday evening, DeLiso flew in a B-17 for the first time since Nov. 6, 1944. The hourlong flight over the Tri-Cities was a "beautiful ride," DeLiso said Wednesday morning by phone from his Pasco home.
"It was fantastic," he said. "What was interesting for me was again hearing and feeling the roar of the engines."
DeLiso's final B-17 mission was as part of the 303rd bomb group based in England. It was supposed to be a "milk run," DeLiso said, or an easy mission.
But after the Germans jammed the radar and the new radio technology on the bomber failed, DeLiso said they ditched their first mission because they couldn't visually find the target because of overcast skies.
So instead, the B-17 and its crew bombed Osnabruck, Germany. Flak was exploding around the B-17, and as soon as the bombardier yelled "bombs away," DeLiso said the B-17 was hit, killing three of the crewmen in the nose of the plane and feathering one of the plane's engines.
DeLiso and the waist gunner, Ray Leal, were ordered to parachute out by Capt. Richard Healy. Both were captured by Germans. The other five crewmen managed to crash land the plane in Holland.
DeLiso's parachute became tangled in a tree, and he said he couldn't release the straps. Eventually Germans found him and held him captive in a barn. He said he asked a 12-year-old boy who spoke English to find a soldier, but instead, he was handed over to two Gestapo.
They beat him until he could no longer feel his back. DeLiso said he was having trouble breathing when a man in a green uniform on a bicycle came by. The German soldier argued with the Gestapo and took DeLiso from them.
DeLiso has two Purple Hearts, one for a wound in his thigh that the Germans patched up after he was captured, and the second, he said, for his eight months as a prisoner of war.
DeLiso was held at Stalag Luft 4 in Poland. He was among the prisoners forced on an 87-day death march across the Baltic coast of Germany in 1945. "And we froze and starved," he remembered. "I'm lucky to be alive."
He said they essentially were hostages until they were rescued by Canadian troops.
As a tail gunner, DeLiso said the wind blew around him on the early version of the B-17, which was different than the newer plane visiting Pasco.
DeLiso said the tail gunner's position was like perching on a bicycle seat, arms outstretched to his twin .50-caliber machine guns, which made it seem like he was always praying.
It was so cold that he and other crew members wore silk gloves inside regular gloves. That way, they could safely touch the aircraft without losing flesh from their hands. Flying at high altitude in winter meant temperatures of 68 below zero in the airplane, he said.
Before he became a prisoner of war, DeLiso said he completed 24 missions, with eight others aborted.
The best part was evasive action, he said. DeLiso would tell the pilot to use the right or left rudder or to go up or down to avoid enemy fire that he could see coming, but the pilot couldn't.
DeLiso was discharged as a staff sergeant in December 1945 after three years of service.
He later went on to earn an engineering degree and design jet engines and missiles. He was a mechanical engineer at Hanford and retired from working for the Nuclear Regulatory Commission.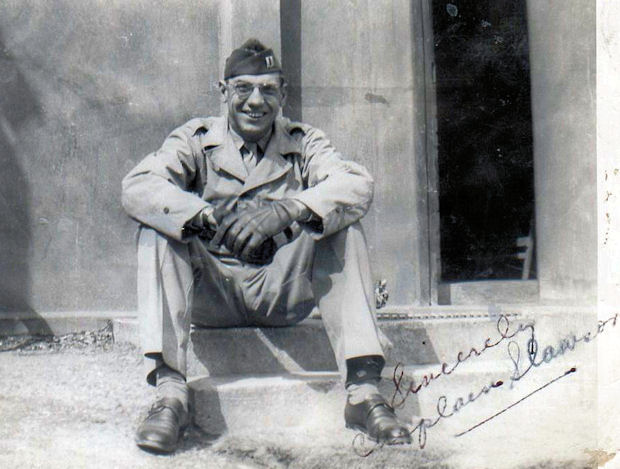 Chaplain Merritt O. "Chappie" Slawson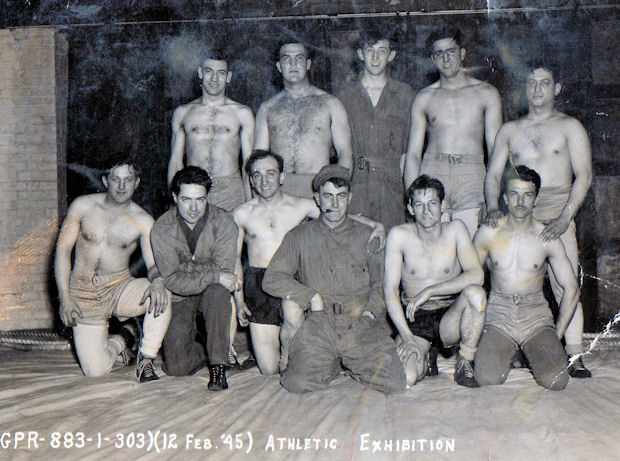 Athletic Exhibition, 12 February 1945 — Can you identify any of these musclemen?
(photos are courtesy of the David S. Fitterer family)

New novel inspired by the World War II experience of
the 303rd Bomb Group's Barney Rawlings.
THE GIRL IN THE BLUE BERET
By Bobbie Ann Mason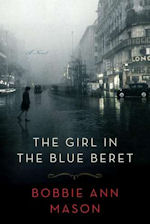 An airline pilot returns to the site of his 1944 B-17 crash in Europe and finds himself drawn back in time, retracing the trail of his escape through Occupied France and trying to find again the girl guide who led him to safety--the girl in the blue beret.
Inspired by the wartime experiences of her late father-in-law, award-winning author Bobbie Ann Mason has written an unforgettable novel about an American World War II pilot shot down in Occupied Europe.
When Marshall Stone returns to his crash site decades later, he finds himself drawn back in time to the brave people who helped him escape from the Nazis. He especially recalls one intrepid girl guide who risked her life to help him—the girl in the blue beret.
At twenty-three, Marshall Stone was a U.S. flyboy stationed in England. Headstrong and cocksure, he had nine exhilarating bombing raids under his belt when enemy fighters forced his B-17 to crash-land in a Belgian field near the border of France. The memories of what happened next—the frantic moments right after the fiery crash, the guilt of leaving his wounded crewmates and fleeing into the woods to escape German troops, the terror of being alone in a foreign country—all come rushing back when Marshall sets foot on that Belgian field again.
Marshall was saved only by the kindness of ordinary citizens who, as part of the Resistance, moved downed Allied airmen through clandestine, often outrageous routes (over the Pyrenees to Spain) to get them back to their bases in England. Even though Marshall shared a close bond with several of the Resistance members who risked their lives for him, after the war he did not look back. But now he wants to find them again—to thank them and renew their ties. Most of all, Marshall wants to find the courageous woman who guided him through Paris. She was a mere teenager at the time, one link in the underground line to freedom.
Marshall's search becomes a wrenching odyssey of discovery that threatens to break his heart—and also sets him on a new course for the rest of his life. In his journey, he finds astonishing revelations about the people he knew during the war—none more electrifying and inspiring than the story of the girl in the blue beret.
Intimate and haunting, The Girl in the Blue Beret is a beautiful and affecting story of love and courage, war and redemption, and the startling promise of second chances.
---
HELL ABOVE EARTH
The Werner Goering / Jack Rencher Story
new book by Stephen Frater now available for pre-order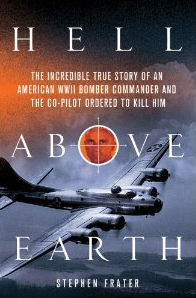 "Stephen Frater has uncovered one of the greatest and most ironic surprises of World War II. A riveting book, every bit as exciting and unusual as Operation Mincemeat, and demonstrating that there are still things we don't know about World War II."
—Michael Korda, author of With Wings like Eagles
"For once here is a book with a subtitle worthy of being called 'an untold story.'
Stephen Frater has skillfully fashioned a real, hitherto untold tale, the background of which is the air war over Europe in World War II, the immigrant experience, the American dream, and a bit of the Wild West. And there is also one of those archetypes of the self-invented character, whose seemingly harmless exaggerations have profound consequences for his family, the FBI and the 8th Air Force.
Frater, as few others have done, has managed to convey both the heroism and the terror of the men who flew the bombing missions over Germany. But all the while, he keeps his eyes and ours on the unfolding story of pilot Werner Goering and his best friend and co-pilot - and designated assassin - Jack Rencher. Altogether a riveting tale of men at war."
—Marshall De Bruhl, author of Firestorm: Allied Airpower and the Destruction of Dresden.
Hell Above Earth tells an unforgettable story of two World War n American bomber pilots who forged an unexpected but enduring bond in the flak-filled skies over Nazi Germany. But there's a twist: one of these pilots was related to the head of the Luftwaffe, and the other had secret orders from J. Edgar Hoover, director of the FBI, to kill him if anything went wrong during their missions.
A heart-wrenching Greatest Generation buddy story, an adrenaline-filled account of air combat, and a work of popular history, Hell Above Earth centers around the author's discovery of a half-century old secret that has far-reaching and deeply personal repercussions.
Stephen Frater is a graduate of Brown University. Following a career in international banking, he began writing professionally as a staff writer for the New York Times, documenting the Florida real estate boom and en-suing crisis. He was selected as a Global Leader of Tomorrow by the 1994 World Economic Forum in Davos, Switzerland for his work as chief executive of the first Eastern European investment fund since before World War II. Frater is of Hungarian descent.
More information is avaible at Amazon.com or Barnes & and Noble. Or, click here.






HOPE TO SEE YOU THERE !!
8th AIR FORCE HISTORICAL SOCIETY
ANNUAL REUNION
SHERATON WESTPORT – LAKESIDE CHALET
ST. LOUIS, MO – OCTOBER 11 – 16, 2011
Reunion and registration information are now available. See:
http://www.8thafhs.org/reunions.htm

3rd ANNUAL WEBSITE and NEWSLETTER FUND DRIVE

Firstly, my sincere thanks to those of you who have already contributed. Some have been very generous and some have been long-time supporters who make regular contributions. You are the stalwarts and I deeply appreciate the support.
When the 303rd Bomb Group Association dissolved in 1997, the funding of the 303rdBG.com website stopped. All remaining Association assets were donated to the Mighty Eighth Air Force Museum. I made a pledge at that time to continue the website for as long as I am able and at my own expense, if necessary. That pledge still remains and the website will continue for the foreseeable future and, hopefully, well beyond that.
I remain determined to keep the website content free to everyone, and to keep annoying advertising off the site. The only way to accomplish this is to have an annual fund drive to raise money for expenses. My time and efforts to preserve this priceless history will always be donated.
If any of you would care to help out, it will be sincerely appreciated. Information on making donations to the website fund are here: http://www.303rdbg.com/contribute.html You are welcome to make a donation honoring a loved one or friend, as some of the supporters have done. Thank you all very much.

---

Facebook's recently announced their membership has grown to an astounding 750 million members. In a effort to encourage young, and the young-at-heart, generations to learn of the legacy of the 303rd Bomb Group, we have joined with them and now have a Facebook page. In the past year, nearly 300 303rd Bomb Group members, family and friends have joined us there. It is a very easy place to upload your 303rd BG photos to share. We hope you will join our Group on Facebook and enjoy an interactive experience with others who have the same interests.



Many museums and historical organizations now have a Facebook presence, including The Eighth Air Force Historical Society. In the past year, nearly 800 people have joined the 8th AFHS Facebook Group. We encourage you to join them on Facebook, also.

---
French Resistance Heroine, Nancy Wake, 'White Mouse' Dies at 98
By IBTimes Staff Reporter
Researcher and friend Bob Kidd reports, "T/Sgt Miles Benton Jones, 303rd Bomb Group 359th Bomb Squadron, along with T/Sgt Arthur B. Cox 330rd, my father Flt Sgt R.M. Kidd (RNZAF), and for a portion of the trip, Lt. Grady W. Roper 327th, evaded from France with her in early 1943." Perhaps she assisted other 303rd BG evadees as well.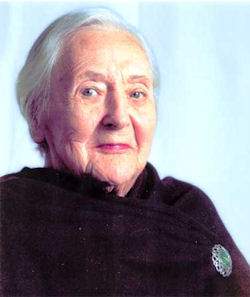 Australian Nancy Wake, who as a spy became one of the Allies' most decorated servicewomen for her role in the French resistance during World War II, has died in London, officials said Monday. She was 98.
Code named the "White Mouse" by the Gestapo because she was so elusive during the war, Wake died Sunday [August 7, 2011] in a London nursing home, Australian Prime Minister Julia Gillard said.
"Nancy Wake was a woman of exceptional courage and resourcefulness whose daring exploits saved the lives of hundreds of Allied personnel and helped bring the Nazi occupation of France to an end," Gillard said in a statement.
Wake worked as a journalist in Europe, interviewing Adolf Hitler in Vienna in 1933, and then vowing to fight against his persecution of Jews. Trained by British intelligence in espionage and sabotage, Wake was parachuted into France in April 1944 before D-Day, helping to arm and lead 7,000 Resistance fighters in weakening German defenses, the Associated Press reported.
Evading capture many times, she was top of the Gestapo's most wanted list, reportedly with a bounty of 5 million francs, dead or alive.
"Freedom is the only thing worth living for," Wake once said of her wartime exploits. "While I was doing that work, I used to think it didn't matter if I died, because without freedom there was no point in living."
Speaking to Australian Broadcast Corp. radio on Monday, Wake's biographer said, "They called her the 'la Souris Blanche,' 'the White Mouse,' because every time they had her cornered ... she was gone again," Peter FitzSimons said. "Part of it was she was a gorgeous-looking woman. The Germans were looking for someone who looked like them: aggressive, a man with guns - and she was not like that."
Wake was Australia's most decorated servicewoman, and one of the most decorated Allied servicewomen of World War II.
France awarded her its highest honor, the Legion D'Honneur, as well as three Croix de Guerre and the Medaille de la Resistance. The United States awarded her its Medal of Freedom and Britain, the George Medal. Her only Australian honor did not come until 2004, when she was made a Companion of the Order of Australia.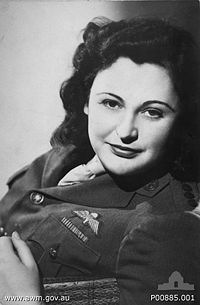 Born Aug. 30, 1912, in Wellington, the capital of New Zealand, Nancy Grace Augusta Wake was the youngest of six siblings. At two, her family moved to Sydney, her father would soon abandon the family and return to New Zealand.
Longing to travel, Wake became a nurse before an inheritance from an aunt allowed her run away from home and to fulfill her dream of traveling to New York, London and Paris, she said in an interview with the Australian Broadcasting Corp. in 1985.
She became a correspondent for The Chicago Tribune in Paris, after studying journalism in London, and reported on the rise of Hitler in Germany. It was her 1933 interview with Hitler that led her on a mission to bring down the Nazis.
"I saw the disagreeable things that he was doing to people, first of all the Jews," she told the Australian Broadcasting Corp. radio in 1985. "I thought it was revolting."
When World War II broke out in 1939, she was living in Marseille, France, with her first husband, French industrialist Henri Fiocca, whilst helping British servicemen and Jews escape the German occupying force.
Eventually, her husband was seized, tortured and killed by the Gestapo for refusing to give her up. Wake, however, managed to escape in 1943 through Spain to London, where she received her espionage training.
"I have only one thing to say: I killed a lot of Germans, and I am only sorry I didn't kill more," she once said.
In 1949, she returned to Australia, where she failed several times to win a parliamentary seat. In 1957, she went back to England, where she married RAF fighter pilot John Forward. She did not have any children.
Per her request, Wake's body is expected to be cremated and her ashes scattered at Montlucon in central France, where she fought in a heroic attack on the local Gestapo headquarters.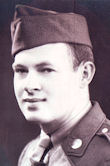 Guy Elthris "Trice" Moore passed away on Thursday, July 14, 2011 in Fort Worth.
He was born on April 29, 1922, in Gustine, Texas, to Benjamin and Ida (Narcissus) Moore. During World War II he served in the 8th Air Force 303rd Bombardment Group 427th Squadron. After being discharged from the Air Force he worked for Consolidated Aircraft in Fort Worth until he returned to Gustine. On November 2, 1953, he was united in marriage to Ada Lorene Hill in Carlsbad, New Mexico. Mr. Moore was a retired farmer and rancher and was a member of the Gustine Morning Coffee Club.
He is survived by his wife, Ada Lorene Moore of Gustine; son and daughter-in-law, Gary A. and Julie Moore of Gustine; daughter and son-in-law, Cheryle and Steve Woods of Comanche; three grandchildren, Kristin Woods, Kendra Woodruff, and Scott A. Moore; and one great-grandson, Kaison Woods. He was preceded in death by one grandson, Bren Woods, in 2008; two brothers; and seven sisters.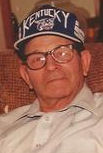 James C. Hicks, 92, of Henderson, Kentucky passed away July 30, 2011 at Western Kentucky Veterans Center in Hanson, Kentucky. He was born in Henderson, Kentucky to James Coleman and Elsie (Kockritz) Hicks on April 16, 1919.
He was a veteran of the Army Air force and graduated from Boeing Aircraft School. He served as a crew chief to a B-17 Bomber named "The Dutchess".
He was also a farmer and member of Bellfield Baptist Church. He was preceded in death by his parents, wife Phyllis Jean (Duncan), sister Marie Freeman, brother Thomas Hicks, and an infant son. He is survived by: 1 son James C. Hicks Jr. of Henderson, Kentucky 3 daughters: Nancy Richardson of Henderson, Kentucky Gloria Jean Lemmons of Henderson, Kentucky Julie Marie Haire of Henderson, Kentucky 7 Grandchildren Great-grandchildren
Services will be Tuesday August 2, 2011 at 11AM at Tomblinson Funeral Home Henderson Chapel. Visitation will be Monday August 1, 2011 from 5-8PM and Tuesday 9AM until service time. Bro. Basinger will be officiating. Burial will follow in Fairmont Cemetery in Henderson, Kentucky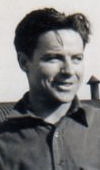 David S. Fitterer Sr., 90, of Barnegat, N.J., passed on Thursday, July 29, 2010, at home, surrounded by his loving family. The viewing is on Sunday from 2 to 4 and 7 to 9 p.m. at the Barnegat Funeral Home, 841 W. Bay Ave., Barnegat. A Mass will be offered on Monday at 10 a.m. from St. Mary of The Pines Church, Manahawkin, N.J. Interment is in St. Mary's Cemetery, Manahawkin.
A U.S. Army Air Force veteran of World War II, Mr. Fitterer was born in Newark, where he served as scoutmaster of B.S.A. troops 18 and 35 at Our Lady of Good Counsel Church and on the first Civil Defense Commission. He retired from the U.S. Postal Service as manager of employee - labor relations after 33 years. David was a professed member of the Third Order of St. Francis in New York. Formerly of East Orange, he moved to Barnegat 21 years ago.
He was predeceased by his wife, Helen M. (Gannon), and two sons, Michael and Thomas. He is survived by seven children and their spouses, Paul and Gail, Peter and Janet, Edmund and Jane, David and Cynthy Fitterer, Rosemary and William Berry, Patricia Stock, and Susan and Harold Flint; daughter-in-law, Julia Miliski; 17 grandchildren and 11 great -grandchildren. In lieu of flowers, donations to St. Francis Friends of The Poor, 155 West 22nd St., New York N.Y. 10011 will be appreciated.




Henry John Eich, Jr., 85, of Tampa passed away June 14, 2008. He is survived by his loving wife of 62 years, Ethel "Bobbie" Eich; sons, Henry John Eich III and Glen Edwin Eich; daughter Laura Smith and husband Leigh; grandchildren, Joshua Eich, Monica Eich, Christopher Smith, and Daphne Smith; and step-brother, Lawrence Eich Jr. and wife Ann.
Born in New York City, Henry has been a Tampa resident for 49 years. He was a retired Captain, serving 20 years of service in the United States Air Force. During WWII, Henry was a POW for 16 months in a German war camp.
Family will receive friends from 6-8pm on Wednesday, June 18 at the Blount & Curry Carrollwood Chapel, 3207 W Bearss Ave, Tampa. A funeral service will be held at 10am on Thursday, July 19 at the funeral home followed by interment at Florida National Cemetery in the afternoon. Flowers are accepted or donations may be made in Henry's name to Lifepath Hospice, 12973 Telecom Parkway, Suite 100, Temple Terrace, Fl, 33637.




Thanks very much for re-printing "The Story of Crew 20." My wife's uncle was Sgt. Robert Parker, who flew as the substitute tail gunner on the flights mentioned in the story and was on the plane the day it went down. Several years ago I found information about the crew and its missions on the 303rd website and CD, and it was great to read this story and get so much more information about the crew and its flights.

Somewhere we have the letter written by the Department of Defense to Sgt. Parker's mother after the war. Although the letter itself seems to have gone missing, I have from it the geographic coordinates where the plane crashed, as well as the coordinates of the cemetery in which Sgt. Parker was buried in Germany. If anyone should want that information, please have them get in touch with me. In about 1950 Sgt. Parker's remains were returned to the United States; he is buried in St. Johnsbury, Vermont, where he was raised.

John Zumsteg

---

Gary,

What a stirring and poignant newsletter. I was really moved by both the principal reminiscence of Sergeant Morrison and the death notices that confirm lives well lived after surviving the cauldron of battle over Germany. You are creating a lasting legacy.

With great admiration,
Bob
[Robert Mrazek is the author of the outstanding new book "To Kingdom Come." ]

---

I just recently found out that my all-time hero, mentor and friend passed away in 2008. Henry Eich was a WWII B-17 pilot, who was shot down on his 11th mission. He and his crew were taken as POWs from Jan, 1944 to May, 1945.

When the war ended, Henry was discharged as a Captain, and re enlisted as a MSgt. He went to weather forecasting school and was one of the first CMSgts in the Air Force. I finished forecasting school in August, 1960 and was assigned to MacDill AFB, Fl.

Henry was there as a CMSgt. I was quite a wet behind the ears SSgt when he took me under his wing. I learned more about forecasting under his guidance than I ever learned anywhere else. In addition, he also instilled in me a very strong sense of placing mission above myself. He was not only a mentor, but he took the time to steer me in the right direction.

His guidance set the course for me for the rest of my career. I know I would have never made CMSgt without his influence. Not that he was always easy. But he taught me that when I briefed an air crew, my job was not done. He insisted that I flight follow each crew I briefed, a very difficult, but rewarding task. So many times, I was able to issue in-flight advisories when I felt my forecasts weren't working. This was especially tedious when I cleared aircraft across the Atlantic, or for 24 hour SAC missions. I was so lucky to have had his guidance and friendship. A classic example of the "Greatest Generation". Thanks to all of you.

CMSgt Edward D. Beard, USAF, Ret

---

Looking For Family of Francis D. Andersen: Can You Help?


Dear Sir / Madam,

I hope you may be able and/or willing to help me with the following: I'm trying to locate the family of S/Sgt Francis D. Andersen Jr, 359th Bomb Squadron - 303rd Bomb Group.

I know he was a tail gunner and that he was shot down (Nov 5, 1943) over Holland (where I live), he survived and was a POW at Stalag 17B.

I'm a collector of WW2 postal artifacts and I have a letter in my collection written to Francis Andersen on October 23rd 1943. The letter never got to him as Francis was 'missing in action' and was redirected by Edwin K Lumpkin, Captain of the 359th Bomb Squadron. Attached you will find a scan of the envelope.

Do you have any additional information of Francis Andersen or his (families) whereabouts ?

Thank you and best wishes from Holland,

Marnix Versteegh

---

Gary:
Saturday afternoon and once again you have provided more wonderful reading material filled with recollections of many years ago. There is so much history with the 303rd. I am thankful for those who took the time and effort to record their experiences. Your efforts keep the history alive.

A week ago I was interviewed on two local radio stations in conjunction with a visit to this area of the B-17 Aluminum Overcast. During both interviews I had the opportunity to plug the 303rd website. In my small way I am able to advertise the unselfish efforts you provide with the website.

A local Chapter of EAA has offered me the opportunity to present my WWII slide program for their meeting in Sept.

Thanks Gary and thanks to Susan for her Patience with you,
Al & Lorene Dussliere

---

Hi, Gary.

After seeing the picture of the folks in front of the 303rd Memorial "Stone" at Molesworth, I have to commend whoever designed, paid for, and built that beautiful memorial. It is one of the nicest I had seen up to then, or since. It really is a fine tribute to the men (and women) who served overseas in the 303rd. Which brings up a question...were there any women serving on base during the war, such as Red Cross, office workers, or in any other way? Just curious. I would be interested to find out.

I know that the only women on base at Bassingbourn (the 91st BG) were in the PX, Red Cross, and a smattering of them in the office. Almost all positions were filled by men, even the clerical with just a few exceptions.

You are doing your usual good job, as ever.

Thanks,
Gordy Alton

---
Keeping the Legacy Alive,

Submissions of 303rd Bomb Group related stories and articles are most welcome.