Having trouble viewing this email? See the online version here. To unsubscribe, please reply and request removal.
Submissions of 303rd Bomb Group related stories and articles are most welcome.



June 12, 2011
Volume III, Issue 6
www.303rdBG.com
MEMORIAL DAY 2011
Remembering our 303rd BG Veterans – From Start to Finish
May Events at Gowen Field, Idaho and Molesworth, England Honor 303rd Bomb Group Veterans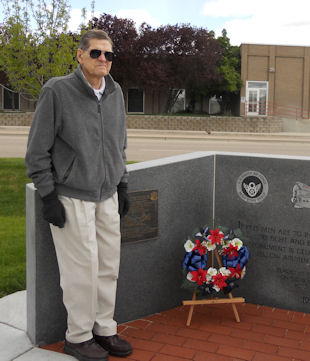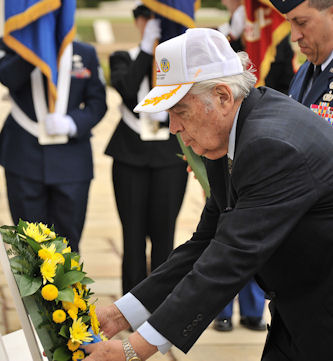 Two 303rd Bomb Group veterans placed wreaths in honor of their comrades during May events where the 303rd BG began their training and where they finished their combat. Left: Fred Gano, 427th BS pilot, laid a wreath at the 303rd Memorial at Gowen Field, Boise, Idaho during dedication ceremonies at Gowen Field Memorial Park. Right: Eddie Deerfield, 360th BS Cogswell Crew radio operator, places a wreath at Cambridge American Cemetery during "Hell's Angels Days" at RAF Molesworth. See the stories below.

303rd BG Vet Reunited with Long-lost Map
Operation: Map Quest

John P. Vanzo, PhD
Associate Professor
Bainbridge College, Bainbridge, Georgia, USA
Thanks to website historian Gary Moncur and the superb resources of www.303rdbg.com, Bainbridge College professor John Vanzo recently embarked on an odyssey of historical research on a bombing mission map dating from WWII. In the end, a 303rd BG veteran was reunited with a long-lost souvenir of his service that he had not seen for 66 years.

"Thanks for all your efforts with what I call 'Operation: Map Quest.' You all outdid yourselves with that type of research." Earl Douglass
A Georgia-born Hero of World War II
Aviation Cadet Earl Douglass during pilot training at Independence Army Airfield, Kansas in 1943.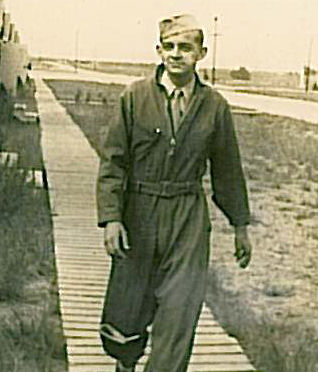 Earl B. Douglass, Jr.
, grew-up as a typical child of the Great Depression. Born on July 7, 1924 in the tiny rural town of Talbotton in west-central Georgia, Earl dreamed of bigger and better things. But war interrupted his ambitions for a college degree, and in 1942 at the tender age of 18, he entered the U.S. Army Air Corps for pilot training.
In late 1943, with newly-minted pilot's wings and lieutenant's bars gracing his uniform, Douglass was posted to the 303rd Bomb Group located in Molesworth, England. The 303rd Bomb Group, known collectively as "Hell's Angels," was one of the earliest American air units to be deployed for combat against Nazi Germany. Outfitted with approximately three dozen B-17 Flying Fortress bombers, the unit carried out some of the toughest and costliest bombing missions of the war.
Upon arrival at his new base, Douglass was assigned sleeping quarters in the officer's billets. According to his roommate, Earl would be bunking in the bed once slept in by the famous movie star of "Gone with the Wind," Clark Gable.
"They told me that I was going to sleep in Clark Gable's bed. Capt. Gable had flown five missions with our group as a combat photographer, and now I was going to be sleeping in his bunk. Unfortunately, none of him rubbed off on me!" joked Douglass.
Douglass went on to fly 30 combat missions against the Germans, usually in the dangerous tail gun position of the B-17.
"The policy at that time was to split up a new pilot and his co-pilot for their initial five combat missions so they could gain experience from the 'old hands'. While I was separated from my original flight crew, they were shot down and all killed. So, I became a sort of orphan within the Bomb Group," recalls Douglass.
"My squadron operations officer 'requested' that I volunteer to serve in the tail gunner position because the Top Brass wanted a qualified pilot to be the eyes behind the mission commander's head to make sure that all the planes in the group maintained proper formation. It was important for us to stay in a tight, carefully-designed flying formation to maximize our defensive firepower, and to keep all the bombs on target. So I flew as a 'Tail Gunner-Observer' in the lead aircraft on most of my missions. On other missions, I flew as co-pilot."
Like most members of his generation, Earl is extremely modest about his wartime service.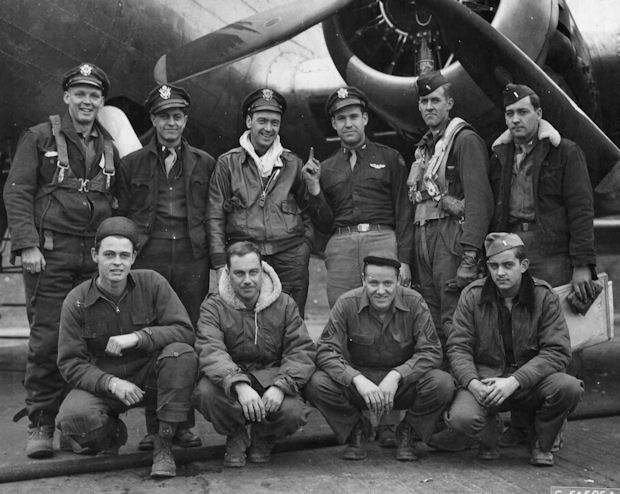 Lead Crew for Mission 272, November 11, 1944 to Gelsenkirchen, Germany
(Back L-R) 1Lt Jackson H. Hunt (N), 1Lt Michael L. Zarelli (GH-Nav), Capt Willard H. Bergeron (P), 1Lt Warren B. Morris (B),
1Lt George H. Fielder (CP), 1Lt Earl R. Beyeler (PFF-N) ; (Front L-R) T/Sgt James E. Cavagnaro (E), T/Sgt Clarence K. Wilson (R),
S/Sgt William D. Foster (WG), 1Lt Earl B. Douglass (TG-Obs)
"Many of the missions I flew were 'milk runs,' that is, easy missions with little opposition. The really heavy fighting had taken place in '43. By the time I got there, the Luftwaffe was basically already beaten and we had far fewer casualties."
Despite Douglass' modesty, the historical record shows he flew on many tough missions, with murderously heavy flak and sometimes swarms of attacking German fighters. Occasionally, some of Hitler's 'Wonder Weapons' like the ME-262 jet and the ME-163 rocket interceptor were seen. Even non-combat flights could be dangerous; on one flight, Douglass had to bail out of his B-17 because of a fire in the ball turret hydraulic system.
After 30 combat missions, Douglass' tour of duty was over and he returned to the States. "At that point in the war, the Air Corps required a flier to complete 35 missions before his tour of duty was over. But they credited me with a bonus of five extra missions because I had flown in the lead aircraft so often. Let me tell you, I was HAPPY to accept those five extra missions and return home!"
A Way to Pass the Time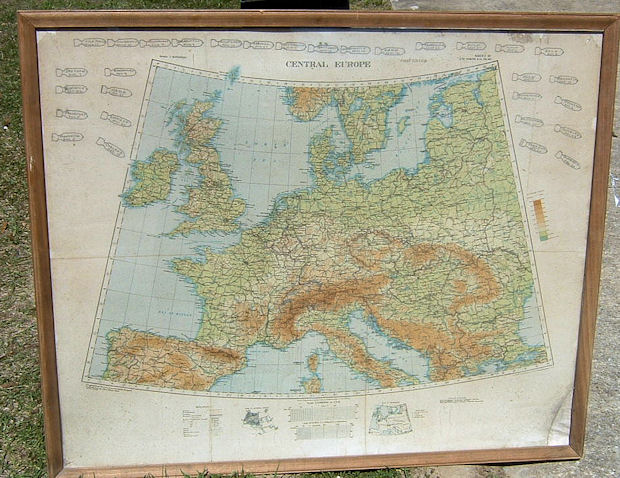 Douglass' Central Europe Map with bomb outlines documenting his missions flown.
While Douglass was stationed at Molesworth, he acquired a map of Central Europe and began to record on it his bombing missions.
"Just as a way to pass the time between missions, I got hold of an old map of Europe and began marking down the missions I flew. Nobody wanted the map because it was the wrong scale to be used for navigation, so I tacked it to the wall of the quarters that I shared with another officer. I used a cut-out stencil to draw the shape of a bomb on the margins of the map, and recorded the date and target city of each mission.
"In all the excitement and confusion of returning home after my tour of duty, I accidently left the map on the wall when I packed up. For the next 60 years I really never gave it any thought. But then a few months ago a college professor left me a mysterious phone message telling me that he had tracked me down and wanted to return an old map to me. Then it all started coming back to me."
Tracking-down the Owner
Despite being an associate professor of political science, Dr. John Vanzo has had a life-long interest in military history. Always on the lookout for things to add to his collection of war relics, he attended a militaria auction held in Tallahassee in March, 2011.
"A map of central Europe with 30 bombing missions drawn on it was listed in the auction catalog. Initially it did not interest me. However, when I actually saw the map, it 'spoke' to me. On pure impulse, I placed a bid and won the auction. I brought the map to work, intending to hang it on my office wall."
Sitting at his desk, Vanzo's attention kept being drawn to the bomb missions listed on the map. Curiosity eventually grew into an irresistible desire to identify the unit that had carried out those missions.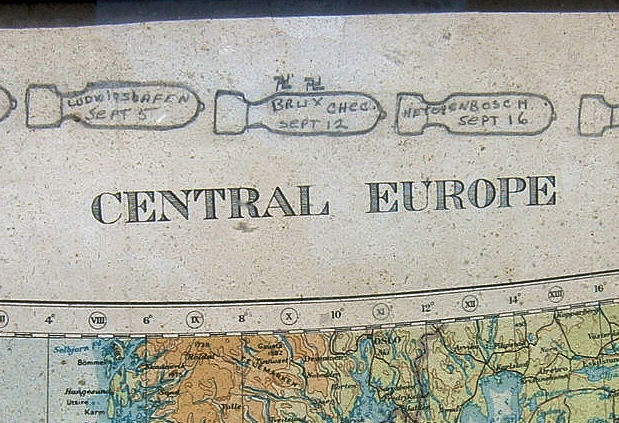 A close-up of Earl's map notes two enemy fighters shot down on the 12 September 1944
mission to Brux, Czechoslovakia
After a few days of library and internet research, Vanzo determined that the only unit that could have flown those exact missions was the 303rd Bombardment Group (Heavy), a B-17 outfit stationed in England during the war. That further piqued Vanzo's interest because his late stepfather Col. Frank Cappelletti had flown in B-17s against Japan during the war.
An internet website devoted to the 303rd, www.303rdbg.com, listed all missions flown by the group, including the specific aircraft and crews that flew each mission. Vanzo tried to identify which particular airplane had flown the map missions, but to his disappointment, he found this was impossible. According to the website's historian, Gary L. Moncur, crews did not fly one individual aircraft, but rather rotated between available aircraft.
However, even though there was no one plane that flew the 30 missions, it was theoretically possible to identify the individual crewman that flew the map missions. But this would entail again going through the 30 mission lists, each with 300-350 different men, to find the one man that was common to all the missions. With dread, Vanzo started on that herculean task. But then Gary Moncur came to his rescue. Using some computer spreadsheet wizardry, he found the one man who flew the map's missions: Lt. Earl B. Douglass.
The website's contact information for Douglass was long out of date, but after an afternoon of Google searching, Vanzo found an address and phone number for an Earl B. Douglass, Jr. "I assumed that the veteran had passed away, and that his son, Earl Junior, had sold his father's estate to the auction company," said Vanzo.
"To my shock, I received an email from Earl B. Douglass, Jr. saying that he was in fact the veteran himself. He congratulated me on my research skills and said he had not seen the map since the days it hung in his barracks room in England during the war!"
Reuniting Earl with his Map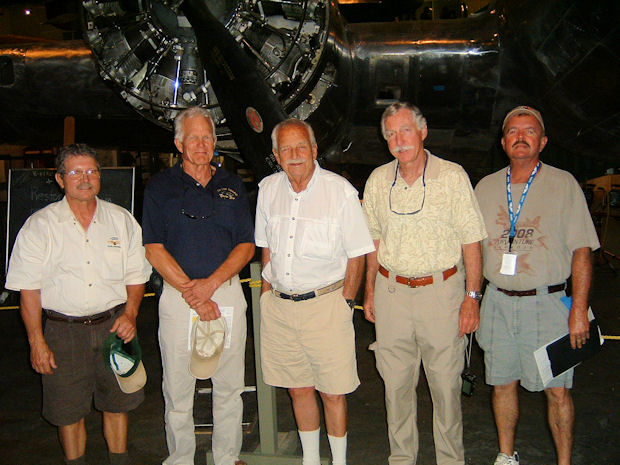 Earl Douglass with his friends and "crewmates" for this mission. From the left are pilots
Bob Thousand, Tobe Thorpe, Earl, John Bacon and Ken Harp.
Douglass and Vanzo arranged to rendezvous on April 23rd at the Mighty Eighth Air Force Museum located near Savannah, Georgia. Four of Douglass' friends would fly him in a private plane from his winter home in St. Augustine to tour the new B-17 exhibit at the museum, and to see the long-lost map.
According to Vanzo, Earl turned out to be an incredibly vivacious, sharp-witted, and humorous gentleman, despite his 86 years of life. After the war, Earl said, he attended classes at the University of Georgia, and embarked on a long career as a transatlantic pilot for Pan American Airlines. Douglass was incredulous how the map, which someone had thought highly enough to frame, had found its way back to him.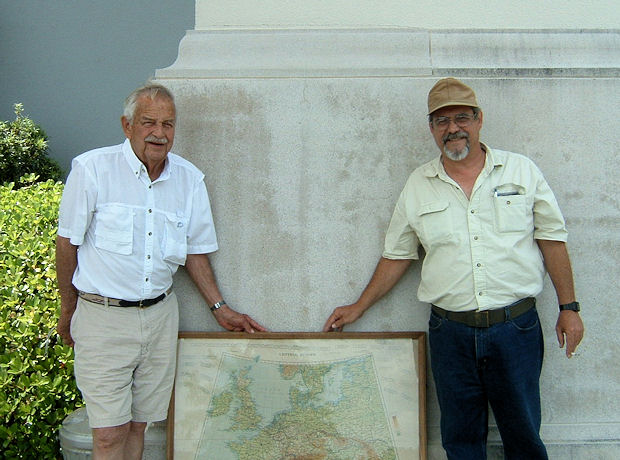 Earl Douglass and author John Vanzo with their map, now a prized addition
to the archives at the Mighty Eighth Air Force Museum.
Over lunch, Douglass very generously insisted that the map was Vanzo's to keep, and that the real story was the professor's historical research. Vanzo, on the other hand, insisted that the map was Douglass', and that the real story was the veteran's heroic service to our nation. In the end, they agreed that copies of the map would be made for each of them, and that the original would be donated to the Mighty Eighth Air Force Museum for permanent display.
"I am happy to donate the map to the museum," said Vanzo. "The money I paid for the map is inconsequential to me; what is priceless was the opportunity to meet and talk with such a stellar example of this "greatest generation" of Americans, who willingly risked and sacrificed so much in order to preserve the comforts and freedoms we all enjoy today. The map belongs in a museum for future generations of Americans to see… lest we forget!"
[Editors Note: We matched up 29 of the 30 missions perfectly, but had no record of Earl flying Mission 209, 21 July 1944 to Lachen, Germany, as his bomb drawing indicated. According to Earl, "I had been assigned as co-pilot with the S.E. Rosser lead crew and we were on "detached duty" during July to the 305th BG. The mission on 7/21 shows the two targets and I believe we were low group and went to Lachen. Records show that I flew 8 hrs 25 min "operational" on 7/21 and presume that is the Lachen mission. That is signed by Operations Officer of the 305th BG."]

Molesworth Celebrates "Hell's Angels Day"
68 Years After the 25th Mission
303rd Veteran Eddie Deerfield and wife Mary Lee Welcomed at Ceremonies
by Peter G. Park, Jr., Commander's Action Group
JIOCEUR Analytic Center
303rd Bomb Group veteran Eddie Deerfield shares a light moment with JAC Commander Army Colonel Matt Glunz, as JAC Historian Peter Park looks on during the May 13th HELL'S ANGELS DAY celebration (U.S. Air Force photo by Staff Sgt. Javier Cruz)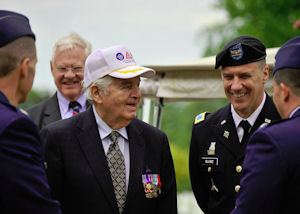 "JAC - The Legacy continues" is the new motto of the U.S. European Command JIOCEUR Analytic Center (JAC) at today's Royal Air Force Molesworth, England. The theme created by JAC Commander, Army Colonel Matthew P. "Matt" Glunz directly celebrates the legacy of the 303rd Bomb Group (Heavy) and is an inspiration to soldiers, sailors, airmen, marines and civilians engaged in today's intelligence production mission in support of warfighters and the U. S. European Command.
On May 13th 2011 - exactly sixty-eight years to the day after THE B-17F "HELL'S ANGELS" from the 303rd - not the more storied "MEMPHIS BELLE" from the 91st Bomb Group (Heavy) at Bassingbourn - became the first B-17 to complete 25 combat missions over Nazi-occupied Europe. COL Glunz led the day long RAF Molesworth and RAF Alconbury-wide celebration of "HELL'S ANGELS DAY." It is important to note that MEMPHIS BELLE did not complete 25 missions until several days after HELL'S ANGELS. But since the Army Air Corps Public Affairs had focused on the 91st BG plane's progress toward the 25 mission mark, the BELLE got the return to the U.S., the war bond tour, and the movie. And as 303rd BG veteran and guest Eddie Deerfield wryly noted, from a public relations perspective, "... a plane named after a beautiful girl was far more appealing to the wartime American public starved for good news at that point in the war than a plane called 'HELL'S ANGELS.' "
JAC Commander Army Colonel Matt Glunz escorts Mary Lee Deerfield at Cambridge American Cemetery. (U.S. Air Force photo by Staff Sgt. Javier Cruz)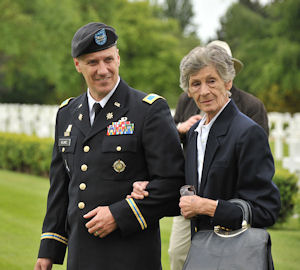 Joining the JAC in commemorating the day was the U.S. Africa Command's J2-Molesworth under the leadership of Air Force Colonel Michele M. Cook, and the U.S. Air Force 501st Combat Support Wing, at RAF Alconbury which provides base support commanded by Air Force Colonel Brian T. Kelly.
The day began with a presentation by honored guest, former 360th Bomb Squadron radioman on IZA VAILABLE, and later 303rd Bomb Group (Heavy) Association President Eddie Deerfield. "The Way it Was in WWII" was the theme of Deerfield's memorable talk and audiovisual presentation to a RAF Molesworth and RAF Alconbury audience gathered in the still used main "J-type" hangar where B-17s were repaired during the war.
Deerfield later remarked, "I was taken by the intense looks on the faces of the audience in the hangar, hearing clearly audible gasps and sighs as I told the story of the way it was for the 303rd airmen who lived and many who died while based at Molesworth. And it was gratifying to be honored by the many who stood in line after the presentation to approach me individually to ask a question, pose for a photo, get an autograph, or just shake my hand ... one young airman with tears in her eyes."
After a lunch with select junior military members, Deerfield joined COL Glunz, and his U.S. Africa Command and 501st Combat Support Wing counterparts in a moving military wreath laying ceremony at the Cambridge American Cemetery.
303rd Bomb Group veteran Eddie Deerfield lays a floral spray at the grave of his crewman right waist gunner Cpl. Alvin Etheredge. Etheredge was removed from flight status in August 1943 after flying 13 missions and served on the MSgt Robert B. Heiliger ground crew until he died from a tumor in May 1945 (U.S. Air Force photo by Staff Sgt. Javier Cruz)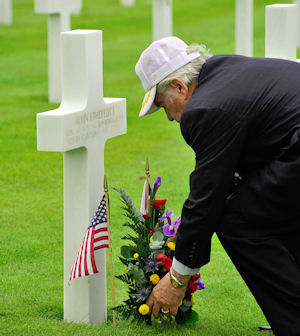 After the official ceremony, Deerfield laid flowers at the grave of his crewman, Cpl Alvin Etheredge, who was removed from the Capt Cogswell crew in August 1943 and joined the M/Sgt Robert B. Heiliger ground crew. Etheredge later died of a tumor at the 303rd Station Hospital in May 1945. Such was the rank structure during the war that even though he had completed 13 combat missions as a Staff Sergeant, Etheredge was reduced to Corporal when he came off flight status and his tombstone lists the lower rank.
HELL'S ANGELS DAY concluded with a "Combat Dining In" - a modern day service 'tradition' of an informal military gathering tinged with frivolity and no small amount of water pistols where rank was no bar to getting a good soaking.
While many sons and daughters - and more recently grandchildren - of 303rd veterans have visited in recent years, visits by original 303rd members are rare. Before former TSgt Radioman (Later U.S. Army LTC) Deerfield's visit on May 13th, the last visitor was 359th Bomb Squadron Navigator Lt James J. Crooke, Jr. who returned to the base on September 10th 2007.. Lt Jim Crooke's recently published a new book "Berlin to the Gulf of Mexico: POW 5518 Remembers."
"JAC - The Legacy continues" will continue as the theme for JAC events throughout the year further strengthening the bond between the 303rd Bomb Group (Heavy) and today's military and civilians at RAF Molesworth supporting a very different, but no less important, fight.



303rd Bomb Group Honored
at Gowen Field Memorial Park Dedication
Boise, Idaho – May 26, 2011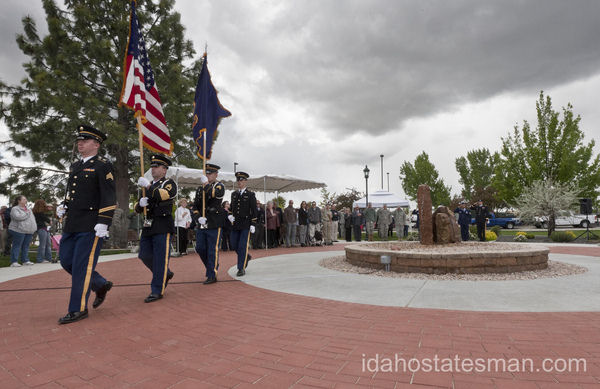 Gowen Field Memorial Park
The legacy of the 303rd Bomb Group began in early February 1942, at Gowen Field, Boise, Idaho. It was there that the 303rd BG was assigned its original staff and began combat training. Nearly 70 years later, the legacy still lives on.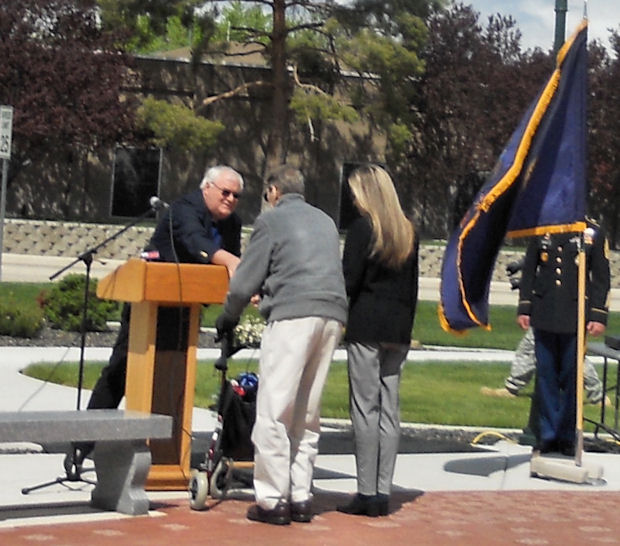 Gary Moncur shakes hands with 303rd BG veteran Fred Gano after he placed the wreath to honor his brothers-in-arms. Katharine Gano Martin assisted her father.
As part of the May 2011 event, 303rd BG Historian Gary L. Moncur was invited to speak and arrange a wreath laying for the 303rd Bomb Group. The Master of Ceremonies for the event was SGM Robert Gordley. Other speakers included MGen Gary Sayler, MGen Larry Lafrenz, LtCol Odneal, BGen Bill Bankhead, SMSgt Pat Handley, Mr. Harrell and Jon Dorman.
Representing his comrades of the 303rd Bomb Group, was Mr. Fred Gano of Boise, Idaho. 1Lt Gano was a 427th BS Pilot who brought his crew home safely on all 35 of his combat missions. The wreath was laid in honor of "all the heroic men of the 303rd Bomb Group – those who gave their lives for our freedom, those who suffered the horrors as prisoners of war, those who flew the combat missions and those in the vital supporting roles on the ground."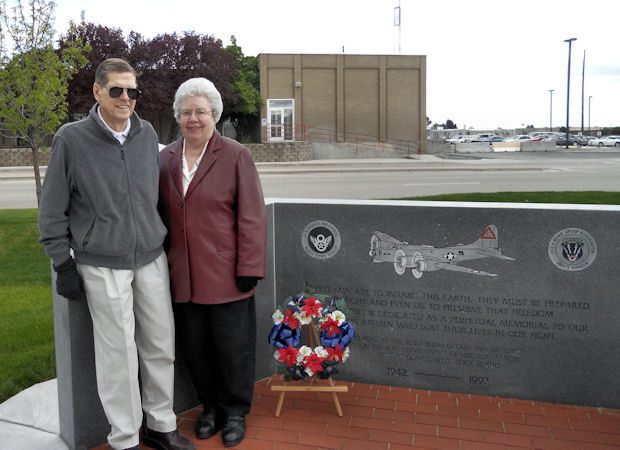 The 303rd BG's Memorial is a main feature of the Gowen Memorial Park. Fred Gano stands with Nathelle Bales Oates, sister of 359th BS pilot Ross C. Bales, who was killed in action on May 14, 1943.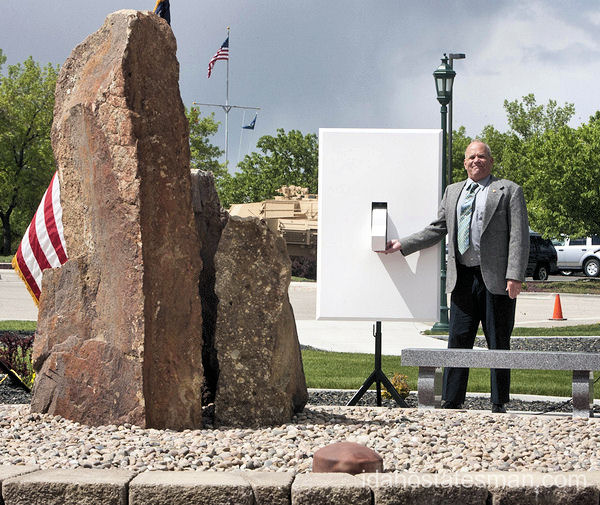 Major General (RET) Larry Lafrenz, former Idaho National Guard Adjutant General, prepares to flip the switch turning on the water in the newly completed fountain, the centerpiece of the Memorial Park.
One year ago, in May of 2010, the Gowen Field Memorial Park was dedicated while it was still under construction. On May 26, 2011, the completed Memorial Park was rededicated with its newest additions in place. The purpose of the park is:
"To plan, build, and maintain a memorial to honor Idaho's military veterans and families whose units' lineage traces their unit to the Idaho National Guard or Gowen Field. To honor their duty, loyalty, service, and commitment with the utmost dignity, gratitude, remembrance and reflection deserving of the men and women who, throughout Idaho's history, gave so much and asked for so little in return."

Ormal Jack Waffle
June 21, 1919 – March 11, 2011
A Tribute by his son Craig Waffle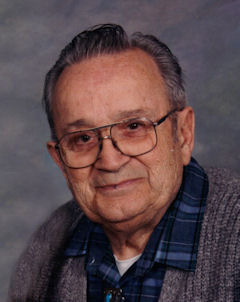 He was born to Alpha Goodspeed and Mathew Waffle. Dad's family moved around in Indiana and Illinois, as his father had a series of jobs as an engineer and finally as partner in an automobile battery manufacturing company. Dad's father was the victim of a shooting, leaving him without a father at age 11. As a result of the shooting he was sent to a boarding school. He lived there attending classes in the winter, working in a farm and scout camps during the summers.
When Dad was sixteen, he returned home to live with his mother and older sister to go to high school in Chicago. When he was 18, Dad joined the Illinois National Guard. He had been used to horseback riding on the farm and the National Guard was a horse-drawn Field Artillery Unit. As a scout and message currier, the National Guard kept a horse for Dad at the armory. Dad could check out his horse any time he wanted and ride. As the National Guard began to modernize, preparing for war in Europe, the horses were replaced by trucks and jeeps in 1938-1939 and Dad began to lose interest in the National Guard. To get out of his commitment to the Guard, he transferred to the Army Air Corps.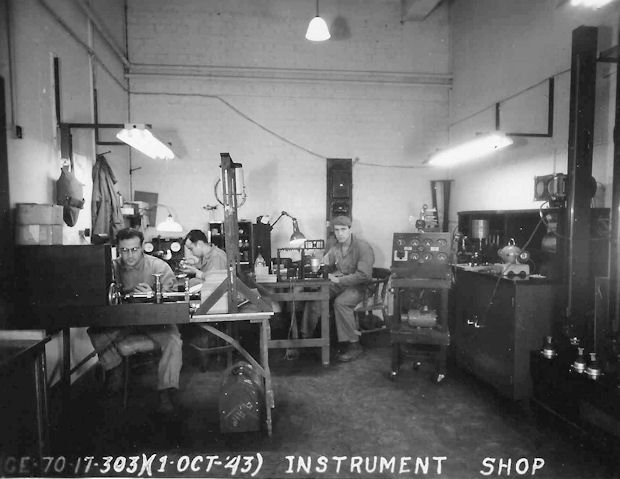 Active Air Corps units were short of most everything in those days as America ramped up its war production. Dad became part of a "cadre" of experienced soldiers in 444th depot level maintenance unit in California. Being part of the cadre would prove to be very significant in the future. On December 7th, 1941, Dad was enjoying leave in San Francisco. After that, activity in his unit shifted into high gear; equipment and men started pouring in and the unit moved by rail to New York for debarkation to England. Candy bars kept Dad alive on the cruise from New York to England, because the meals prepared by the Philippine crew were so bad. Even with a week's delay floating in the North Atlantic while the boat's drive shaft was repaired, Dad's unit arrived more than a month before the first B17's got there.
The early years of the war were especially desperate for the 8th Air Force. The Germans quickly learned the weaknesses of the formations of B17s that flew during daylight to bomb key targets. In addition to his duties as an instrument repair specialist, Dad volunteered to recover the injured and dead airmen as the planes returned from missions. Red flares fired from the returning aircraft indicated that there were men who needed medical attention. Especially bad were the planes you could see blood dripping from the tail wheel as the plane rolled to a stop. Dad said that death has a smell unlike any other.
The war was more than missions and injured airmen. There were also opportunities to get into London for R&R. Dad took as much opportunity to get into London as he could, and he developed an appreciation for British Fish & Chips.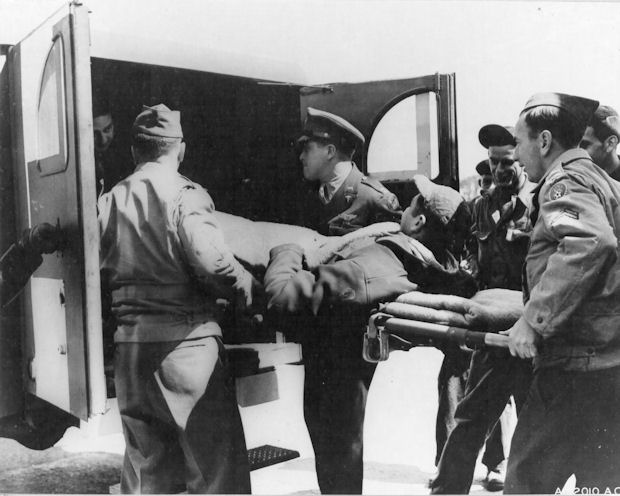 Eventually the new P51's began arriving in Europe. At the same time airbases were opening up in Western Europe, P47's and P51's were able to escort the B17's to and from their targets. This had a huge impact on the number of planes returning from missions each day. In December of 1944 the Germans mounted a surge in the Arden Forest that came to be known as the Battle of the Bulge. The Americans defending this part to the line were caught off guard. The call went out to get every soldier that could be spared to shore-up the weakly defended line. Every airman in Dad's unit that wasn't part of the original cadre was given a rifle and sent across the channel to the bulge. Some friends that had left for the Arden Forest one day, were back in the hospital the next. Many he never saw again.
Sgts Robert T. Franklin, S/Sgt George J. Alaimo,
T/Sgt Ormal J. Waffle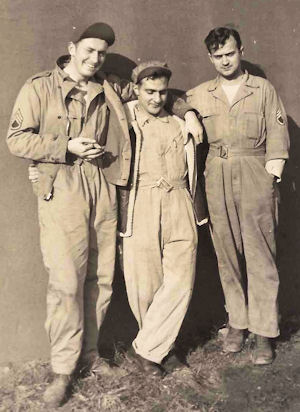 The war continued to progress and eventually the Germans were beaten back. As the end of the war came in sight, Dad's unit moved to North Africa in preparation to deploy back to the states.
Dad actually volunteered to transfer to the Pacific Theater, but as he was among the first to arrive in England, he had earned so many points that the Air Corps turned down his request. By this time, the military established a system of points to decide who got to return to the United States as the war wound down. He flew from North Africa to South America almost running out of fuel and having to put down in an airport somewhere in the jungle.
Back in California, Dad struggled with the decision of whether to stay in the service or go back to civilian life. Dad told the story that he had a cousin in LA who strongly felt Dad should leave the Air Corps. To hear Dad tell it, she kept him so well stocked in beer, wine, etc. that he didn't get back to base in time to sign his extension papers.
As a civilian, Dad perused a license in Aircraft and Instrument Repair, which was the main requirement for working at a civilian airline. This is the time when Dad ran a group of friends who studied by day and partied by night. This is when he met Henrietta Wagter. She was a former aircraft worker for the Douglas Aircraft Company, building airplanes such as the Dauntless Dive-bomber. A romance soon developed. Dad and Mom got married in Las Vegas on September 27, 1947. Upon completing school, Dad took his A&E license and tried to get a job, which wasn't easy to find with so many soldiers returning from service. Dad and Mom drove across country to Chicago to get his first job working for Northwest Airlines. While there Dad and Mom lived with his mother. Mom was pregnant with me and I was born in Chicago.
Dad and Mom had their fill of the cold winters of the Midwest. They both had moved west before and had enjoyed winters and summers on the west coast. Dad took every opportunity to bid positions in California. This is when Dad got an opportunity to take a job in Seattle. The position was on third shift, which was generally considered the least desirable, but it seemed to work for Dad because as long as I can recall he always worked the night shift.
When we first came to Seattle Dad and Mom found an apartment in the "Projects" in Renton. These were a cluster of buildings along the Cedar River filled with many new families back from the war. The Renton Projects are long gone now, replaced by a playfield and Carco Theater. They moved to their first home in Bryn Mawr on the east side of Renton. Clark was born just a few days after the move was completed. Curtis followed two years later. Cevin was added a couple of years after that. Alpha joined the family in 1957. So the family was complete; Dad, Mom, Grandma (often called Bamma) and the four boys.
Dad continued to work for the airlines. Through strikes and layoffs hard times and good he made a home for his family. Eventually, he had to transfer out of Seattle to keep his seniority and income. Dad and Mom decided to keep the family in Bryn Mawr because we boys were in school. It was easier for Dad to move than to move the whole family. He moved around a bit but eventually settled in Las Vegas. He chose Las Vegas because it had the most flights to Seattle and would make for the easiest weekly commute to and from Seattle. This living arrangement lasted until his retirement in 1981.
In retirement Dad and Mom were avid Snowbirds. They traveled extensively in their trailer with friends new and old. They joined the Good Samaritan Travel Club and were active members for many years. They traveled for 10 to 15 years until health concerns made this impossible. Dad often remarked how this time with Mom was some of the happiest times of his life.
Gradually Mom's medical needs exceeded what Dad could provide at home. She moved to a nursing home after one of her hospitalizations. Dad then spent eight to 10 hours a day seven days a week taking care of her in the nursing home. Just because Mom was not at home didn't mean Dad wasn't going to take care of her. The staff at the nursing home knew that if Mom pushed her call button they might as well respond because if they didn't Dad would be in the hall looking for them in five minutes. Mom took care of Dad and Dad took care of Mom. That was just the way it was. It stayed that way until Mom passed on in 2006.
Dad's health slowly declined over the next few years. He required hospitalization for complications of heart and lung disease. After one particularly bad stay in the hospital he went to the Chateau assisted living facility. He did quite well there. He made many new friends and everyone seemed to know him by name. His mind remained sharp and he was well versed in politics and sports. He had strong opinions about many things and was willing to share those feeling with you if you had a mind to listen. He knew and loved each and every member of his family. He was so pleased with them all.
On March 11, 2011 God decided that it was time for Dad to join Mom. He passed quietly while sitting in his favorite chair watching TV.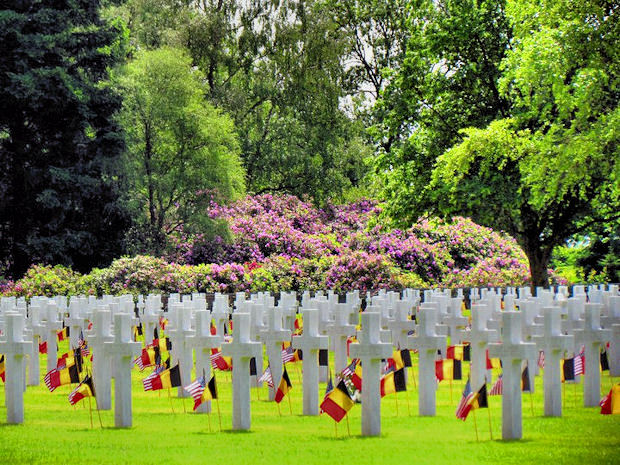 Beautiful Ardennes American Cemetery on Memorial Day, May 28, 2011
(photo courtesy of Martijn van Haren)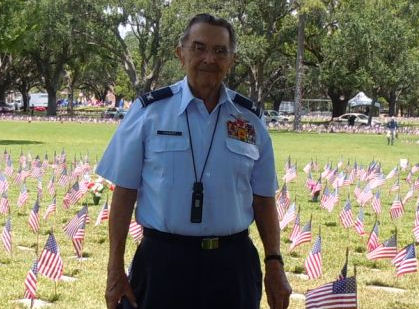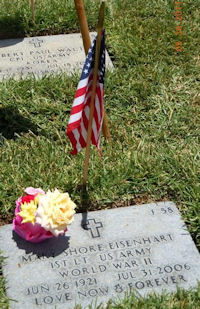 Colonel Bill Eisenhart participated in the 2011 Memorial Day Program at The Bay Pines VA Center in St. Petersburg, FL. Bill's Molesworth bride, 1Lt Mary Shore, rests in the Veterans Cemetery there.



8th AIR FORCE HISTORICAL SOCIETY
ANNUAL REUNION
SHERATON WESTPORT – LAKESIDE CHALET
ST. LOUIS, MO – OCTOBER 11 – 16, 2011
Reunion and registration information are now available. See:
http://www.8thafhs.org/reunions.htm

Visiting Royal Air Force Molesworth:
Home of the 303rd Bomb Group (Heavy)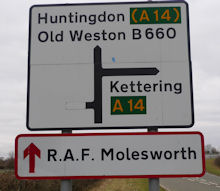 Veterans and family members of the 303rd Bomb Group are able to visit the home of the 303rd at RAF Molesworth located near Huntingdon, Cambridgeshire, England some 80 miles northwest of London.
As RAF Molesworth continues as an active U.S. Base today with an important mission, admission to the base is necessarily strictly controlled for security reasons. 303rd family members wishing to visit may contact the base historian Mr. Peter Park at peter.park@jac.eucom.mil who can advise on military entry procedures, information needed from potential visitors, and possible visit dates.
---
The General and Mrs. Curtis E. LeMay Foundation
Message from Michael Faley, Member of the 8th AFHS Board of Directors
Capt John H. deRussy, original Commanding Officer of the 305th Bomb Group, presenting a silver serving tray to General and Mrs. LeMay. The plate has all the dates Gen Curtis E. LeMay served as Group Commanding Officer with the 305th Bomb Group. Truly a one of kind piece for the Museum.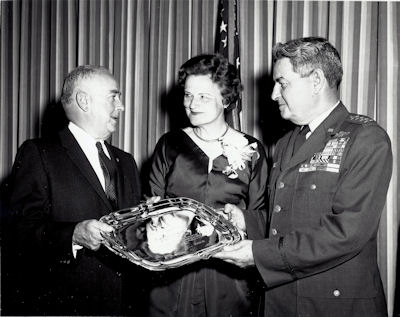 In early April, I had the pleasure of meeting Gen. Curtis E. LeMay's daughter Jane LeMay Lodge and her husband, Jim. Their hospitality was overwhelming. During our conversation, Mrs Lodge told me about this wonderful Foundation set up by her Mother Helen and Dad.
The General and Mrs Curtis E. LeMay Foundation was set up to assist widows of Air Force veterans. There are no strings attached, just a genuine desire to help those in need. We wanted to make sure that our widows with financial difficulties knew of this service, and if necessary reach out. We all go through rough times or are just a little "short" to get that important necessity. Maybe this is the answer. Besides the information on the Foundation, Mrs Lodge donated the silver plated serving tray pictured to the 8th AF Historical Society and Museum. You can read much more about the LeMay Foundation here.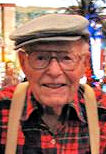 First Lieutenant (Retired USAF) Leo Elwood Laverty, 91, of Messiah Village, Mechanicsburg, was promoted to a higher realm Saturday, May 28, 2011 after a brief battle with lung cancer. He was a retired federal employee (NARFE Chapter 1465), a proud veteran of World War II and the Korean War, and a member of the Mechanicsburg Church of the Brethren, Eighth Air Force Historical Society, 303rd Bombardment Group (H), American Legion Post 109 (65+ years) and the Mark's Run Gun Club.
Leo was the eldest son born to Jacob and Carrie (Fahnestock) Laverty of Enola, PA. He grew up in a small duplex on Dauphin Street and attended Enola schools until his high school graduation in 1937. After graduation, he worked as a checker/cashier and then as a welder before being drafted into the US Army in March 1942.
Following Aviation Cadet Training he was sent to Molesworth, England and assigned to the 427th Squadron of the 303rd Bombardment Group (AKA "Hell's Angels"). He survived 35 combat missions into Germany aboard the B-17 "Flying Fortress" bombers during World War II serving as a navigator. He re-enlisted for the Korean War in March 1952 and flew 60 missions in B-26 bombers with the 17th Bomb Group.
Leo exited military life in October 1953, but continued to work as a civil servant at the US Postal Service for 30 years, retiring in April 1984. He married Elizabeth Ann Lear of Mechanicsburg in January 1959 and this union produced one son. Although he was never able to fully enjoy his own grandchildren, he and his wife served as surrogate grandparents to their neighbors Robert and Valerie Smith's children. After retirement, he kept busy hunting and traveling. He and his wife also made a five-year sojourn in Fort Meyers, FL before returning to their beloved Orchard Crest neighborhood until December 2005 when declining health issues caused them to move to Messiah Village.
Leo was preceded in death by his wife of forty-six years, Elizabeth, twin sister Verna Zerbe, sisters Frieda Wentz and Pauline Weigle and brother Jacob Laverty. He is survived by his son Bruce Laverty, OD and wife Irene and four grandchildren of Bakersfield, CA; sister, Gladys Woodward of Camp Hill; cousin Charles E. Laverty of Enola; and several nieces and nephews, including Dennis Zerbe and Lynne Klein.
A celebration of life service will be held on Saturday June 4, 2011 at 10:00 a.m. at the Mechanicsburg Church of the Brethren (301 Gale Street) followed by a luncheon in the fellowship hall that all are invited to attend. Malpezzi Funeral Home will be handling the arrangements and coordinate the internment Monday, June 6, 2011 at 11:30 a.m. at Indiantown Gap National Cemetery. IN LIEU OF FLOWERS, please donate to Prevent Blindness America, the National Eye Institute, Messiah Village, or the MCOB.
A special "thank you" to the many care-givers during Leo's final years including: Dr. Richard Lanning, MD, the Messiah Village Nittany and Wagner staffs, Pastors Terry Rose and Del Keeney and former neighbors Carmen Ciarrocca. Mary Alice Kennedy and Denny Range.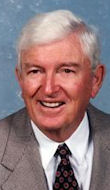 George E. Bailey, Sr. of Columbus passed away Saturday, May 21, 2011. Funeral services will be held at First Presbyterian Church, 1100 1st Ave, Columbus on Thursday, May 26, 2011, 11 a.m. with Reverend Chuck Hasty officiating. Interment will follow at Parkhill Cemetery. The family will receive friends at the funeral home on Wednesday, May 25, 2011 from 5-7 pm.
Mr. Bailey was born in Philadelphia, PA and grew up in Griffin, GA. His parents were Nell Barrow Bailey and Edward Prince Bailey. He attended Griffin High School, played on the football team, and courted his future bride Helen Eggert. The two married in 1948.
During World War II Mr. Bailey proudly served his country by enlisting in the U.S. Army Air Corps in 1944. After being trained as a ball turret gunner for the famous B-17 Flying Fortress, he was assigned to the 303rd Bomb Group of the Mighty Eighth Air Force stationed in England. He flew 24 combat missions over the hazardous skies of Germany. On his 24th mission over Berlin in March of 1945, his B-17 sustained multiple hits by German flak and was forced to make an emergency landing with three engines out. Mr. Bailey and his crew were found by the Russian Army and detained in a Russian hospital until after the war. Upon his return he was awarded the Purple Heart and the Air Medal.
Mr. Bailey enrolled in Georgia Tech and graduated in 1948 with a degree in Textiles. While at Tech, he was on the track team and was an SEC champion sprinter. After living in Milledgeville and Atlanta with Helen, George moved to Columbus, where he worked for Muscogee Manufacturing Company. He loved both making sales and meeting people, and he founded his own company, Muscogee Textiles, in 1969. He retired in 1988. After Helen died in 1992 he married Lenora Hogan in 1993. After Lenora over a decade later, George married his beloved wife Cheryl Clark in 2006.
Mr. Bailey was a member of First Presbyterian church in Columbus from 1957. He particularly enjoyed the challenge of teaching 7th and 8th grade Sunday school classes. Mr. Bailey was active in the Isaac Walton league, a group concerned with environmental protection of the Chattahoochee Valley. He was active in Boy Scout Troup 24 at First Presbyterian and was a member of the Columbus Country Club from the late '50s. Mr. Bailey excelled in doubles tennis and golf. He enjoyed traveling to Florida frequently with friends and family. Mr. Bailey also enjoyed saltwater fishing, bird hunting, snow skiing, and watching all kinds of sports.
He is survived by his wife Cheryl Bailey; daughter Libby Bailey; son George E. Bailey, Jr. and his former spouse, Laura Curtis; sister Nell Bailey Criswell and her husband Howard; and four grandchildren Emily Brandes, Kate Hayes, Margaret Bailey, and Madelyn Bailey.
Mr. Bailey was loved by all who knew him, being always kind, optimistic, and charitable. He was respected for his quiet strength and leadership. He will be missed and remembered.
---
Keeping the Legacy Alive,

Submissions of 303rd Bomb Group related stories and articles are most welcome.