July 25, 2010
Volume II, Issue 11
www.303rdBG.com

My Unbelievable Story
by Willard H. "Bill" Bergeron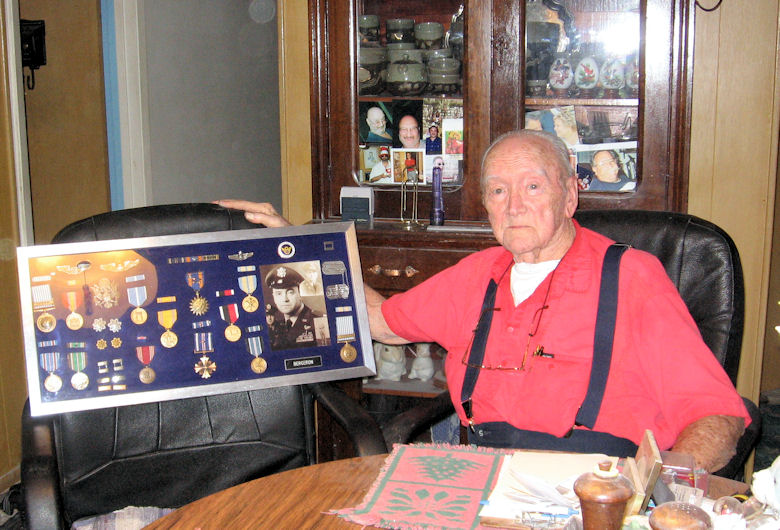 Known as "Bergie" to his 303rd BG friends, Bill Bergeron proudly displays his Air Force Medals
In 1941 I lived at 2013 Geneva Avenue, Detroit, Michigan and my draft number was 913 when drafted on 21 June 1941. I was in the first 1000 from Detroit that were sent to Camp Custer, Michigan.
I graduated from Mechanic's School at Chanute Field, Illinois with a Second AM rating. Several of us were sent to McClellan Field, California on 10 January 1942 and the first week were assigned to the 2nd Air Depot Group (in crews of six). We tore down and crated two P-39 Aircraft. The civilian management fired us because they were doing one a week. On 20 February 1942, I passed my Cadet exam and I was reduced from Sergeant to Private and put on Cadet leave for 30 days. I was not called back until August 1942, placed on Cadet status and sent to San Antonio, Texas, "Upper Kelly" now Lackland AFB, for pre-flight; then to Pine Bluff, Arkansas for primary training; Greenville, Texas for basic and Blackland, Waco, Texas for advanced training.
Air Cadet Willard Bergeron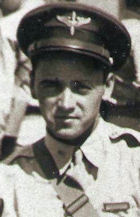 Two weeks before graduation, I was shooting day landings at the auxiliary field west of Waco. Cadet Bevers was my co-pilot in an AT-10 aircraft and coming in for a landing Bevers put the Flap Switch up and not the Landing Gear Switch in the down position. We belly landed and took about 100 feet of fence with us. All flying stopped that afternoon and a few meetings were held by all Cadet Fight Commanders. A week later, Bevers was again my co-pilot on a night cross country to Bryan, Brownwood and back to Waco. Bevers went to sleep and was not navigating - we were lost. I saw a beacon flashing down below (I found out later it was Fort Worth Airport). An aircraft took off at the time my airplane's red lights came on. I think the civilian tower must have heard my engines missing because they left the runway lights on - I didn't have time to call the tower, down I went making a dead stick landing. The maintenance people hauled the airplane off the runway. Well, I sure did get a good talking to. When I called my Fight Commander, B.J. Courneen, at 11:00 P.M. that night and told him I had landed at Fort Worth Airport out of gas - 'I still remember every word he said,' - but I can't repeat it here. In spite of all this, I received my wings on 23 April 1943.
I asked for B-17s and combat so off I went to Moses Lake, Washington. We did not see any airplanes or airbase, just a couple of tents - then on to Edmond, Oregon and Walla Walla, Washington where I was put on a crew as a co-pilot and was sent overseas. We went via Grand Island, Nebraska, Bangor, Maine and arrived in England 25 June 1943. Our crew was assigned to the 303rd BG (H) at Molesworth, England in early July 1943. After some local flying we went on our first combat mission 15 August 1943, second mission, 16 August and third Mission 17 August.
Captain Willard Bergeron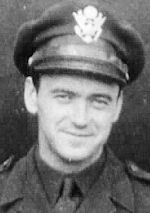 Our third mission was the first Schweinfurt mission, very rough (ball bearing plants). In November 1943, my pilot and assistant engineer were night flying and were killed on takeoff. I had checked out as first pilot and took over the remaining crew members. My 12th mission was the second Schweinfurt mission on 14 October 1943 (called "Black Thursday' because of the heavy loss of aircraft and crews.) I finished 25 missions (25 Club) 18 March 1944 and I had Colonel William Travis (brother of General Travis) as co-pilot that day. We were leading the group. Everyone was betting that Bergeron wouldn't buzz the tower after his 25th mission - well, I called #2 man and said, "Take over, I am going to buzz the tower." Colonel Travis said, "You can't do that!" I said, "I know it." I think some boys lost some money because I gave it two passes and then followed the last man in.
Arriving in the States In April, 1944, I went to Miami Beach for R & R. After 30 days, I was ordered to Lockboume AFB, Columbus, Ohio for B-17 Crew Training. HQ said that I had never been through B-17 School even though I had a total of 1200 hours of B-17 training and combat time. Someone screwed up - I think! I was supposed to finish my training 31 July and on 15 July I received orders to report to Greensboro, North Carolina for overseas processing. The Base Commander finished me up early, flew me down to Greensboro to make my reporting date (again, someone screwed up!) 1 August 1944, I arrived in England and was assigned to the 303rd BG again. I kept flying missions until the war ended in May, 1945 and our group, the "Hells Angels" was sent to Casablanca, Africa, assigned to MATS. I checked out in C-54 type aircraft and flew back and forth to Natal, Brazil.
In September 1945 about 45 crews were sent back to the States to airlift General McArthur's personnel into Japan. Later, after 282 Berlin Airlift missions, flying C54s with coal (most of that time was Instrument time from August 1947 until March 1948), I was assigned to Hickam AFB. - I wanted to fly the line in C-54 type aircraft from Hickam to Tokyo. After about 2600 hours in C-54 type aircraft they said, "You have never been to a C-54 school". So I went to Great Falls, Montana in February 1951.
Olga and Bill in 2003. She passed away in 2005.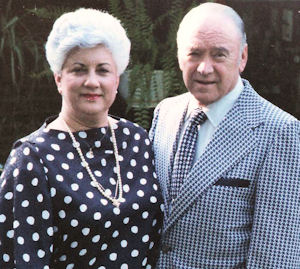 I was at Kelly AFB in Texas from August 1951 to September 1952 when I met my beautiful wife, Olga, and by April of 1953 Major General Stowald promoted me to Major. In May of that year I married Olga and she became my wife. We married in Michigan (where I was born), at my brother Archie's place. Later in November of 1953, I was transferred to Tachikawa Air Base in Japan. I was assigned as 7th Aerial Port Commander.
We bought a home in San Antonio where my wife stayed until she joined me in Japan. We had a wonderful duty time in Japan while we were there and departed in November of 1956. I was then assigned to schooling at Shepard Field in Texas. This was for our Transportation course, which was a two-year College course that we completed in only six months. At that point I was assigned to Mitchell Field in Long Island in July 1957 where I was Director of Transportation at CNAT. I held that position until October of 1957. I had lost sight in my right eye due to an injury and was put in Long Island Navel Hospital. I had also developed a bug in my system called "hookworm." They had to give me several types of poison to kill it, which is why it probably took so long and why I was so sick for so long. This became very serious and kept me in from October of 1957 to October 1958. During that year that I was seriously ill and went down to about 125 pounds. In August of 1958 I was finally able to start eating baby foods working up to eating solid foods.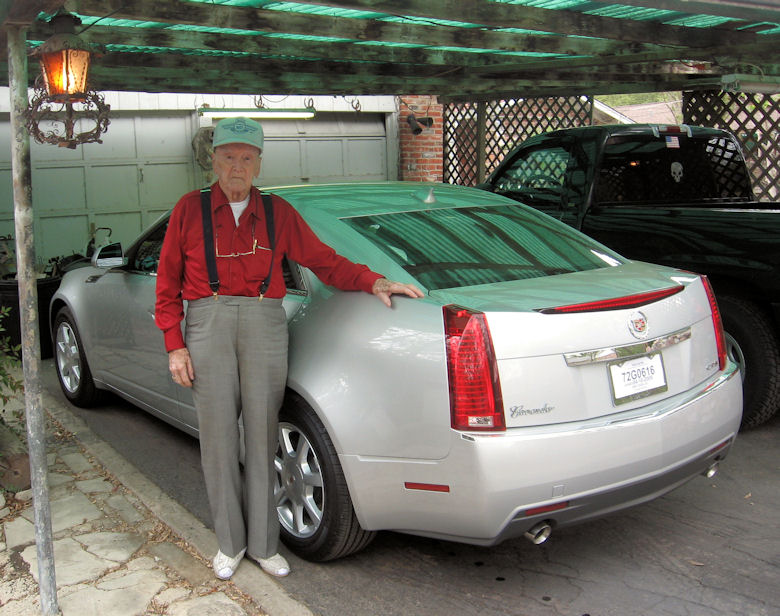 Bergie with "the only thing I fly now that is still fast."
I eventually got better and my paperwork was sent to Air Force Headquarters where they finally assigned me to Plattsburg AFB in upstate New York at the end of October 1958. I checked in to the hospital there for observation where they told me I still had a high white cell blood count and sent me back down to Lackland AFB hospital in San Antonio for further evaluation. After two weeks of treatment they gave me a thirty-day leave and sent me back to Plattsburg. About three months later my weight was finally up to around 185 pounds. I couldn't gain any more than that, I guess my stomach must have shrunk over time.
I then had about four different positions as my retirement date was drawing near. Instead of retiring in June of 1961 they extended it and I finally retired in November of 1961. The reason it was delayed is because the Air Force wanted to have a NDTA charter in Plattsburg. This was done and I could finally retire at the end of November of 1961. I retired as a Lt. Colonel. Thank God that was all over.
I finally took my wife to Vacaville, California to visit some of her relatives. While there we found that everything was so much more expensive that we decided to return and stay in San Antonio. We stayed at the house we had bought previously. We fixed it up a little and sold it while we were having our new home custom built on the north side of San Antonio in the suburbs. We still live there to this day and still have the same phone number. Some things never change.




303rd Bomb Group Mission # 50
14 July 1943
Target: Villacoublay Aircraft Repair Depot at Paris, France
1ST BOMB WING COMMENDATION
M/Gen Frank A. Armstrong, Jr., Commanding General 1st Bomb Wing, sent the following message to the 1st Bomb Wing following the mission of 14 July:
The photographs of yesterday's mission show that your bombers were consistently "on target" and that few bombs fell outside our objective area. I wish that you would make it known to every unit and every crew my appreciation and extend to them my congratulations for this superior performance. It is with great pleasure that I forward this commendation to every crew member and profess my pride in their individual courage and airmanship.
It was Bastille Day and 8th Air Force Groups were sent to bomb targets in the vicinity of Paris. Four Groups were dispatched to bomb the Le Bourget airport, which was the airfield where Charles Lindbergh completed his 1927 trans-Atlantic flight. Other Groups, including the 303rd BG(H)'s 20 aircraft, were dispatched to attack the Villacoublay Aircraft Repair Depot.
2Lt Robert E. Rohrlich's grave at
Cambridge American Cemetery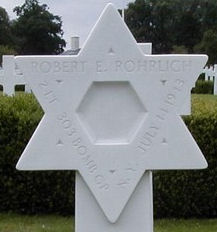 Major
William Calhoun
, CO of the 359th BS led the formation in #41-24635, The '8' Ball MK II. The bombers flew in excellent formation to make a good bomb run and dropped their bombs well in the target area. There were no clouds and visibility was excellent at the 24,000 ft. formation altitude. The flak, although somewhat meager, proved accurate. There were not more than 15 to 20 enemy fighters observed and these made very few attacks on the 303rd BG(H) formation. The few FW-190 and ME-109 attacks were not pressing. After leaving the target the Fortresses were met by their Spitfire cover and escorted back to the English coast.
Major Calhoun reported on the mission: "It was a pretty good show as a whole. Everyone flew in good formation and I think our bombs were pretty well in there. However, I'll wait to see the pictures. We had a running fight with flak right from the target to the coast. The fighters weren't bothering us as they were after another wing and stragglers. The Spitfires gave us damn good coverage." Col. J.K. Lacey, of the 103rd Combat Wing, was riding with Maj. Calhoun as an observer and commented, "It was a good ride. No fighters to speak of, but plenty accurate flak."
Aircraft #42-5221 Son, 427BS, piloted by Lt. Armand F. Burch, landed at Homesley-South with a badly injured bombardier. 2Lt. Robert E. Rohrlich died 14 July, 1943 in a hospital from head wounds caused by flak. He is buried in the Cambridge American Cemetery, England.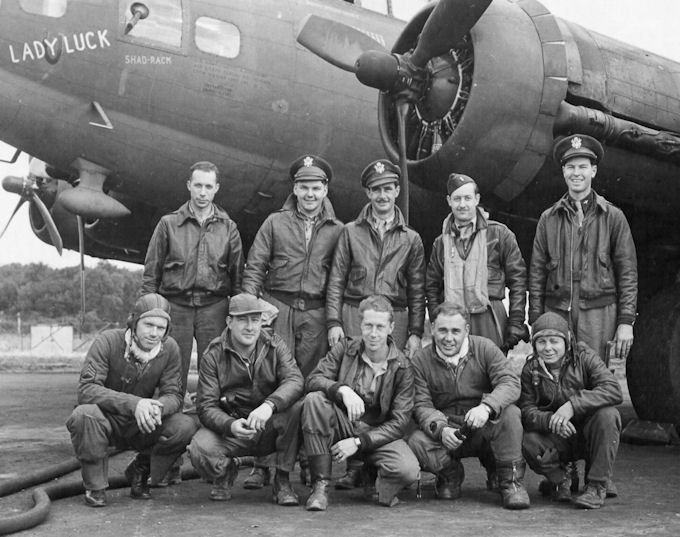 LOYD D. GRIFFIN CREW - 360th BS
(photo: 14 July 1943)
(Back L-R) Samuel L. "Sam" Edwards (WG), Walter C. "Walt" Swanson (CP), Loyd D. Griffin (P),
Lawrence E. Effinger (N), Robert L. "Bob" Taylor (B) (Front L-R) William M. "Bill" Eason (E), Paul E. Henderson (WG),
Vernon E. "Gene" Schwartz (R), Lynwood D. "Lindy" Wiegand (TG), Robert "Bob" Plummer (BT)
Several 303rd BG(H) combat crewmen finished their operational tour of 25 missions. Capt. Lloyd D. Griffin, pilot of Lady Luck, remarked, "I only saw one fighter myself, but they were attacking other Groups. Our big problem was flak. We met the Spits OK and they brought us back." His co-pilot, 1Lt. Walter C. Swanson added, "There were about 15 to 20 fighters attacking the Groups ahead. They were FW-190s and ME-109s which hit them when they came off their target." Other Lady Luck crew members finishing their 25th missions were: T/Sgt. Vernon E. Schwartz, radio operator and S/Sgt. L.D. Wiegand, tail gunner, who described the mission as "Just an ordinary raid." Also, S/Sgt. Samuel Edwards who said, "I didn't fire a single shot. Spent most of my time taking pictures. Got some pretty good shots of Paris, too. We had one fighter attack, but I didn't see him." T/Sgt. William Eason, engineer, summed it up for those finishing 25 missions with the remark, "We got back all right. Can't ask for anything more." S/Sgt. Elwood Hairr, waist gunner on Capt. Billy E. Southworth's crew, flying in S for Sugar, also finished 25 missions.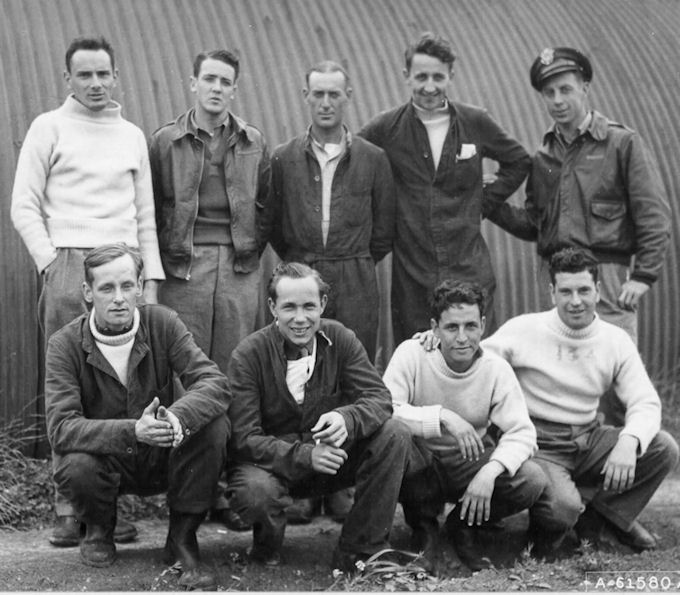 CALVIN A. SWAFFER CREW - 358th BS
(photo: 15 July 1943)

(Back L-R) 2Lt William H. Karraker (N), 1Lt John R. Johnston (CP), S/Sgt James E. Mills (RWG),
1Lt Calvin A. Swaffer (P), 2Lt William T. Sweet (B) (Front L-R) S/Sgt Edward W. Griffin (BT),
T/Sgt James O. Matthews (R), T/Sgt Rudolph S. Lopez (E), Sgt Edward N. Cobb (LWG)
Aircraft #42-29791 Memphis Blues, 358th BS, was hit by anti-aircraft fire halfway between the target and the French coast causing one engine to catch fire. A second engine caught fire due to anti-aircraft guns from the Le Havre area. Spitfires protected the aircraft and followed it down as it ditched in the English Channel 30 miles off Shoreham. Lt.
Calvin A. Swaffer
, an ex-RAF pilot, and his crew were all rescued by the British Air-Sea rescue. This was the 25th mission for Lt. Swaffer.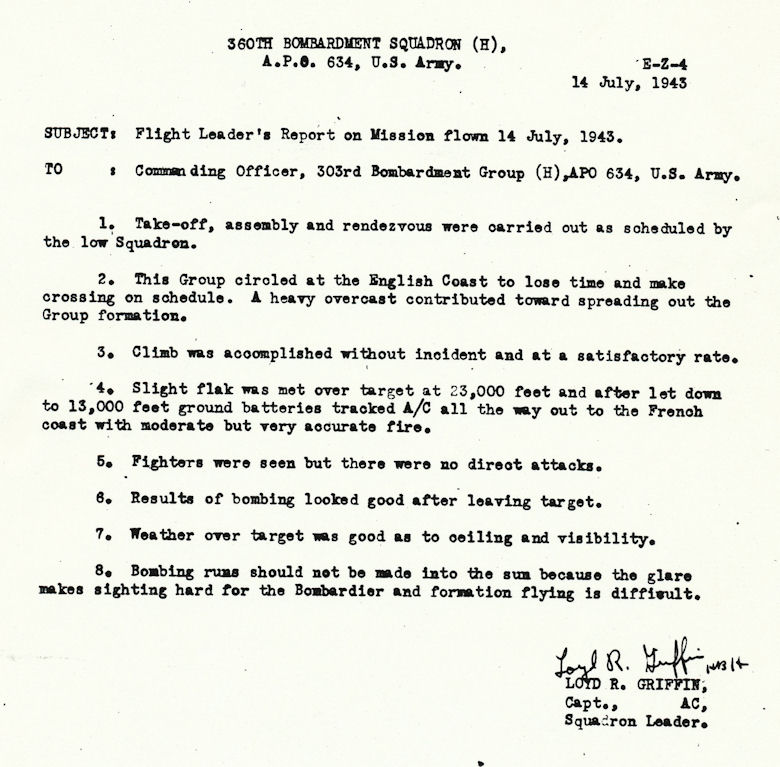 Flight Leader Captain Loyd Griffin's Report on Mission #50, from the official 303rd Bomb Group Mission Report
After 67 years, two members of the 360th Bomb Squadron still recall Mission #50. Both were in the same flight of seven aircraft, led by Captain Loyd Griffin.
Walter Swanson, Copilot on Capt Loyd Griffin's Crew in "Lady Luck"
The morning we got the mission assignment on July 14th, we thought, "Great, number 25 will be a milk run!," but we were wrong. The flak from around the target to the coast line was thick. Our ship Lady Luck received a number of hits that kept her on the ground several weeks.

My notes indicate that we hit the target at 13,000 feet rather than 24,800, hence the extremely accurate flak. At this late date there is no way to confirm that I was right - just a note in my diary. [As noted in Captain Griffin's report above, the let down to 13,000 feet was shortly after hitting the target.]

I have no way to confirm my next statement, but the word was out that Bomber Command alerted the French that the Aircraft depot would be the target and to tell the workers to stay home. If this is accurate, it saved many civilian lives and at the same time accounted for the extreme flak. As I said, I cannot confirm this.

I remember the beauty of the day, and at 13,000 feet could see the historic Eiffel Tower and the structures surrounding. I thought to myself, "someday I will return to Paris and walk through the gates of the Tower." I never did, and at the age of 90, I probably never will.

Excited by the fact that we completed our responsibility to the 303rd, I was fully aware that things would never be the same, and that as I walked away, I would never see many of my combat buddies again. THIS WAS THE HARDEST PART. Now, being the last surviving member of my crew, this last part hits close to my heart.
Eddie Deerfield, Radio Operator on 1Lt Robert Cogswell's Crew in "Iza Vailable"
The mission to attack German aircraft repair facilities at Villacoublay was, happily, a fairly easy run for our 360th Squadron crew, especially when compared with our ditching in the North Sea, bailout and crash landings on later missions. A flak burst shattered pilot Bob Cogswell's left side window and there were flak holes in the nose of our B-17, Iza Vailable, but we were never in real trouble. However, I can add a few comments to the official mission report, based on my personal notes.

We took off from Molesworth at 0540, were over the target at 0800, and landed back at base at 1030. We were carrying 28 100-lb incendiary bombs. The official report says "10 x 500-lb G. P. bombs," but the point here is that all aircraft on a mission did not necessarily carry identical bomb loads. They were varied for maximum effectiveness, depending on the target. The mix seemed to have been right for the Villacoublay target. After-action photos demonstrated clearly that the enemy had no chance to salvage their damaged planes.

The observations by 303rd Group leader William Calhoun and 360th Squadron leader Lloyd Griffin about accurate flak and very light fighter opposition are reflected in my notes. We saw about 15 ME-109's and FW-190's in the distance, but I can't recall any direct attacks on our formation. Which makes me wonder, under the circumstances, about the official mission report of 12,585 rounds of ammunition fired! Maybe we were just making the Luftwaffe keep its distance.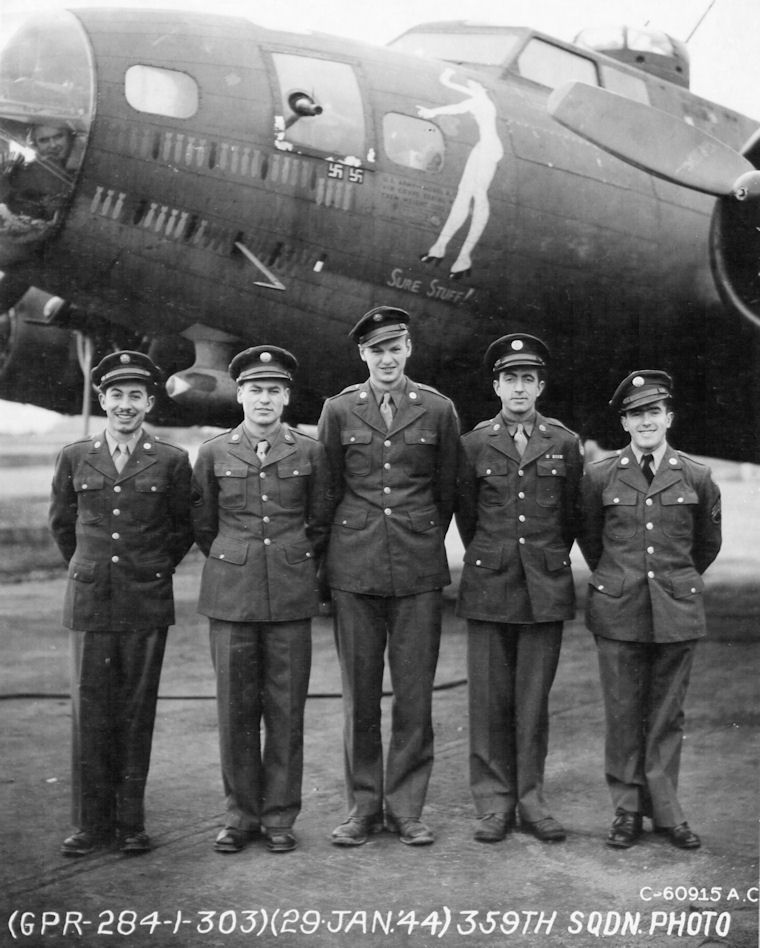 359th Bomb Squadron Photographers in front of B-17F #41-24561 "Duchess."
Milton Cantor is on the left. Can you identify any others? How about the guy peeking out the nose?

NEXT ISSUE:
8th Air Force Tucson Reunion Report and Photos !
To quote 8th AFHS President Mark Copeland, "WOW !!" It was indeed a wonderful reunion! Stay tuned . . .
LAST CALL !!
"Thunder over Michigan"
The Largest Gathering of Heavy Bombers in the World
The 8th Air Force Historical Society is hosting veterans, family members, and their guests at the Willow Run Air Show, located just outside Detroit, August 5 thru 8, 2010. The Air Show organizers are expecting 8 to 10 B-17's to attend , 2 B-24's, 12 P-51's, the usual cadre of other WWII aircraft, as well as a flying ME-262 and an ME-109. More information is available here:
http://www.8thafhs.org/detroit.htm

2nd ANNUAL WEBSITE and NEWSLETTER FUND DRIVE

When the 303rd Bomb Group Association dissolved three years ago, the funding of the 303rdBG.com website stopped. All remaining Association assets were donated to the Mighty Eighth Air Force Museum. I made a pledge at that time to continue the website for as long as I am able and at my own expense, if necessary. That pledge still remains and the website will continue for the foreseeable future and, hopefully, well beyond that.
The website still continues to expand almost daily, and now includes The Molesworth Pilot newsletter.
I remain determined to keep the website content free to everyone, and to keep annoying advertising off the site. The only way to accomplish this is to have an annual fund drive to raise money for expenses. My time and efforts to preserve this priceless history will always be donated.
If any of you would care to help out, it will be sincerely appreciated. Information on making donations to the website fund are here: http://www.303rdbg.com/contribute.html You are welcome to make a donation honoring a loved one or friend, as some of the supporters have done. Thank you all very much.

---
MOLESWORTH PILOT ARTICLES and SUBMISSIONS NEEDED !!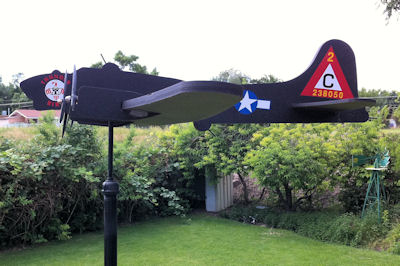 As any editor would tell you, the toughest part of putting out an interesting newsletter is finding good articles to publish. Likewise, any historian of a WWII Group would tell you there is more about the group he does not know than he does know.
There is a wealth of untold stories that are known only by the crews or their families. Some information about the Group can be documented with records, but personal stories and recollections cannot be preserved unless they are shared. I would welcome any article about any person or crew stationed at Molesworth. A good example is Captain Bergeron's featured story in this issue. Please help us get this priceless history preserved forever.
I'd also appreciate any interesting photos you have showing our veterans at Honor Flights, airshows, museums, Memorial Day or Veteran's Day ceremonies or anything that may be of interest to the 303rd BG community. Two good examples are below. In keeping with a tradition started in the 8th Air Force News, I'll also publish photos of your WWII related license plates or other interesting items, such as the wind vane shown here that has flown in my backyard for many years.

---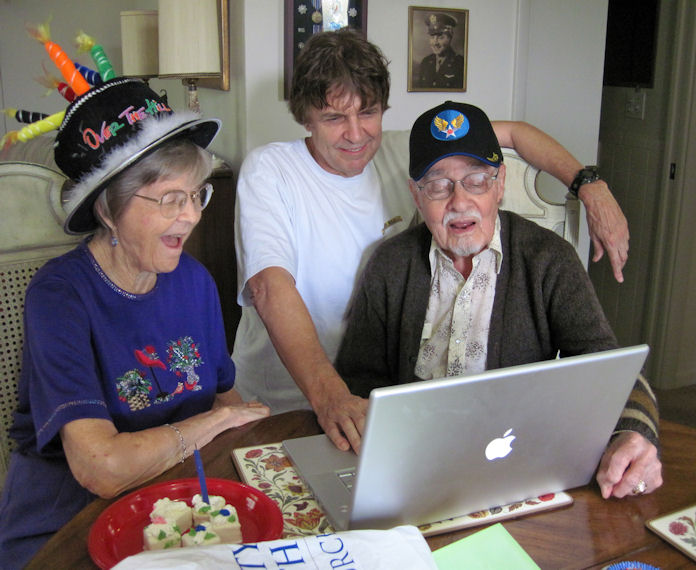 303rd BG Pilot Dave Clifton's 90th Birthday Party!
Dave Clifton, his wife Ruth and son David view the video David made for his father's 90th birthday. If you
missed this special, touching video, you can see it here: http://www.youtube.com/watch?v=-wz7fLinrzU
---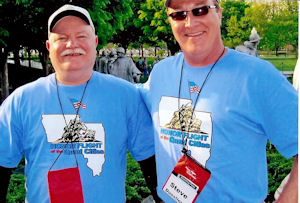 Phil and Steve Dussliere
303rd Bomb Group veteran Al Dussliere writes, "Our sons Phil, with the mustache, and Steve, our number two son. This picture was taken at the Korean Memorial when we participated in the Honor Flight in April 2010.
The Quad City Area has sent more than 800 veterans on flights to DC to visit the WWII and other memorials in the past three years. The same flights included more than 350 guardians to accompany the veterans. The guardians paid for their flights."
More information on Al's Honor Flight is in the May 8, 2010 issue.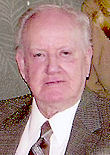 Harold G. Fulghum, Lt. Col USAF (Ret.) Born March 5, 1915, in Quinlan, Texas, Harold passed away in Sacramento on July 6, 2010, at the age of 95. A decorated WWII veteran and POW, Harold spent 1942-1945 in Stalag Luft III prison camp during the Great Escape. He was a B-17 Navigator with the 303rd Bomber Group ''Hell's Angels'' and was in the first crew to fly over 25 missions.
As a child, Harold picked cotton during the Great Depression to help support his large family. He went on to graduate from Texas Tech University in 1940 and joined the Army Air Corps. After retirement from the service, Harold moved to California where he worked in ranching and large land real estate near Grass Valley and Auburn. Harold had many good friends and was a generous person. He loved his family and was a good husband, father, and grandfather.
Preceded in death by his wife Inez in March 1998 and survived by his two daughters Nancy Luchs in Redding, Calif., and Dana Sullivan in Granite Bay, Calif.; four grandchildren Kim Luchs, Kristine Boban, Brian and Brad Sullivan; three great-grandchildren Madisyn, Rylee, and Thomas; and his best loving friend Helga McCoy.
A full military honors funeral service will be held on August 4 at 11 a.m. at the Sacramento Valley National Cemetery in Dixon, Calif. Family, friends, and veterans are invited. Donations in lieu of flowers to the Washington D.C. WWII memorial in remembrance of Harold.




William H. Simpkins of Cologne, NJ passed away on Wednesday, July 14, 2010 at Shore Memorial Hospital after a lengthy illness. He was born on June 26, 1924 in Hammonton, NJ. He graduated from Egg Harbor City High School in 1943.
William enlisted in the Army Air Corps in 1943. He was a decorated veteran of World War II, flying with the 303rd Bomb group (Hell's Angels) of the 8th Air Force. William was a POW in Germany for 15 months.
He worked for Lenox China as a supervisor for 35 years before his retirement. William belonged to the Rudolph Elmer Post 158 American Legion, the DAV Chapter 10, Military Order Purple Hearts 155, and the American Ex-Prisoners of War. He enjoyed fishing, gardening and attending his 303rd Bomber Reunions. William also enjoyed speaking at colleges and local schools regarding his military experiences during World War II.
He was predeceased by sister, Katherine (Dase) and brother, Charles Simpkins. William is survived by his wife Evelyn of 63 years; daughter, Carol O'Hara (Husband James) Dennisville, NJ and Guayaquil Ecuador; sons, William H. Simpkins Jr. Mays Landing, NJ; David W. Simpkins (Wife Lois) Germania, NJ, and Michael W. Simpkins Germania, NJ; sister Mary Hoffman, Mullica Twp., NJ; grandchildren, Keefe G. O'Hara (wife Lisa) Orlando, FL., Samantha Day (husband Joshua) Mays Landing, NJ, David Simpkins Jr. Germania, NJ and Michael Simpkins Jr. Hammonton, NJ; and great grandchild: Sean M. O'Hara, Orlando, FL. Visitation will be held on Monday, July 19th at Wimberg Funeral Home 400 Liverpool Avenue Egg Harbor City (609-965-0357) from 11:00 - 1:00 PM with the Service starting at 1:00 PM. Interment will follow at the Atlantic County Veterans Cemetery in Mays Landing. For condolences or directions, please visit wimbergfuneralhome.com. In lieu of flowers donations may be made in memory of "William H. Simpkins" to Germania Volunteer Fire Company 312 S. Cologne Avenue Cologne NJ 08213 and/or Loyal Order of Purple Heart Chapter 155 136 Boston Avenue Egg Harbor City, NJ 08215.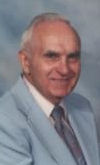 Sidney L. Larsen (Age 91) entered into rest on July 14, 2010. He was born on May 15, 1919 in Lucas, Kansas. Sid is survived by one son, Terry L. and his wife Carol of Surprise, AZ; grandchildren, Connie (Chris) Larkin of Spokane, Terry Jr. (Lonnie) Larsen of SeaTac, WA and Matthew (Laurel) Larsen of Spokane; great-grandchildren, Carolina,Anastasia, Indiana, and Raleigh Larkin, and Bonnie Larsen; brother Howard and wife Betty ofLewiston, ID; sister LaVonne and her husband Fielden (Sonny) Poirier ofBlanchard, ID; and numerous nieces and nephews. He was preceded in death by his loving wife of 57 years, Joan (Chisholm) in 2003; brothers, Fred, Everett, Myron, and Delmer; brother and sister-in-law, William and Eleanor Chisholm. Sid and family moved to Colorado in 1932, where he graduated from Fruitvale High School in Fruitvale, CO in 1937.
Sid enlisted in the U.S. Army Air Corps in September of 1939, where he first served with the 38th Reconnaissance Squadron and later with the 427th Bomb Squadron of the 303rd Bomb Group. From 1942 until 1945, he was stationed at Molesworth Air Station in England until VE Day and then was stationed in Casa Blanca French Morocco for three months. In 1954, Sid, Joan, and Terry returned to South Ruislip, England for a tour of duty. They returned to Fairchild Air Force Base, and in 1965, Sid retired from the military. He was employed by Washington Trust Bank and Old National Bank, before retiring in 1984. Sid was a lifetime member of the 303rd Bomb Group Association. He was anardent Mall Walker at Northtown Mall and through the years, walked over 1000 miles. Sid will be greatly missed by his many friends and fellow walkers.
A "Celebration of Life" will begin at 2:00pm Monday, July 19, 2010 at Riplinger Funeral Home followed by interment with military honors at Fairmount Memorial Park Cemetery. Memorials may be made in Sid's name to the Shriners Hospital for Children PO Box 2472 Spokane, WA 99210 or to a charity of one's choice.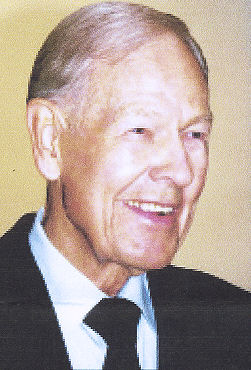 Guy Everett Dority, born September 30, 1918 to Guy Everett and Dora Goffin Dority in Lisbon Falls, Maine departed this life on Sunday, February 7, 2010. He was a 57 year resident of El Paso, TX and Santa Teresa, NM. A veteran of World War II, he was a member of the Greatest Generation. He flew with the first B17 to land in Prestwick Scotland on July 1, 1942. He completed 50 bombing missions in the ETO with the 97th Bomb Group. He kept meticulous records of each bombing mission. Among other honors, he was awarded the Purple Heart. His service to our country during World War II was his proudest honor.
The story of Guy's military service during World War II is a tale straight out of Charles Dickens or Mark Twain. Born in Maine but raised in Manitoba, Guy enlisted in the U.S. Army Air Corps in August 1941. By mid 1942, he had completed basic and advanced training and was looking forward to an active duty assignment as a radio operator/gunner aboard a Boeing B-17 Flying Fortress. He got a big disappointment when he learned that he was grounded from flying because of color blindness. Undeterred by this minor setback, which may well have completely discouraged a less-determined man, Guy slyly "pulled some strings" and added his own name to the crew roster of a B-17E of the 359th Bomb Squadron, 303rd Heavy Bombardment Group, that was soon to leave the U.S. for Europe. He later said it was months before his paychecks and paperwork caught up with him.
As it turned out, his aircraft, which its crew had christened "Jarrin' Jenny," was the very first American-manned Flying Fortress to arrive in the United Kingdom when it landed smoothly at Prestwick, Scotland, on July 1, 1942, after a harrowing trans-Atlantic flight. Guy's aircraft was the first of the thousands of fighters and bombers of the mighty 81h Air Force that soon followed, a portent of the "thousand-plane raids" that would reduce Nazi Germany to rubble and assure Allied victory.
The Lt. Johnson Crew, including Sgt Dority, was originally assigned to the 359th Bomb Squadron, 303rd Bomb Group. While still at Gowen Field, Boise, Idaho, they were transferred to the 97th Bomb Group.




Gary,
On behalf of my family, I would like to thank you and your family for organizing this reunion to honor our fathers and affording me the opportunity to experience the camaraderie with the Thunderbird crew's extended families. We really enjoyed ourselves, even holding an Andrus family reunion within the reunion. When last we got together, it was six years ago in Pennsylvania.
Thanks again for your tireless efforts. This once in a lifetime opportunity is one we'll never forget.
Regards, Jim Andrus and Family

---

Hi Gary,
I've never felt so proud in my life. All of our father's were Super Hero's and I'm glad we could share such an unforgettable reunion. I plan on visiting the museum whenever I have out of town guests, it's bound to impress everyone, it's a great facility and Larry is a fine fellow. I'm so lucky to be the son of James S. Andrus. He always meant the world to me but even more so now with my new knowledge of his bravery and valor. Thanks again to you, Susan and family, you'll never know exactly how much all of us appreciate your thoughtfulness and perseverance in making all this happen. I'm so anxious to see the pictures but I know it takes time. Please email when the link will be available to view.
Respectfully, Chuck Andrus

---

Gary and Susan,
We did very well getting home. Thanks again for organizing this wonderful memorable event. We enjoyed meeting everyone very much.
Carl Hein, son of Walter E. Hein

---

Gary, great effort you succeeded in accomplishing that Thunderbird families reunion. You have been so dedicated in remembering your dad and crew, but, unselfishly you keep the 303rd BG family story current in so many personal contributions and thoughts.

My deepest regret is that I never knew of the 303rd BG Association's existence until its last few years. I relish those three years of being a member. I recently learned that my copilot Eugene Halonen of Sturtevent, WI has died (Charles Lonski's 427th crew). He was not a 303rd BGA member.

I am the only living member of that crew and will celebrate my 90th birthday on August 5th, 2010. Grateful appreciation and thanks for your sincere commitment to the 303rd BG's sustaining history.

Best wishes, Donald O. "SPEC" Campen, Jr. in Henrico , Va.

---

Gary, It's clear from your coverage that the Thunderbird crew family gathering was an inspirational event. Congratulations on organizing and managing it so successfully.

As editors, we're always scratching for names to identify the folks in our photos. I can help you with a missing ID on page 5. Her name is Kristen Moncur, a lovely lady I had the pleasure of meeting at several 303rd BGA reunions. Should you chance to see her, please give her my regards.

Eddie Deerfield

Almost everyone who meets our special daughter Kristen finds her unforgettable!

---

GARY, OUR FAMILY WAS GIVEN A MARKER FOR THE "WHITTEN/ANDERSON" MEMORIAL SITE ON OUR FARM TO HONOR.... S/SGT. CLEVELAND WOODWARD WHITTEN, JR. 303RD BOMB GROUP, 360TH SQUADRON AT MOLESWORTH, ENGLAND.

WHEN WE HAVE IT APPROPRIATELY MOUNTED AND PUT IN THE AREA, I WILL HAVE THE "KIDS" TAKE A PICTURE AND SEND TO YOU.

CLEVE'S SIOUX CITY SUE
XOXOXOXOXO

After each newsletter goes out, Susan and I worry until we hear from Cleve Whitten's "Sioux City Sue" ! Thanks, Carole Jean, keep in touch !

---

Hello Mr. Gary,
For the past few days, i have been visiting your site and reading all the info present there. Firstly, I would like to thank you for putting up such a brilliant website which is accessible to people around the world (i live in india). Secondly, I read a few of your Molesworth Pilot issues and find it very fascinating. Therefore, I would like to be added to the distribution list of the Molesworth Pilot newsletter. I hope you add me to that list as soon as possible.
Thanking You, Yours Truly, V. Gautham
Keeping the Legacy Alive,

Submissions of 303rd Bomb Group related stories and articles are most welcome.